19 Jun 2020

'We are all in this together'

It goes without saying that 2020 will go down as one of the craziest years of our generation. Imagine being a business owner, dealing with the financial situation of the coronavirus quarantine. Salons, barber shops, restaurants, massage therapy clinics, etc., were all greatly affected by the quarantine. I know for a fact many business owners felt substantial loss from the epic phenomenon known as COVID-19.

I grew up in an environment where you played it "safe." You work for a government entity and you always collect a paycheck. Please know I understand it is absolutely necessary to have a workforce for the public sector. Our society owes a great thanks to those who keep our cities, counties, states and nation a fantastic place to do business and enjoy recreational activities. We desperately need our firefighters, police officers, parks and recreation crew, sanitation, road departments, etc. Thanks for what you do.

I want to speak about those who are a little different. My wife, Amanda, and I are completely different. I like to play it safe. She has always wanted to be a chiropractor. Two years ago, we decided to jump off the cliff with both feet to open our own business. I assure you we were so scared. Would we succeed? Would we starve? What if nobody showed up? Being an entrepreneur is scary for me. Thankfully, we surrounded ourselves with amazing business owners who mentored us to understand what running a business looks like.

I venture to say there were no business owners prepared for what took place beginning in March. We surrounded ourselves with other business owners with a "can-do" attitude. We noticed some were struggling with "Am I going to make it?" and "What am I supposed to do?" We were able to encourage those in the small business community, as well as receive encouragement from businesses who had much more experience.
I remember a project in college where I had to create a business, formulate a business plan and describe how I was going to succeed. It's easy to come up with a simple idea, but to actually formulate a plan on how you were to negotiate the obstacles was another. To those who spend countless hours working to see your boutique succeed, I salute you. To the beauty salon that had to shut its doors for a couple months, I salute you. To the coffee shop and small stores who had to reinvent themselves to not go under, I salute you.
We are all in this together. Most of the large restaurants and chain stores will survive. We must look to our friends and neighbors who went out on a limb to chase a dream and support them during difficult times. Go to your corner coffee shop or visit your local restaurant. Show them the love.
An entrepreneur never stops working. The business owner in my wife works NONSTOP. It never ends. I salute those of you who decided to follow a dream. At the same time, I absolutely, positively love those of you who work for said entrepreneurs. Small businesses couldn't do it without amazing support.
So, some things have changed for me. I'm still living the dream I never knew I had, and I STILL hope you have the best day of your life. I love you.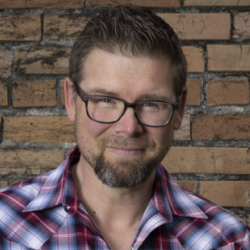 Latest posts by Adam Bledsoe
(see all)