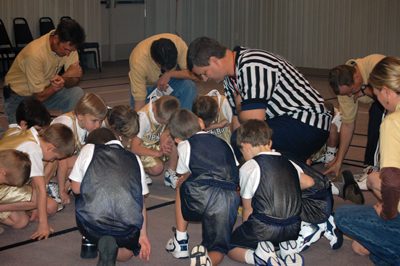 22 Dec 2009

Upward Basketball: Program emphasizes healthy competition

Conway's league – based at First Baptist Church, Antioch Baptist Church and First Church of the Nazarene – has drawn about 750 participants in grades 1-6. According to John Fluesmeier, league director, about 640 of those are in basketball, with 110 in cheerleading. There will also be approximately 130 coaches involved.

According to a press release, Upward focuses on developing self-esteem while teaching respect for authority, sportsmanship and character in addition to basketball and cheerleading skills.

"I think it's touched a lot of lives in Conway," said Fluesmeier, whose second son is completing his Upward eligibility this year. "Over the 10 years we've had it, there have been a lot of families who, as a result of Upward, have started coming to church, not only our places but others, and we've seen many decisions made for Christ through the program.

"It's been real good for Conway. It's a very positive program, with no coaches yelling and screaming at the officials; parents aren't screaming. The whole mission is a circle of praise, where nobody's yelling and screaming – they're just trying to have a Christ-like attitude and doing right."

According to www.upward.org, Upward "emphasizes healthy competition, sportsmanship, skills building and fun versus the 'win-at-all-costs' mentality associated with many sports leagues." The substitution system guarantees every child equal playing time.

Fluesmeier said he'd coached in other youth leagues and that his observation was in no way denigrating them.

"But I can tell you I really enjoy Upward as a coach because there's just not that pressure to win," he said. "It's not about winning. It's not about playing for a trophy or a plaque but about teaching the kids the important things in life.

"The No. 1 objective is to introduce them to the Gospel, and basketball is a tool in order to do that."
According to the Web site, the organization, the world's largest Christian sports program for children, "was created with a vision to provide the best sports experience possible for every child."

Total numbers of participants – players, coaches, officials or volunteers – are approximately 1 million worldwide, with more than 2,600 churches involved. "Anyone – children and volunteers of any faith or no faith – can participate in Upward sports. …

Upward aims to bring out 'the winner' in every child – regardless of the game's score."

After registration in October, kids go through evaluation sessions that allow organizers to put together teams that are competitive with each other. Players are ranked according to their skills; each team has 10 players.

"A No. 10 player couldn't play against a No. 1, but he can play against another No. 10," Fluesmeier said. "You take a kid that may not be able to dribble that well, and he gets paired up against a kid that can't dribble real well either, and you're letting those kids have some success. They may or may not ever be able to play beyond Upward, but they've had some success."

The eight-week season begins Friday, Jan. 8. The Conway league's games are Friday nights and Saturdays. The year-end awards ceremony will be Sunday, Feb. 28, at the University of Central Arkansas Farris Center.

The Conway numbers have been as high as 1,300, but they've leveled off to 750-800 the last couple of years as the Upward program has grown throughout the 501.

"Several programs have started around us," Fluesmeier said. "Vilonia started one last year, and I've been hearing they were up around 300 this year. Those 300 had all been coming here. We were one of the largest programs in the Upward program, but we were starting to hurt on space and everything. The vision of the program is that it will start in more churches and more communities."

Besides those in Faulkner County, Upward programs in the 501 also include Morrilton, Little Rock, North Little Rock, Cabot, Bryant, Mabelvale, Searcy, Clinton, Hensley, Hot Springs, Leslie and Sheridan.

Nancy Hannon, a children's minister at Conway First Baptist, said that church started an independent co-ed basketball league before joining the Upward program. Her two sons, Jake and Josh, are Upward alums.

"I think one of the greatest things it does is it gets people in the door of the churches who, for whatever reasons, might not feel comfortable coming in," she said. "Not only does it give a chance for the coaches and different people to share the Gospel, but it gets parents and families comfortable in a church environment that might be a little different than what they've experienced in the past."

Jake Hannon plays on the varsity team at Conway High, but Hannon said Josh was more of a football player.

"He's not the guy who's ever going to be a star basketball player, but Upward gave him a chance to play a sport against someone on his own level and made him feel good while he was out there," Hannon said. "While we focus on the fundamentals of basketball and teaching them how to dribble and shoot and play defense and rebound, it teaches them a lot more about the right way to treat other people."

Hannon said there was a screening process in place for coaches, who must have a church reference but who, like the participants, are not required to be church members.

"We love it when the church kids are a part of it, but this is such an outreach for people who aren't in church," she said. "The more, the merrier."

Fluesmeier said when First Baptist officials realized several years ago they needed some help to accommodate the numbers, Antioch and First Church of the Nazarene came on as partners.

"We've got three churches partnering together, and it shows that everybody can get along and do this thing," he said.
Part of his job as director is finding coaches.

"You've got to find the right people who are trying to live and do right and do the things that will be Christ-like," he said. "That's what the whole program is about."

For years, he said, Jimmy and Donna Magee served as league directors.

Hannon agreed that the program took much volunteer time.

"But we get so much more than we give," she said. "It's so much fun to watch them play the sport, but it's also so wonderful to see, especially, the child who may not be so familiar with Christ and Bible stories."

She recalled working one-on-one one year with a severely autistic child throughout the program.

"For 10 weeks, I spent at least an hour a week with him, and it changed my life," she said. "He was just a sponge. It was a life-changing experience for me. It's affected me deeply."

It's probably safe to say the reverse was true, as well.

For more information about Conway's Upward program, call 501.329.5648.