20 Apr

RV/RV Hendrix drops DH to Belhaven

MILLINGTON, Tenn. – RV/RV Hendrix dropped Tuesday's doubleheader against Belhaven (Miss.) by scores of 5-4 and 6-2 at USA Stadium field three.


In game one, the Blazers scored first in the top of the second inning courtesy of a Dawson Albin (2) solo homer to right center. 


The Warriors jumped ahead 2-1 in the bottom of the third when Juan Pablo Leon's two-run single up the middle scored Rail Gilliam and Zach Marriott. A Rally Miller RBI double to right in the fourth plated Hogan Ralston to make the score 3-1.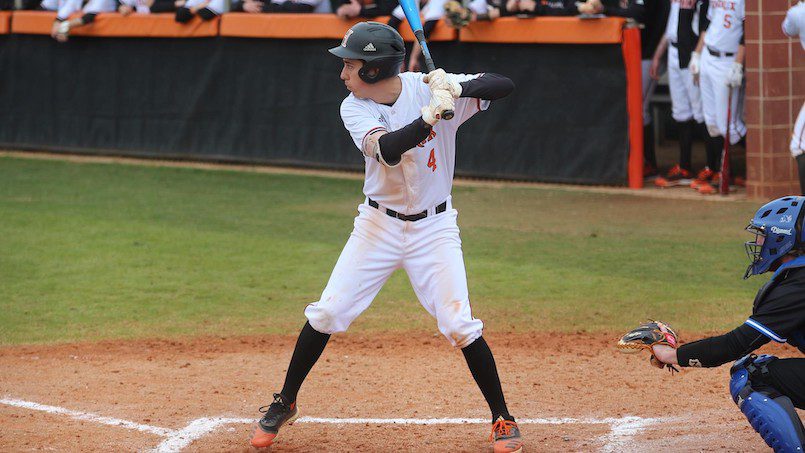 Nick Lucido scored on a Hendrix (25-12) fielding error in the sixth to cut his team's deficit to 3-2.

Adam Bland had a RBI hit to make the score 4-2 in the seventh, but Belhaven (22-12) responded with three runs in the eighth. Lucido scored on a squeeze play. Hunter Estes and Matthew Charbonnet each had RBI singles.

Lucido and Dawson Albin each had two hits and two runs scored.

The Blazers' Logan Goodreau (4-1) threw 2.1 innings of relief, allowing one hit with two strikeouts.

Leon ended 2-for-3 at the plate. Ralston scored twice.

The Warriors' Zach Orlando (0-1) pitched two innings out of the bullpen, giving up three earned runs on four hits with two strikeouts and a walk.

In game two, a Leon RBI single to the shortstop in the top of the first with two outs gave his team a 1-0 advantage. Lucido and Albin had RBI singles in the bottom of the frame to give their team a one-run advantage.

Belhaven added four runs in the fourth off two-run singles by Kyle McLaughlin and Lucido.

Miller scored on a wild pitch in the sixth, but Hendrix would get no closer.

Six Blazers had two hits apiece.

Belhaven's Beau Louviere (2-3) pitched three innings, giving up two hits to go along with a strikeout.

Miller ended 2-for-3 with two runs scored. Drake Job and Kyle Kirk were each 1-for-2 at the plate. Bland drew a walk.

Hendrix's Jackson Corrigan (1-1) pitched the first inning, allowing two runs, one earned, on two hits with a strikeout and walk. Will Graves, Nathan Silva and Cade McWilliams combined for five innings of scoreless relief.

The Warriors conclude the regular season with a three-game series at Rhodes (Tenn.) Friday and Saturday. First pitch Friday is 3 p.m. CT. The Warriors sit one game behind the Lynx for third place in the Southern Athletic Association standings.