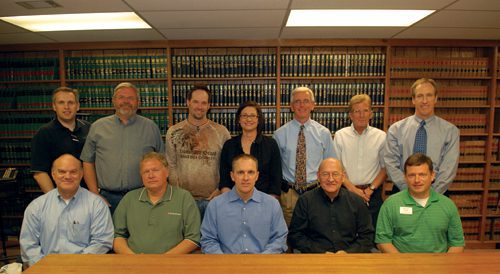 25 Apr 2010

In memory of Randy Baker

In 1986, the two races combined. Two races – a 10K and 5K – exist now, but the memory of Randy Baker is still at the heart of the races.

"One of my incentives for being involved with the races is that Randy Baker was a childhood friend of mine," Henry said. "He was a good friend of mine, and being involved is a way of remembering him and honoring our friendship."
Henry is a Conway attorney. He joined the Conway Kiwanis club in 1986 and joined the Toad Suck Daze Run committee in 1990.

"Regions and Kiwanis have been the two biggest and consistent sponsors each year," Henry said. "There is no monetary prize for the winners, but you do get a plaque and a T-shirt. Also, if you're a serious runner, this race is part of the Arkansas [Road Runners Club of America] Grand Prix Series, so you can get points for placing in the runs."

Proceeds from the race have gone to various charities and non-profits over the past two decades.

"For as long as I can remember, the Kiwanis club and Regions have split up the proceeds and decide who gets what. For example, HAVEN (a shelter for girls) in Conway has received a portion of the proceeds over the years, and in all, more than $220,000 has been distributed because of the races."

Although the numbers were a bit down last year because of Mother Nature, the run has grown in popularity.

"The races have grown slightly over the years," Henry said. "Last year was down because we were running in torrential rain. In 2006 and 2007, we had more than 1,600 runners."

In addition to the 10K and 5K races, the Tadpole Trot races are held at John McConnell Stadium after all 10K and 5K participants have completed the course. The Tadpole Trot races are for children ages 4 through 12. The top three male and female finishers in each race receive a trophy, and all other participants receive a ribbon.

"The children's races are always great," Henry said. "It's good just to see their smiles, to see them light up and to see their parents cheer them on. It's a good way of teaching the value of exercise. Hopefully when they get older, they'll continue to participate and run in the bigger races."

Each year, the T-shirts for the races bare these words: "In Memory of Randy Baker." That's what it's all about for Henry.

"Back when it was the Randy Baker 5K, I ran in it my first year out of law school," Henry said. "I ran it in his honor. Midway through, all these people started passing me. My ego got the best of me, and I kept pushing. I thought I would have a heart attack.

"Now I participate on the committee – without the running!"

The Toad Suck Daze Run will be held Saturday, May 1. The registration fee is $20 until April 29 – after that date, the fee is $25.

To register or for more information, visit www.toadsuckrun.com .