16 Nov 2022

Harding wins third straight in home opener

SEARCY — Harding held Crowley's Ridge without a field goal for the first six minutes of the second half and pulled away for an 84-55 victory in nonconference action Tuesday at the Rhodes-Reaves Field House.


With its two wins in Puerto Rico, Harding moves to 3-0 to start a season for the first time since winning its first six straight to start the 2012-13 season. Crowley's Ridge, an NAIA school located in Paragould, Arkansas, dropped to 1-4.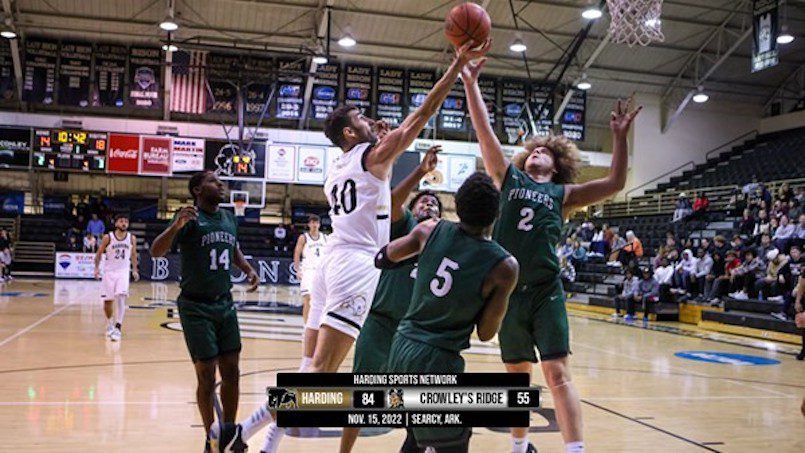 Harding went on a 15-1 run during Crowley's Ridge's cold snap and built a 50-35 lead with 14:16 left on a Matija Milivojevic layup.

That stretch helped Harding erase a 34-33 deficit at halftime.

Harding led by as many as 31 in the second half. The Bisons limited the Pioneers to only nine field goals in the second half after surrendering 14 in the first half. Harding shot 61% after the break and made 6 of 10 3-pointers.

Taylor Currie led Harding with 18 points and 12 rebounds. Milivojevic had 13 points and eight rebounds, Sam Henderson added 12 points, and Davis Morgan scored 11.
Harding had 16 offensive rebounds in the game and held a 25-0 advantage on second-chance points.
Crowley's Ridge went on a 15-1 run over a five-minute stretch midway through the first half and pulled out to a 23-15 lead with 8:53 left on a long 3-pointer.Harding trailed 30-24 at the 4:18 mark but an 8-0 Bison run gave Harding its first lead since early in the game. Ramiro Santiago hit a 3-pointer from the corner to tie it, and Milivojevic's tap-in off a missed shot gave Harding a 32-30 lead with 1:50 left.

A jumper and two late free throws gave Crowley's Ridge a 34-33 lead at the break.

Henderson and Milivojevic scored eight points each to lead Harding, who shot 34% in the first half. The Bisons were 4 of 15 (27%) from 3-point range and 7 of 11 (64%) at the free-throw line.

Crowley's Ridge shot 54% in the first half and outscored Harding 20-14 in the paint. The Bisons had 10 offensive rebounds and outscored the Pioneers 15-0 on second-chance points.

Harding returns home to host Champion Christian on Saturday at 3 p.m.