Jun 25, 2018

Greenbrier photographer stays focused on life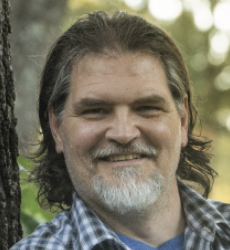 Latest posts by Dwain Hebda
(see all)
by Dwain Hebda
There's a lot that could take Verna Higgins from the business of living and pursuing the things she loves most, and not many people would blame her. Higgins, a native of Little Rock who's lived in Greenbrier for 26 years, has lived with Parkinson's disease for 12 years. The condition often makes it difficult for her to tromp out to her preferred places to shoot.
But with a little help from her husband Randy and a lot of faith, the photography hobbyist is still out there capturing images of the places and people that mean so much to her. 
"Because of my Parkinson's, a lot of times I'll have to have help carrying equipment and sometimes even walking," she said. "My husband supports me in everything I do. Without him, I couldn't do it, and I'd be miserable. He drives me around Arkansas on the motorcycle and in the car, searching for that great photograph, just to make me happy."
Verna graduated from snapshots to an active interest in photography around 2010, and it really took off in 2013 thanks to a local rescue dog named John D. Waugh. 
"I had photographed him at an event in Greenbrier the year before and was impressed by what he did," she said. "I told my husband that I wanted to go to Hollywood to take photos of John D., who was going to get the Hallmark and American Humane Society 2013 Search and Rescue Hero Dog of the Year Award.
"One of my photos I captured of the Hero Dog winner was published in one of the dog magazines. After I returned, my family, friends and those associated with John D. Waugh on Facebook were telling me how good my photos were."
Wanting to understand the science and technique behind the art form, Higgins took two classes at the University of Central Arkansas under instructor Mike Kemp. It's a move she recommends to anyone serious about improving their craft. 
"I didn't feel like I had an eye for detail or placement for great photos. Getting the picture focused was my main concern," she said. "If you want OK or even good photos, then keep doing what you're doing. If you want great, eye-popping 'WOW' photos, then get a good camera and take some photography classes." 
The course opened her eyes and helped expand a repertoire that was already prolific. To date, she has more than 28,000 images on her computer.
"I have taken pictures for our community and the county," she said. "My husband's a justice of the peace for Faulkner County, so I've taken pictures of events that they've had. And then a lot through my church, too."
Shooting events at her church, Immanuel Baptist of Greenbrier, has also exposed her work to a wider audience via the Baptist Trumpet newspaper. She's a familiar contributor to THV Channel 11 in Little Rock and participates in photography competitions sponsored by the Faulkner County Fair, National Audubon Society and others.
Her favorite subjects are wildlife, particularly birds.
"My special birds are eagles and hummingbirds. I go from the biggest to the smallest," she said. "I love those two; hummingbirds are so fast to keep up with, and eagles are so big. As a matter of fact, I have friends who have an eagle's nest on their property. I go and take pictures of the babies that have been born in the nest, and there's also the eagle watch in Gentry (Benton County)."
With her trusty Nikon COOLPIX P900 and a new app that helps her identify the birds that haunt the many feeders in her yard, Higgins takes each day as a gift, even on the days the disease makes it hard to steady the device. Photography is not only soothing for her, but also a way she can provide enjoyment, as well as therapy, to others. 
"I have friends that have Alzheimer's, and it's so important to them to have memories and bring up memories of things," she said. "Going back in these pictures and looking at them is preserving our history and our memories and gives us something to go by."