Sep 24, 2019

Couples: Rebekah and John Jay Fincher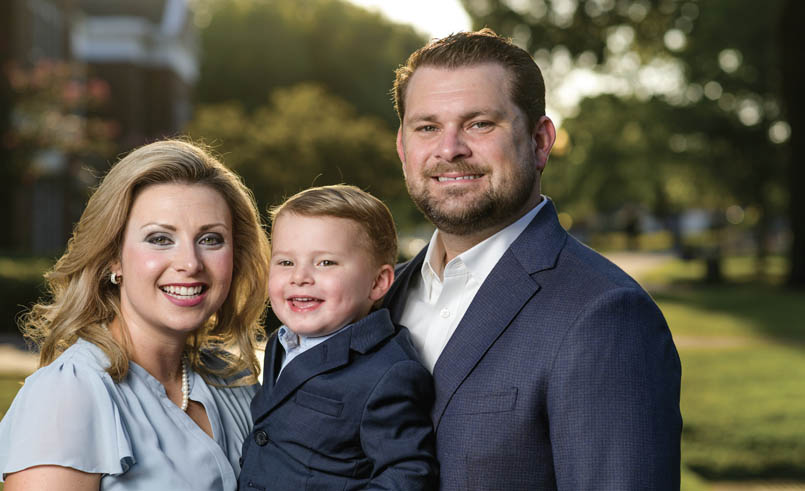 HER
Rebekah Suzanne Gardner Fincher
Native of: Shirley (Van Buren County).
Education: University of Central Arkansas, bachelor's degree, 2007; University of Arkansas at Little Rock, master's degree, 2010.
Job: Chief administrative officer, Conway Regional Health System.
Why did you choose your vocation: Growing up in rural Arkansas, I have seen first-hand the difficulty in accessing a needed healthcare provider. Focusing on strategy, growth and business development are my primary responsibilities for Conway Regional. Each day I identify ways to increase access to healthcare for Arkansans in our community. There is no greater joy than being able to help fulfill a need for the people and the communities we serve.  
Parents: Randall and Tyrene Gardner, Shirley.
Community activities: University of Central Arkansas, alumni board member (2014-present), Arkansas State Chamber, Leadership Arkansas Program (2018-2019), Delta Zeta national recruitment chairman (2019- present), Faulkner County Leadership Institute graduate (2016), UCA Delta Zeta Advisor (2007-2019) and UCA Greek Alumni Advisory Board member (2012-2019).
Hobbies/special interests: Running, cycling, reading, golf, water skiing, traveling, playing superheroes with Ethan Parker (our almost 3-year-old), and eating really good pizza.
How would you describe yourself: I'm a collaborator. I strive to identify and create win-win solutions and partnerships when and where possible. Growing up as an athlete and the granddaughter of a coach, teamwork was a trait I learned to value early on. I am very lucky to be part of some great teams both personally and professionally.  
What is one thing people don't know about you: I showed animals in high school. Attending the fair each year brings back very special memories of the value I gained through these experiences.  
What do you enjoy most about living in the 501: I enjoy the 501 way of life; the kindness of people, the amenities of living in a city like Conway but with the ease of access to Greers Ferry Lake and the Ozark Mountains, and the assurance of a community that wants to continue to evolve, adapt and grow to meet the needs of its citizens.  
HIM
John Jay Fincher
Native of: Hot Springs.
Education: University of Central Arkansas, bachelor's degree in 2005 and a master's in 2011; University of Alabama (A.B.D), doctorate.
Job: Assistant vice president – student services, University of Central Arkansas.
Why did you choose your vocation: Higher education has the potential to change lives, financially and intellectually. Earning a college degree is more than simply the attainment of academic credentials, but rather it is the culmination of the knowledge, skills and personal development that takes place during those years. During my nearly 15 years with UCA, I've been fortunate enough to have the opportunity to build several departments and numerous service areas, which support each student's ability to succeed. At the end of the day, I believe the simplest answer is that I'm proud of this work and being a small part of improving the future quality of our students' lives.  
Parents: Richard and Carlotta Fincher, Hot Springs.
Community activities: State coordinator for Arkansas – NASPA Regional Advisory Board, 2018-2020; Arkansas Student Affairs Association – Executive Committee, 2013-18 and president, 2017; Arkansas Partnership for Student Success – Conference Chair, 2017; Faulkner County Leadership Institute (FCLI) graduate, 2012; STAND State Leadership Foundation – Little Rock Class, 2008.
Hobbies/special interests: Audiobooks, podcasts, college football, golf and all things technology and/or tool related.
How would you describe yourself: At my most base-level, I'm a builder, tinkerer and maker. Truly enjoying creation and improvement has certainly had a positive influence on both my personal and professional lives. Left completely to my own devices, I'd probably be some sort of cross between Inspector Gadget, Doc Brown, Adam from MythBusters or the guy from Chitty Chitty Bang Bang…depending on which generational reference works best for you.  
Most enjoyed weekend activity: I'm the homebody in the family. Especially given the current moment in our lives, the activity I enjoy most is just being all together at home. 
What do you enjoy most about living in the 501: Central Arkansas means living in a growing community like Conway where we can both have careers we love, while still being just a short drive from our family and hometowns (an hour north for her and an hour south for me). 
THEM
Residents of: Conway.
Church activities: First United Methodist Church, Conway.
How we met: During our time at UCA.
The proposal: On April 4, 2009, a week after we purchased our first home, John and I had been to purchase the most important housing accessory, a grill. As he was setting up the grill, and I was unpacking inside the house, he began yelling from the back deck as if something was wrong. Pretending to be caught up in the grill, I opened the bottom and surprise. I am certain all the right things were said in this moment, but all I can remember is being overwhelmed with joy.  
Wedding bells: June 12, 2010, First United Methodist Church, Conway,
Children: Ethan Parker Fincher, who will be 3 in November.
Pets: Our dog, Sir Rufus Cotton Fincher.
Family activities enjoyed together: Boating on Greers Ferry Lake, traveling, taking Ethan Parker to kid-friendly events throughout Central Arkansas, and cooking large weekend breakfasts.