21 Dec

'Best of the Best': Wilkinson's marks 50th anniversary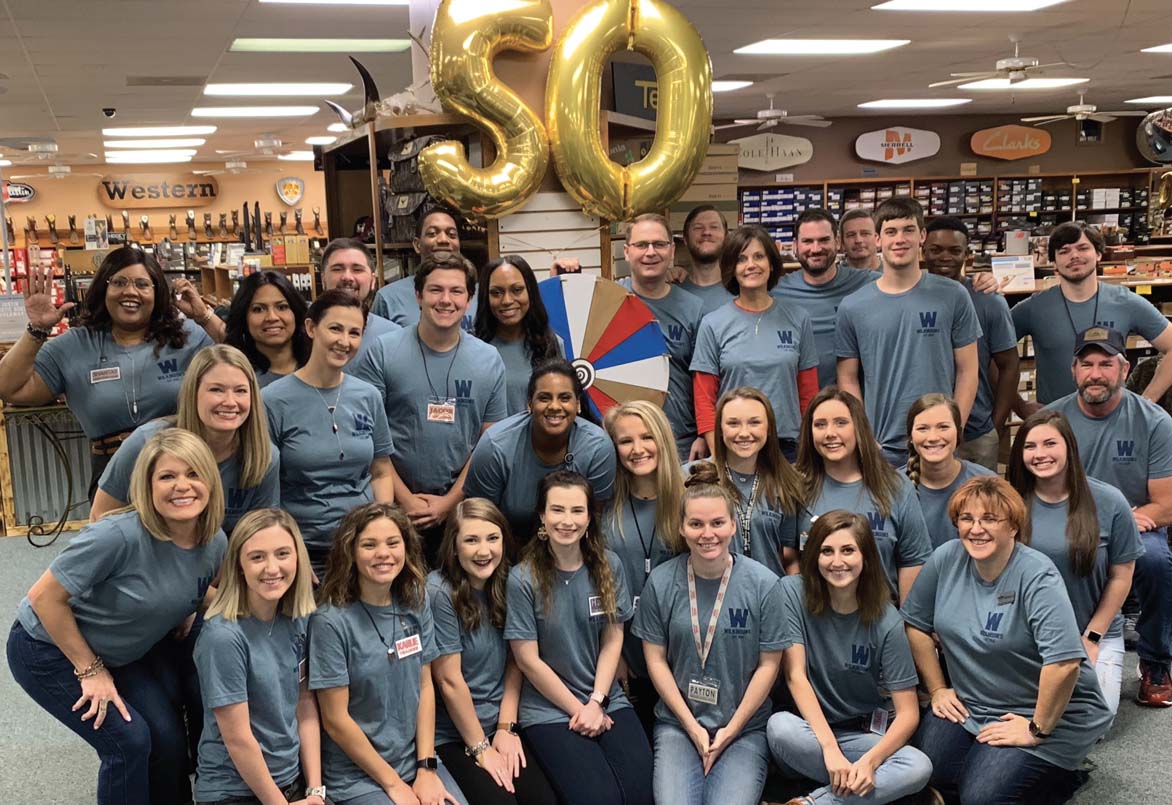 by Donna Lampkin Stephens
A venerable Conway landmark recently celebrated a milestone, and it's already looking ahead for more.
Wilkinson's Mall, Arkansas's largest shoe and boot store, celebrated its 50th anniversary on Nov. 3 with door prizes, gift cards, face painting, popcorn, hot dogs and a balloon artist at its Harrison Street location.
The family-owned store began in 1968 as Wilkinson's Wholesale Shoe Company. Bill Wilkinson was general manager of Helena Wholesale Dry Goods Company in Helena when he and his wife, Jean Wilkinson, decided to start their own business in Conway.
According to a company history, Bill was familiar with the wholesale shoe business from his previous work at Helena Wholesale Dry Goods, and the new company originally sold shoes only to stores.
"Bill and Jean Wilkinson took a chance," according to the history. "With modest means and four children, they decided to build a business with hard work and perseverance. Jean cooked family meals in a popcorn popper until they could afford a stove.
"Bill's best friend in Helena was David Rayman, who agreed to put his life insurance policy up for collateral at First State Bank by Mr. 'Uncle' Tom Wilson for a small loan to kick start the business. The rest is history."
A crisis came in 1974, though, when Bill Wilkinson, just 48, died unexpectedly of a heart attack. The couple's son, Mike, finished the final two weeks of his four-year Marine Corps commitment and then came home to join his mother, sister Jenny Wilkinson Honey and brother-in-law Steve McEntire in running the business.
According to the history, Wilkinson's in 1980 became a distributor of Kangaroo Shoes for eight states. Six years later, the family decided to liquidate the shoes and dissolve the corporation.
But in 1987, Mike, Jenny and Jean decided to reincorporate and diversify the business into a wholesale/retail operation.
The 31 years since have seen an explosion of growth as the store — now more than 20,000 square feet and billed "Arkansas's largest shoe, boot and sock store for the entire family" — has become a destination shopping experience for men, women and children far beyond shoes.
According to the history, "the family said that by the grace of God, and with the addition of Mike's three daughters — Natalie Rose, Beth Reed and Megan James — and about 50 great employees, the company thrived."
Today the store features more than 200 brands. Apparel, outerwear, accessories and jewelry joined the lineup in the mid-1990s.
The men's department includes "most any type brand of shoes or boots a man could want," according to wilkinsonsmall.com. Besides shoes in almost any width and size, the department also includes socks, apparel, hunting apparel and accessories and shoe care products. According to the website, the boot selection is "the largest in Arkansas: work, western, fashion, hiking, hunting, rubber, waterproof and footwear for the natural gas industry," including safety toe footwear.
The women's department includes "all of the famous footwear brands, plus fashion boots, cowboy boots, etc." Jewelry, apparel, accessories and "fabulous purses in many different shapes, sizes and colors" highlight the section.
The kids department features one of the largest footwear selections in Arkansas as well as socks, accessories and apparel. There is a "kiddy korner, lounge area and Wilkinson's famous horsey," according to the website.
The Sporty Shop includes athletic footwear, apparel and socks for a variety of sporting activities, and problem feet.
Wilkinson's Mall has been recognized as "The #1 Best of the Best Shoe Store in Arkansas," according to a statewide readers poll.
Family members involved today include Mike Wilkinson, president; Jenny Wilkinson Honey, vice president; Natalie Wilkinson Rose, general merchandising manager; Megan Wilkinson James, financial manager; and Cole Crossland, general manager.
Mike Wilkinson said name brand "make-ups" — lookalike products— are among the challenges the business is facing.
"The consumers can't tell the difference from the looks, but many parts inside are missing," he said. "Retailers can make more percentage of profit, but the consumer gets fake name brand product. Wilkinson's doesn't sell make-up product. Counterfeit product especially on the internet hurts too."
The business stays on top of coming trends by studying all the big footwear and fashion industry publications.
"Most importantly, we attend all the large footwear markets (national, regional or local) to evaluate the latest trends," Mike Wilkinson said. "In 50 years, we have only missed one, and that was right after 9/11."
Advice for other family businesses?
"Don't give up," Mike Wilkinson said. "Do what you do the best you can. The customer is still the boss."
The store posted its gratitude on its Facebook page after the day-long anniversary celebration Nov. 3.
"Thank you to all our wonderful employees and customers who have made celebrating 50 years possible. We have been truly blessed. A big thank you from the Wilkinson family!"
With a good social media presence and a tongue-in-cheek tagline — "voted 'Best of the Best' in every poll ever taken" — Wilkinson's Mall is looking to follow its own advice for the next 50 years.