05 Nov 2023

Youth of the Month: Clara Principe

By Carol Rolf

Clara Principe is living the sweet life at Mount St. Mary Academy in Little Rock.

A senior at the all-girls, college preparatory high school, Clara, 17, maintains a 4.0 GPA (5.0 weighted GPA with Advanced Placement classes) all the while being involved in a myriad of clubs on campus. One of her favorite clubs is the HoneyBelles Bee Club.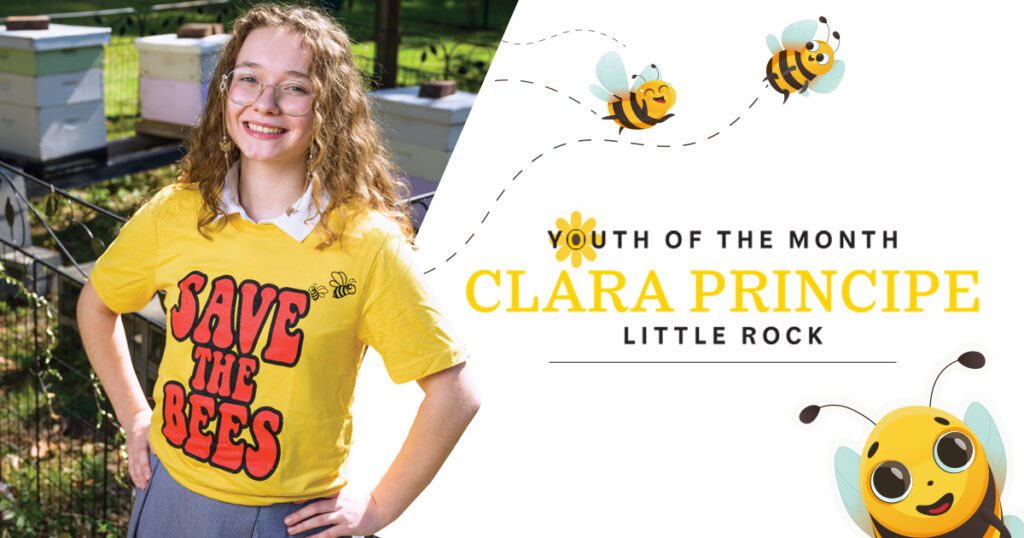 "I joined the HoneyBelles when I was a freshman," she said. "That was my first experience with bees. I now have a hive at home, too."
Clara is president of the school's beekeeping club for the second year; she was the hive manager her sophomore year. The club has two hives on campus, which are maintained by approximately 50 club members. They tend to the hives, extract the honey and then sell it as well as other bee-related products at school and community-wide events like Hillcrest HarvestFest, which was scheduled Oct. 28 in the Hillcrest neighborhood in Little Rock.
In addition to making and selling sweet products, Clara and the HoneyBelles do presentations across the 501 community to educate people about the importance of bees.
Clara has served as a beekeeping apprentice under Lauren Anderson, founder of Calm+Confidence, and participated in research at the University of Central Arkansas on native bees in the state.
"Clara is one of, if not the best, students I have ever worked with," said Coleman Little, a biology lecturer and the director of the Jewel Moore Nature Reserve at UCA. "She is extremely self-motivated, to a point that I had to make her stop working and go home. She is also very inquisitive. If something doesn't make sense to her, she questions it and immediately starts trying to understand it. It would take a long time to describe all of Clara's qualities that make her such a great student, but my top five are her motivation, impressive intelligence, positivity and curiosity. Clara is an amazing individual, and I am excited to see what her future holds."
Maureen Stover, faculty adviser for the HoneyBelles Bee Club, calls Clara "a calm and confident beekeeper."
"Over the years I have worked side by side with her tending to the bees, making crafts from beeswax and working a booth at the annual HarvestFest," Stover said. "She is the student I can always count on to be there and to take initiative. She quickly became knowledgeable because she rarely misses an opportunity to work with the bees. Whether it is after school, on a weekend or even in the summer, Clara shows up.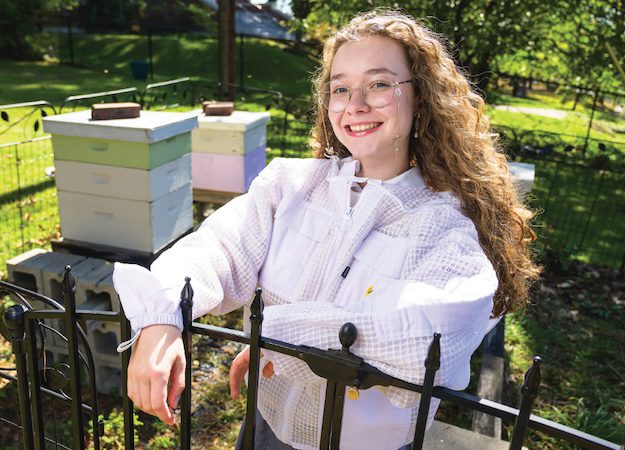 "Clara is fearless," Stover said. "There was an occasion when the bees actually started to swarm while we were working with them, so bees were circling us like a tornado. Clara stayed calm and cool, just admiring their behavior as they finally calmed and settled back in.
"As a club, the HoneyBelles invite classes from a local grade school to educate students on pollinators," Stover said. "When these students visit, Clara is in charge of the hive demonstrations, opening up the hive, finding good frames that the students can observe and learn from and explaining what is happening in the hive as individuals come up for a closer look. She has a keen eye and is a great queen-spotter, an important skill in beekeeping. She has truly become our in-house bee expert. I am thankful to have one more year with Clara in charge of the bees and will depend on her to help train our future beekeepers."
Clara has not decided on a college yet, but she plans to major in entomology.
"I would like to do research after college," she said. "I'll just see where all this takes me."
As she finishes out her high school career, she continues to be involved in the Odyssey of the Mind program, Honor Council, American Sign Language Club, Quiz Bowl and choir.
"Our Odyssey of the Mind team went to a national competition last year at Michigan State University and will return in May 2024 to the competition at Iowa State University," she said. "Last year, our team combined improv theater into our presentation. Our theme was 'Classics … Walls of Troy' and featured a cast of 'bugs' that built the wall. It was a lot of fun."
When Clara is not involved in school activities, she enjoys writing poetry, doing crafts, walking and listening to music.
"I also watch Bollywood movies with my dad," she said, laughing.
Clara is a daughter of Phil and Anne Principe of North Little Rock. She has one older brother, Mac, 18, and one older sister, Reilly, 20, both students at the University of Arkansas at Fayetteville.