11 Sep 2023

Youth of the Month: Akire Williamson

By Becky Bell

Fifteen-year-old Akire Williamson is like her peers in a lot of ways. But a true distinction between them is that she is the author of the book "Twinkle" with the theme "don't be a bully, be a star." "Twinkle" is available on Amazon.

The reason Akire wanted to write the book as an 8-year-old was that she wanted other children to understand the impact of bullying.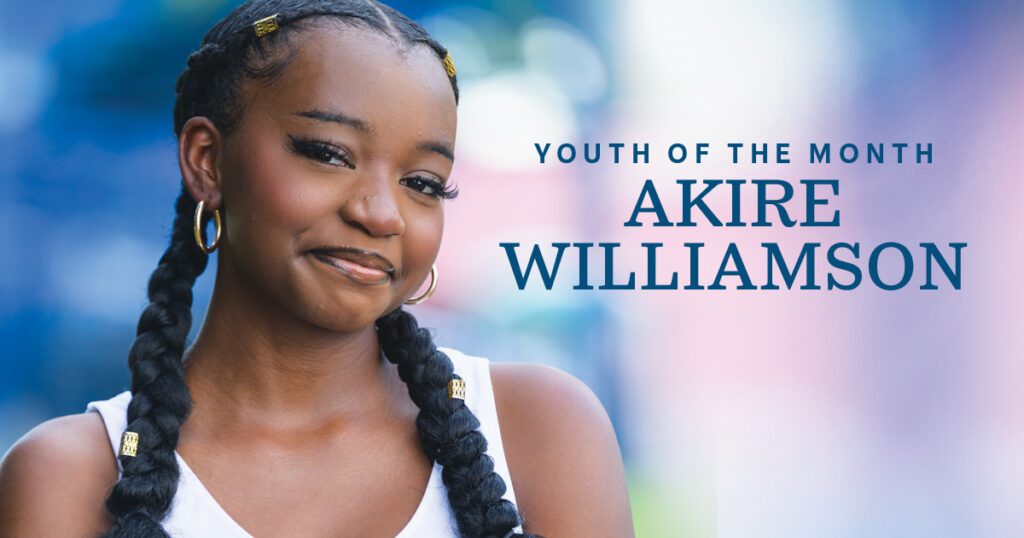 "I was being bullied when I was in elementary school," she said. "The book was basically an outlet where I could talk about stuff and help people out. I wanted to reach out to those who had been bullied and show that a lot of people experience it; it's not just you. I wanted to show them they are not alone. I wanted to show them it's not OK at all."
Akire said the bullying she encountered at school led to her developing insecurities and social anxiety. "The bullies who taunted me in both the third and fourth grade would call me fly, meaning I looked like a fly, the insect apparently, and that didn't make me feel good at all. They would talk about my forehead being big and about my messed-up teeth, and these were some things I had never felt bad about before," she said.
"This would get in my head. I started thinking about these things and I would get really anxious. I didn't want people to talk to me."
So as this behavior continued, the then 8-year-old Akire had an idea. She said she knew her "Nana," Mary Ousley, had a computer in her room, and so she began writing her book. And eventually, she showed it to her grandmother.
"She said, 'Wow, this is really amazing,' and she thought I did really good," Akire said. Through the book, the character of Twinkle, a star who ran away from home for being too small, is taught to stand up for herself and learns to never allow others to cause one to do anything other than shine.
Ousley described her granddaughter as being brave for writing the book. "She found a great way to cope with what she was dealing with by writing about it, and she was very courageous by doing that. I'm not saying this because I am her grandmother. She is just an amazing young lady," Ousley said. "She is a great granddaughter, she is an awesome sister to her siblings, and she is just a joy to be around."
In the summers and in her spare time from school, Akire spends time at the Martin Street Youth Center in Jacksonville (Pulaski County), the same place that hosted a book introduction party when her book was published back in May 2017. She keeps the message of anti-bullying strong among the kindergarten through 12th-grade students who use the center for recreation throughout the year. During its busiest time of the year, when basketball and football season are over at schools, the center has room for about 85 students, said Glen Lane, youth center manager.
"Akire doesn't like bullies very well, and over the past five years she has blossomed and is in a good place," Lane said. "To be honest, if I could, I would clone her because she personifies what the youth center is. She has good social interaction skills, and she does anything I need to show new kids the ropes as well as the rules."
Akire is looking forward to the school year and will play her flute in the Jacksonville High School band. She has also become interested in another instrument—the guitar—and said her grandmother got her one for her most recent birthday.
"I knew there would be some challenges. It is hard. You move your hands and maneuver your hands in some ways, and it is hard. But I like it. I like a challenge," Akire said. "I haven't experienced my fingers bleeding, but I have experienced my fingers peeling and my skin and fingers hurting because when you push down on the strings, that hurts."
With Akire's accomplishment of already having written a book, there is no telling what the young lady might do next. And one thing is for sure—bullies will have nothing to say about it.