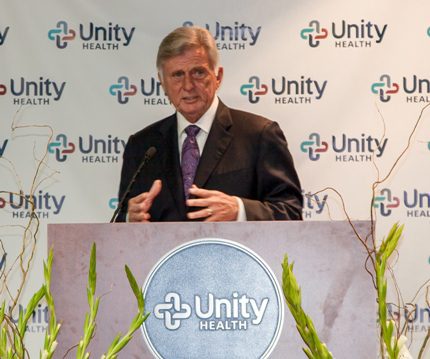 20 Jul

Unity Health hosts momentous event

Unity Health's Graduate Medical Education (GME) program recently hosted a ribbon-cutting and white coat ceremony for its inaugural class of physician residents. The event marked a momentous stage in the history of the hospital.


At the ceremony, physician residents were presented with their white physician coats and were initiated into the program. Speakers at the event included Unity Health President/CEO Ray Montgomery; Unity Health Director of Medical Education Dr. Dewey McAfee; Senior Associate Dean for Clinical Affairs and Graduate Medical Education at Kansas City University Dr. John Dougherty; and Mike Beebe, former governor of Arkansas.


"This ceremony celebrates what a hospital has already done," said Beebe. "This celebrates what a community has invested and is willing to do. Somebody has to step up and somebody has to be a leader. I'm proud that it's Searcy, Ark. I'm extremely gratified that it's this hospital, this healthcare organization, these physicians and these nurses, this staff and administration."


The continual mission of Unity Health is to ensure healthcare in Arkansas for future generations. The GME program, which currently has 16 physician residents in three specialties, is estimated to grow throughout the next three years. The internal medicine program is expected to increase up to 30 residents while the family medicine program is expected to increase to 12 residents. The psychiatric medicine program is also estimated to increase up to 16 residents within the next four years.


"Nationwide we have a projection of a shortage of 33,000 physicians, by 2030," said Dougherty. "In Arkansas, the projection is that the number of physicians will have to increase in the state by 25 percent just to meet the need of the growth that Arkansas is experiencing right now. There are a number of physicians aging, eventually heading toward retirement. The other contributing factor to the physician shortage is that Arkansas is very favorably experiencing an increase in population and as a result the existing infrastructure relative to the development of physicians is not going to be able to meet that demand and that is why today [the beginning of the Unity Health GME program] is so significant."

In 2007, the American Association of Medical Colleges put forth a statement that the number of medical students needed to increase by 30 percent to meet healthcare needs. In addition, statistics show that physician residents practice generally within an hour of where they trained in residency. Unity Health is responding to help teach physicians; playing a critical role in ensuring future healthcare in Arkansas. According to Dougherty, Unity Health's GME program will increase psychiatrists and internal medicine physicians going into practice in the state of Arkansas by 50 percent.

"I want to celebrate today," Beebe said. "There is a huge obstacle to meeting this shortage and we are here acknowledging the crumbling of this obstacle in part. The bottleneck that exists in the ability to educate and train and put into the field qualified physicians is available residency slots; it's always been residency programs. We do not have a sufficient number of residency slots currently for the number of people graduating from our current medical schools. … Our country has not been able to keep up with that requirement and hospitals have been reluctant to step out and share some of that cost."

Upon graduation from medical school, medical students are required to complete a residency program which serves as the graduate phase of medical training. The Unity Health Graduate Medical Education program currently features three different focused areas of study; internal medicine, family medicine and psychiatric medicine. Each program offers a minimum of three years of intensive, hands-on osteopathic medicine training within both hospital and clinic environments.

The program which is affiliated with the Kansas City University Educational Consortium (KCU-EC) is accredited by the American Osteopathic Association. The program will help prepare residents to practice as osteopathic physicians. Physicians who practice and are trained in osteopathic medicine, also known as D.O.s, focus on a holistic view of medicine based on the philosophy that all bodily systems are connected and related to each other. Osteopathic medicine concentrates on the patient's health as a whole to diagnose rather than treating the symptoms alone. Great emphasis is also placed on preventing disease.