10 Nov

Unique football playoffs kick off Friday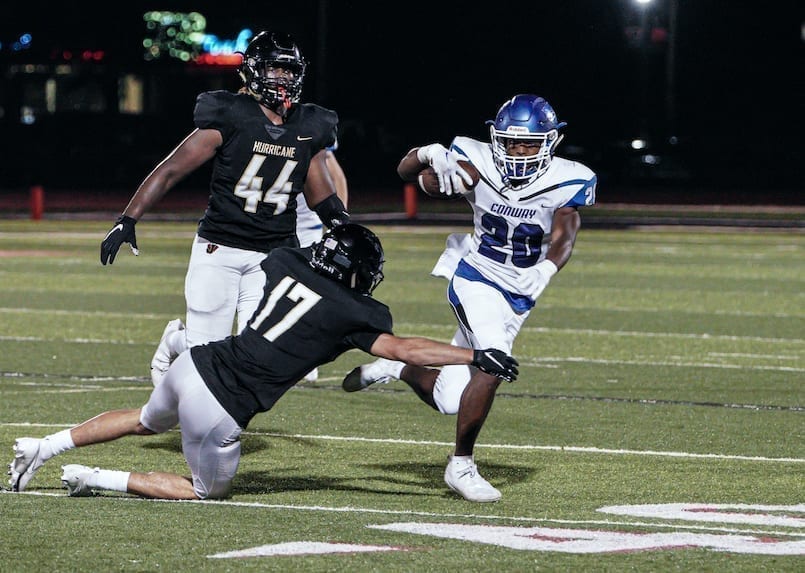 A unique and challenging high school football regular season is in the books, and now comes state football playoff brackets that look like nothing we've seen before.
With COVID-19 forcing cancelations throughout the season in all the classifications, the Arkansas Activities Association announced earlier in the season that all teams would be eligible to participate in the playoffs. Schools had until this past Saturday morning to declare their intent. Twenty-eight teams decided to opt out. Because some classifications have so many extra teams, a play-in round has been added. This impacts the 5A, 4A and 3A.
In the 7A, only one team opted out — Little Rock Southwest. This opt-out gives Bentonville, the top seed out of the 7A West, a bye this week. Bentonville is the only team in 7A to get a bye. In the past, the top two seeds from each conference in the 7A received byes from the first round.
The Conway Wampus Cats (6-3, 3-2) earned the No. 3 seed out of the 7A Central and will play host to Springdale to open the playoffs this week.
Wampus Cat quarterback Ben Weese has thrown for 2,915 yards and 32 touchdowns — single-season records for Conway High School. His top target, Bryce Bohanon, has compiled 1,187 receiving yards and 14 touchdowns.
"What we've seen this year with offensive coordinator Mark Kelley's offense has been such a monumental shift for the Conway program," said Levi Gilbert, play-by-play announcer for Wampus Cat football on Conway Corp. "It's truly amazing what the offense has been able to accomplish. It's a complete shift in philosophy to pass-first instead of run-first. A year ago, 55 percent of Conway's offensive production came on the ground. Now it's flipped to 70 percent of the production coming in the air.
"To think they were able to make this shift in the strangest summer we've ever seen with so much less face time with players and coaches — if I were other teams in the 7A, I would really fear what this offense will look like in the years to come with more time to fully learn and implement this system."
Conway is coming off its biggest loss of the season in a 70-33 loss to Bryant.
"There's no denying that last week was a disappointment," Gilbert said. "The offense left 21 points on the field, and the defense really struggled to get stops against the No. 1 team in the state. This defense has forced 21 turnovers this season, and they'll need to keep that pressure up to find success in the playoffs. The Wampus Cats can score on anyone, and that will keep them in games, but they'll have to get a few stops to get wins and keep progressing deep into the playoffs."
Conway's first-round playoff matchup with Springdale will air live on Conway Corp Channels 5/585 and on YouTube.
View the full slate of playoff matchups containing 501* teams below:
7A
Rogers Heritage at BRYANT
CENTRAL at Fayetteville
Springdale at CONWAY
Rogers at CABOT
FS Southside at NORTH LITTLE ROCK
CATHOLIC at Springdale Har-Ber
6A
Marion at BENTON
Russellville at SYLVAN HILLS
SEARCY at PARKVIEW
Sheridan at LAKE HAMILTON
5A
(Play-in Round)
Brookland at GREENBRIER
Nettleton at MAUMELLE
Hope at MORRILTON
BEEBE at Camden Fairview
HOT SPRINGS at White Hall
Watson Chapel at VILONIA
4A
(Play-in Round)
HEBER SPRINGS at Trumann
BAUXITE at Huntsville
Green Forest at BALD KNOB
FOUNTAIN LAKE at Pottsville
CLINTON at Blytheville
3A
(Play-in Round)
BAPTIST PREP at Corning
2A
ENGLAND at BIGELOW
Cedar Ridge at POYEN
MAGNET COVE at McCrory
Murfreesboro at QUITMAN
*501 teams listed in bold and all caps.