06 Apr 2022

UCA tennis player receives ASUN attention

ATLANTA — The ASUN Conference announced today their selection for Women's Tennis Player of the Week, and for the second time this season, a University of Central Arkansas tennis player was selected. 

After a split weekend for the Bears squad, one player remained perfect: junior Fuka Nonoyama. Nonoyama finished the two-match set with two wins from the singles court and one win alongside partner Chunxi Xin. Both of these wins continue to showcase the prowess of the No. 2 option for UCA, as she is now 5-0 in the ASUN for singles play and 2-0 with Xin in conference doubles play.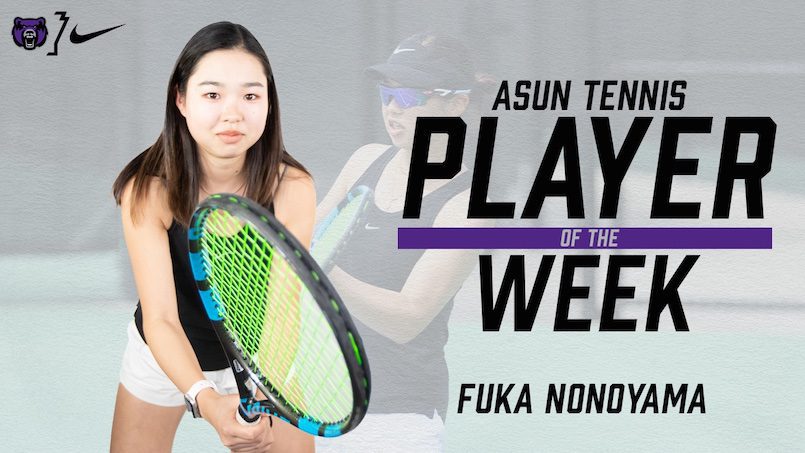 Nonoyama continues to be that driving force for the Bears as she has dominated most of her competition and kept UCA on the winning side of things. While the Bears suffered their first-ever ASUN loss this weekend, the facts still remain the same, as she bested her singles foes by a commanding overall score of 25-9. On the doubles side, she and her partner Xin, proved their worth in another conference as they bested the previously undefeated (6-1) squad of Nguyen and Romero 7-6. This weekend's results put Nonoyama's all-time conference doubles record at 20-0 (SLC 18-0).
Nonoyama's impressive career continues to be a staple for UCA as she just set the mark for the most conference player of the week honors (4). This award is her first in the ASUN, as this title pushes her past teammate Xin for the most in Bears history. Nonoyama will hope to continue her streak of historical success in this upcoming Florida road trip as UCA battles Stetson Friday and North Florida Sunday.
Quote from head coach Casey Wharton:
"I am very proud of Fuka; she played well this weekend. She played well in both matches, doubles, and singles, but I think she has played well all season. For some players, it's easy to have a great weekend, and then the next weekend, their level drops, but what I have been most proud of in Fuka is that she has been able to at a high level constantly every weekend. Whether we are at home or away, or playing conference or nonconference, she has a level that is really good. I am very proud that she can do this on a consistent basis, and this weekend was just another example of that."