07 Sep 2022

UCA Men's Soccer downs Air Force

Posted at 4:34 PMh

in

News

CONWAY — Three unanswered goals to start the scoring led the Central Arkansas men's soccer team to a dominating 3-1 win over the Air Force Falcons Monday afternoon. Narrowly escaping a lightning delay at the end, the Bears took care of business early and were rewarded with a victory in their 2022 home debut.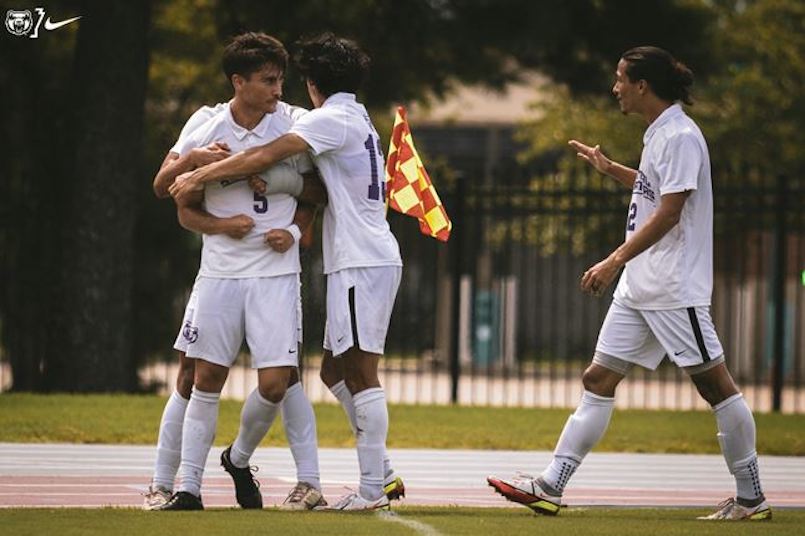 With the win, Central Arkansas moves to 1-2-1, having played four teams that should make the NCAA Tournament this season. Three Bears scored their first goals of the season, as Jerry Gutierrez, Bernard Assibey-Rhule and Richy Lapointe-Guevara all found the back of the net.
It didn't take long for the Bears to get going; the aggression was evident from the drop. Earning a free kick in the early minutes, Rubyn Singh Gill and Sebastian Andreassen teamed up to feint a shot from just outside the 18 yard box, as Andreassen chipped in a pass that allowed Gutierrez to pull off a picture-perfect bicycle kick to open the scoring. 
Central Arkansas continued to press, seeking a larger lead before the midway point of the first half. Letting loose on more shots throughout the period, the Bears outshot the Falcons 6-4 through the 30th minute, keeping pressure high and forcing the visitors to create long, drawn out offensive sets. 
Entering the game for the first time at the 33:23 mark, Bernard Assibey-Rhule came in at the forward spot seeking his first goal of the season. Literally 37 seconds later, he did just that, collecting a gorgeous through-ball from Gutierrez and firing it into the lower corner of the net to make it a 2-0 lead.After the halftime break, the Bears again wasted little time getting a third goal on the board, scoring in the 53rd minute on another set piece. Bradyn Knutson and Andreassen combined on passes, eventually putting the ball at the feet of Lapointe-Guevara, who tapped it in for a 3-0 lead. Air Force would score once in the 87th minute, but it was too little, too late for the Falcons.

Up next for the Bears is a second-straight home game, as the team starts ASUN play against North Florida on Saturday. Kickoff against the Ospreys is set for 7 p.m.