15 Jul 2020

UCA Bears dominate All-SLC team

The University of Central Arkansas Bears dominated the 2020 preseason All-Southland Conference football teams announced on Wednesday with a league-high 13 selections named to the first and second teams.

The Bears had eight players named to the first team and five more to the second team.

UCA's first-team selections include quarterback Breylin Smith, offensive linemen Toby Sanderson and Jaylen Hendrix, wide receiver Lujuan Winningham, defensive end Nathan Grant, linebacker T.J. Campbell, cornerback Robert Rochell and kick returner Cameron Myers.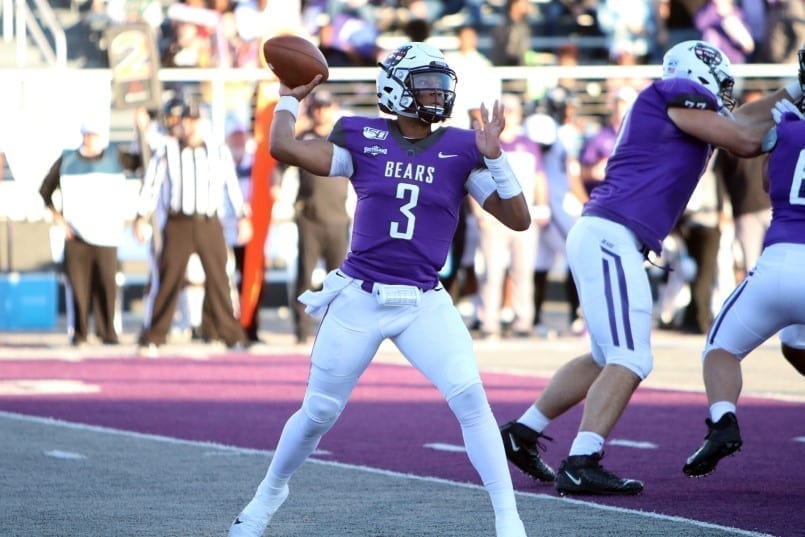 Smith, a 6-foot-3, 210-pound junior from Conway, set the UCA single-season record for passing yards a year ago with 3,704 yards, and also tied the school mark for touchdown passes with 32. Winningham, a 6-3, 190-pound junior from Humble, Texas, was on pace for a record-setting year last season before breaking his arm in the ninth game of the season. Still, Winningham caught 50 passes for 814 yards and eight touchdowns.
Sanderson, a senior from Edmond, Okla., and Hendrix, a junior from Everman, Texas, helped the Bears finish the season with 4,961 yards of total offense in 2019, an average of 381.6 yards per game. Sanderson is also an SLC All-Academic selection.
On the defensive side, 6-2, 195-pound senior Robert Rochell from Shreveport, La., tied for the SLC lead in interceptions (5) and passes defended (18) while earning All-America honors. Grant, a 6-4, 245-pound senior from Carrollton, Texas, had 41 tackles, including 10.5 tackles for loss, in 2019. Campbell, a 6-1, 232-pound junior from Southaven, Miss., was UCA's No. 2 tackler with 65 stops, including 9.0 tackles for loss in his first season with the Bears.
Myers, a 6-1, 205-pound sophomore from Plant City, Fla., finished third in the SLC in kick returns a year ago, averaging 22.9 yards per return last season.
UCA's second-team selections included placekicker Hayden Ray, tight end Jack Short, wide receiver Tyler Hudson and defensive linemen A'Javius Brown and J.W. Jones.
Hudson, a 6-2, 185-pound sophomore receiver, was the SLC Freshman of the Year after catching a team-high 55 passes for 975 yards and 12 touchdowns in his debut season. The 12 touchdown receptions ties for second most in school history and the yardage ranks fifth. Ray, a junior from Bryant, led the conference in field goal accuracy last year, making 15 of 17 (88.2 percent), and was third in point-after percentage (42 of 43, 97.7 percent). 
Short, a 6-4, 245-pound senior from Bentonville, caught three passes for 19 yards in eight games a year ago. Jones, a 6-4, 268-pound senior defensive end from Rayville, La., tied for the team lead with 10.5 tackles for loss last season and finished with 37 total tackles, one forced fumble and one fumble recovery.
Brown, a 6-2, 320-pound tackle from Jackson, Miss., recorded 30 tackles, 6 tackles for loss, 2.5 sacks and forced fumble. 
Smith, Hendrix and Hudson were all named freshman/sophomore All-Americans following the 2019 season.
The Bears, who finished 9-4 overall and tied for the SLC championship with a 7-2 mark, open the 2020 season in the Guardian Credit Union FCS Kickoff on Saturday, Aug. 29, against Austin Peay at historic Cramton Bowl in Montgomery, Ala.