20 Jul 2019

'Twin sweep': National champions give back at home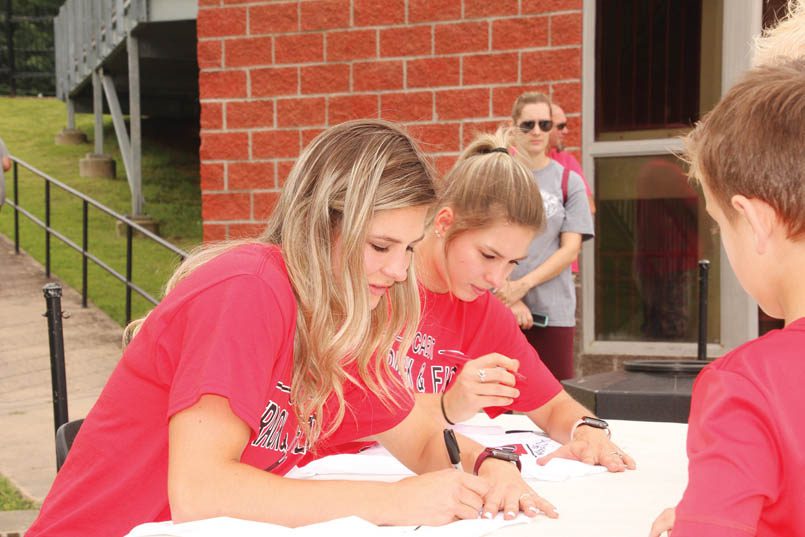 by Sonja J. Keith
After what they describe as a "twin sweep" as national collegiate champion pole vaulters, Tori and Lexi Weeks recently returned to their hometown of Cabot to encourage young people to discover what they are passionate about and work hard to achieve their dreams. As they have done.
Both were excited to be home and help with the Cabot Panther summer track and field camp for students in kindergarten through sixth grade. "We love to do things like this," said Tori. "It is fun to come out and help."
The two recalled growing up in Cabot and running on the track at Panther Stadium, where the camp was held. "This is where we grew up, running on this track in junior high and all through high school," said Tori. "We spent hours and hours of practice out here in the hot sun and snow on the track one year . . . It is home. We can't wait to get back here."
Lexi shared with campers that the two attended Cabot schools from elementary through high school. "When we were little, we did all sorts of different sports. We didn't just pole vault. We did soccer, softball, gymnastics and tennis. I think that helped us to become overall good athletes. I think it's important that you try all different sports to find out what you really love and what you are really good at. Don't limit yourself to one thing."
"When you find a sport you really love and that you want to do, whether that's baseball, basketball, football, gymnastics or dance, you have to go to practice and work really hard," said Tori. "You have to show up with the right attitude and tell yourself, 'Today I'm going to get better.'"
The two also encouraged the campers to focus on their schoolwork. "It's not just about the sport, it's about doing well in the classroom and working hard," said Tori.
"We want to encourage you to find something you are passionate about. It doesn't necessarily have to be about sports. It can be a multitude of things, like art or music," said Lexi. "Find something you really love to do and put a lot of work and effort into it."
Tori and Lexi recalled that they were in the seventh grade when a coach suggested they try pole vaulting. They tried it for the first time in the pole vault training room at Cabot High. They thought it was fun and kept returning to keep practicing. In high school, they participated in a variety of track and field events, but they excelled at pole vault.
For the last four years, the two have attended and competed at the University of Arkansas at Fayetteville. They have been on Razorback teams that have garnered SEC and national championships.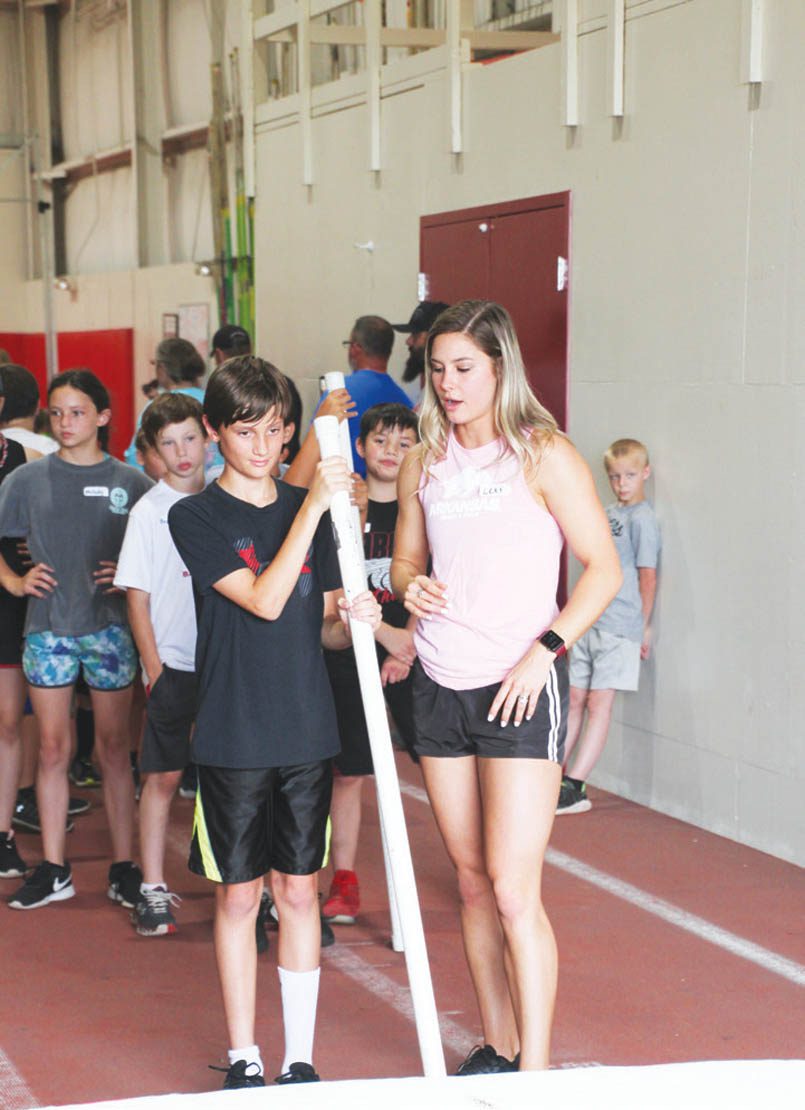 "We've had a fabulous four years at the University of Arkansas," said Lexi, adding that they appreciate the support that their hometown has continued to show for them, which has included attending meets and congratulatory messages on social media. "What's been really cool, while we have been in Fayetteville, is the support that Cabot has shown for Tori and I."
Lexi said the community's support was one of the reasons they wanted to stay in Arkansas for college and represent the state. "We wanted to make the state proud and make Cabot proud."
Tori said her biggest moment in college was winning the 2019 NCAA outdoor championship. "I spent four years placing in nationals and getting first, second, third at SEC championships, but finally I was able to capture my first NCAA individual title, and as the team we got the team title. That was a pretty special moment."
"This year was been a whirlwind," said Lexi, who won the 2019 national individual indoor title, and the team also won. "You can't top that. That's the highest you can go. For Tori to do that outdoors, I think this year has been so special. We kind of did the twin sweep. I got the indoor title, and she got the outdoor. I think for the both of us to see each other excel and succeed, it's been so good to watch each other and support each other in those victories."
Tori and Lexi graduated in May from University of Arkansas at Fayetteville. Both are married and receive a lot of support from their spouses on their next chapter in pole vaulting. Tori is married to Seth Hoggard. Lexi is married to Derek Jacobus.
"Besides each other, they are our next biggest supporters," said Lexi.
Tori and Lexi have been accepted to attend UAMS, but are deferring for now to focus on training with a goal of competing in next year's Olympic Games in Tokyo. 
Lexi — who competed in the last Olympic Games in Rio — pointed out that it is tough to make the U.S. team, but they plan to give it 100 percent. "You have to be top three that day, and there are a lot of women out there who jump high. It's anyone's chance to do it."
They also want to pursue pole vaulting on the professional level. "It's a different ballgame jumping for a career," said Lexi. "Track and field is so much bigger in Europe, and that's where most of the pros go to compete," Tori added.
Lexi said they have a goal to compete in the IAFF Diamond League, which hosts competitions all over the world, including Monaco, Shanghai and Rome. "To do that, we have to jump high," she said.
Through their high school and college pole vaulting, the two have served as each other's biggest fan. They are quick to point out that there is no sibling rivalry. In addition to providing support with academics as "built-in study buddies," they push each other athletically and enjoy celebrating each other's successes. "If I have a bad meet, she there's to encourage me and lift me up, and the same for her if she has a bad meet," said Tori.
"It's a special bond that we have that we get to share this journey together," added Lexi.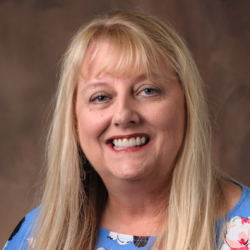 Latest posts by Sonja Keith
(see all)