20 Aug 2020

Pet therapy: 'I just found that animals help open doors'

Methodist Family Health has enlisted the help of special furry friends to help those in their care.

In 2002, Methodist started its pet therapy program. In 2008, the agency began working with Pet Partners of Central Arkansas, a non-profit group of registered teams of trained dogs and handlers who visit hospitals, schools and other facilities and special events. Its mission is to bring hope and healing to others through the human-animal bond.

Frankie Stovall is the recreational therapy supervisor for Methodist Behavioral Hospital, where she has worked for three years. "I adopted Alaric with the intention and hope that he would become a good therapy dog, which he did," she said.

Kelli Reep, director of communications, said Frankie is the agency's first pet therapy handler and Alaric, a rescued dog, its first "employed" pet.

"My history with animals as far as the therapy goes back a long way," said Frankie, explaining that she previously worked with Hearts and Hooves to provide equine assisted therapy. While Frankie has "three equine assisted partners," Alaric is her first pet therapy dog.

"I just found that animals help open doors. People just seem motivated to engage with animals, be it a horse or a dog or whatever. It just gives you that kind of comfortable space where clients feel more open to being themselves and to let some guards down and express themselves a little bit more."

Kelli said that Methodist Family Health has equine therapy in its Northeast Arkansas programs. Pet therapy is also offered at the Methodist residential homes and through its CARES program for mothers and young children.

Frankie points out that while the lines appear somewhat blurred these days, there are distinct differences between therapy, emotional support and service dogs. She said a pet therapy dog is certified and provides therapeutic wellness to individuals. An emotional support dog is prescribed by a doctor for a person for emotional issues. USDA specified, a service dog is trained to provide a service for an individual's specific disability. Unlike pet therapy and emotional support dogs, a service dog is allowed to go anywhere.

At Methodist, Frankie said Alaric tries to see one group each day for pet therapy. "That ensures that our kids get to see him, officially, at least once a week." In addition, when not under the constraints of COVID-19, volunteer Pat White brings her pet therapy dogs every other Thursday, giving the clients another opportunity.

"It's more than what we did before because Alaric is here," Frankie said. "It's kind of neat because our kids are here about two weeks. The first week they meet him and the second week they have a rapport and they remember the tricks he does and the commands that you use. Their communication with him their second week is really neat because they can get him to perform his tricks without having to be taught. That gives them self-confidence and they can work on their communication skills."

Alaric, who is about a year old, does about six tricks, which is good given his age.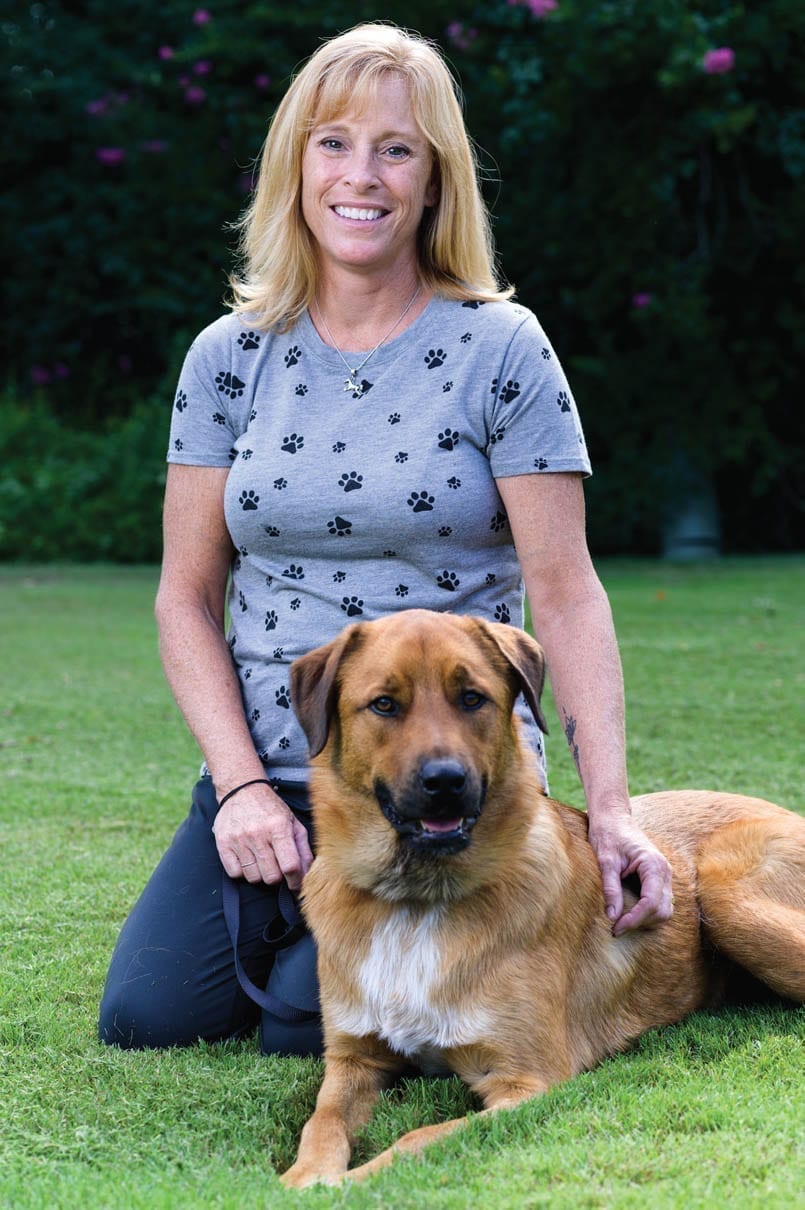 Frankie has had extensive training and experience with dogs. "My history with dogs goes way back. I showed AKC Airedale terriers and my parents were judges," she said. "Once I got Alaric, we started from the moment I put him in the truck working on behavioral expectations; how I expected him to behave and how he was to interact with me. We built on that with basic command skills and socialization.
"Then we hooked up with Pet Partners and they have expectations as far as their certification. He has to sit, stay, come, down, accept strangers, accept rough pets, be in the presence of another dog without interacting and interact with a variety of different behaviors."
When Frankie felt Alaric was ready, he underwent a 45-minute practical test with interactive scenarios to determine certification. Frankie said one of the scenarios involved leaving food or a toy on the ground and Alaric could not go after it. "The test was either pass or fail, and he passed," Frankie said, adding that with younger dogs there is a typical 60 percent fail rate. "He's a neat dog. I like to say he's got an old soul."
Frankie said she has been very pleased with Alaric's demeanor, which is different with each young person, who range from ages 4 to almost 18. "He loves to play with them," she said, adding that he enjoys snuggling. "When kids approach him, he's always wagging his tail. He lowers his head and has soft eyes."
Alaric also visits with the Methodist Family staff when they take a break.
Kellie has seen firsthand the value of a pet therapy dog with staff. She recalled several years ago asking that one of the pet therapy dogs be brought to the Foundation office. "I have never seen so many people flock into one room as I saw that one day," she said, adding that the interaction helped with the work that was being done.
Frankie said she plans to continue with Alaric's training, with the addition of new tricks. "I just build on the natural behaviors he already presents," she said, adding that some of the clients really enjoy just walking the dog. "He just follows them and looks at them. They're like, 'He's actually listening to me.' It's good because a lot of our kids feel like people don't really hear them."
To illustrate the difference that Alaric is making, Frankie shared a story about a client, a 17-year-old who looked like a grown man. Showing up by himself for pet therapy, Alaric was wiggly and eager to play. "The kid just burst into tears and Alaric just climbed up into his lap and curled up into a ball. That young man just sat there and cried, and Alaric just never moved a muscle. That's why I like animals so well because the therapeutic moment will present itself just as a part of nature. That was a really good example of that."
Frankie has been amazed by Alaric's interaction with clients, especially in light of his age and big size. "I've been really happy and impressed with how he has adapted to his job. He's brought a different dynamic," Frankie said, adding that she enjoys watching people interact with Alaric. "Everybody calls him 'our dog' which is kind of neat."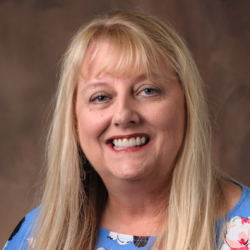 Latest posts by Sonja Keith
(see all)