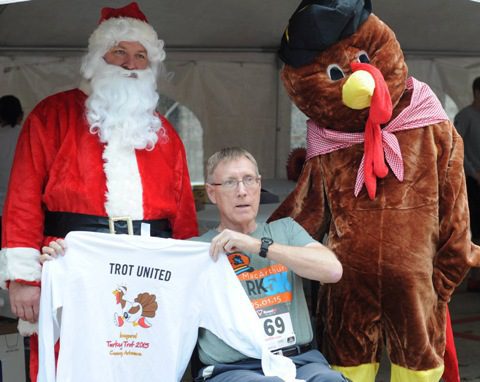 22 Nov

Turkey Trot set in Conway

Many in the 501 will get Thanksgiving Day off on the right foot at the United Way of Central Arkansas "Turkey Trot."


"Last year, it was very successful for our first year and we hope to grow on that success," said Maret Cahill Wicks, United Way executive director. "We were told first time races usually have approximately 90 runners and we had close to 350. We had entire families from grandparents down to babies in strollers. It was a great way to start Thanksgiving Day!"


Race-day registration for the certified 5K Family Walk and Run will be 7:30 to 8 a.m. on Thursday, Nov. 24, with the trot getting under way at 8:30.


The 5K will begin and end at the Centennial Valley Country Club Event Center at 1555 Centennial Club Dr. in West Conway. Elite runners, joggers and walkers will enjoy the course through Centennial Valley Country Club neighborhood, which is flat and fast.


"Before the big games, the big meal, the parades and the pies, why not get in a little exercise with a few Central Arkansas neighbors?" said event chairman Traci Smith. "It's an event the whole family will enjoy! Many around the United States have made the 'run' or 'walk' a Thanksgiving Day tradition. Help us bring that tradition here!"


The event is presented by the United Way of Central Arkansas, with proceeds helping healthier lifestyles through the Boys and Girls Club, home-delivered meals through the Faulkner County Council on Aging, the Food Bank at CAPCA and many more beneficial community programs.


"There will be fun for the whole family before, during and after the 5K! Bring the kids out to enjoy bounce houses, a rock wall and much more," Traci said. "It's the morning of Thanksgiving and we encourage our runners to dress up, wear silly hats, etc. We say it's 'Huffin for the Stuffin' or 'Fitness before the Feast.'"


To register, visit uwcark.org/turkey-trot. For more information, contact [email protected] or call 501.327.5087. Visit facebook.com/TurkeyTrotConway for more information leading up to the race.