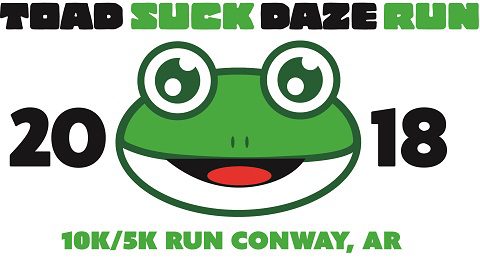 28 Mar

Toad Suck Run on May 5

Plans are in the works for the 35th annual Toad Suck Daze 5K/10K Run, planned Saturday, May 5, in Conway.


Over the years, the race has raised more than $411,000 for local charities. Proceeds from this year's race will benefit a variety of local non-profits:

HAVEN (a residential shelter for abused girls)
Boys and Girls Club of Faulkner County
CAPCA (empowering individuals and families so they can succeed)
Main Stage EdUCAtion (connects children to performing arts through field trips)
Conway Athletics (help to resurface the Conway High School track)
The event includes a 10K Run, 5K Run, 5K Fun Walk and Tadpole Trot races. The event begins and ends at John McConnell Stadium at Conway High School.

Online registration ends at noon Friday, May 4. Chip timing technology will be used and participants must wear a race chip to get an official time. Participants registering after 7:30 a.m. on race day will not receive a timing chip and will not be timed.

The Tadpole Trot starts on the Conway High School track about 9:45 a.m. (after the 5K and 10K events) and includes races for children ages 4-12. Kids ages 4 through 8 will run a half lap, ages 9-10 will run one lap, and ages 11-12 will run two laps (one-half mile). The first, second and third place finishers in each Tadpole Trot receive trophies and all other entrants receive a ribbon.

The school with the largest percentage of registrants (based on enrollment) in the Tadpole Trot will be presented with a traveling trophy and $200 for its physical education department.

Entry fee for the 10K and 5K events is $25 until noon Friday, May 4, when it goes up to $30. 5K and 10K entrants receive a technical shirt for those who pre-register. The Tadpole Trot registration is $10, which includes a cotton T-shirt. Free refreshments will be provided for all entrants.

The Conway Kiwanis Club is the main organizer of the event, which is supported by the Conway Running Club and Conway Convention & Visitors Bureau.

The Toad Suck Daze Run partners with Literacy Action of Central Arkansas, which sponsors the Tour de Toad bicycle event, which is also held on Saturday, May 5. Participants who complete the Toad Suck Daze Run (5K or 10K) and Tour de Toad receive a custom Iron Toad medal.

For more information or to register for the Toad Suck Daze Run, visit toadsuckrun.com. For information on Tour de Toad, visit LiteracyActionAR.org/tourdetoad.