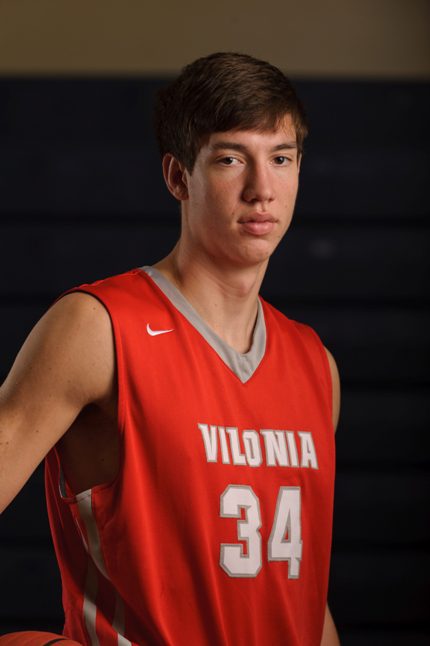 17 Feb 2016

Thomas, Eagles soar toward state tournament

by Mark Oliver


With the Class 5A state tournament looming ahead and just three games remaining on its schedule, Vilonia is on the outside looking in. For the Eagles, each game has now become a must-win battle. While the stakes are high, it's the kind of situation the team has been preparing for.


"Our mission is clear — if we win out, we go to state," senior center Charlie Thomas said. "There's a few really good teams left on the schedule, but success is contagious. If we can keep working hard in practice and come out to each game ready to play, then I think that we can take care of things on the court."


Thomas was selected to this year's 501 Basketball Team — 35 players representing the best the 501 has to offer both on and off the court. Thomas was nominated by his head coach, Tim Goers.


"Charlie is always first to the gym and last to leave," Goers wrote in his nomination. "He leads by example and is a very good post defender. He runs the floor well, has good footwork and can finish strong with either hand. He's a very unselfish player and his teammates enjoy playing alongside him."


As a junior, Thomas and the Eagles made the state tournament a year ago — an experience that has left the senior hungry for more.


"Making the state tournament last year is one of my favorite basketball memories," Thomas said. "Not only did we make the tournament, but we also won our first round game against Camden Fairview. Winning on that stage makes you feel like you can accomplish anything, and I'm ready for my team and I to do it again."


Focused on their goal, the Eagles' plan of attack includes taking each game as it comes — starting with the conference-leading Morrilton Devil Dogs.


"Morrilton is a big game for us," Thomas said. "Not only are they tied for first place in the conference, but they also have a good coach and a tough environment to play in. They like to run down the court a lot and they're good at attacking the basket. Earlier this year, they beat us by five points, but we are a much better team since that game. We have to be ready for their speed and we have to come ready to play tough defense. If we can do that, then I think that we can handle them."


Although his final year with the team has had its ups and downs, Thomas says his senior season has taught him a lot about life and basketball.


"Earlier this season, I had both pneumonia and a broken thumb at the same time," Thomas said. "I missed a few games while I was trying to recover. It was hard to just sit back and watch the team struggle without me. I knew that my team needed me, so I worked extra hard to get my body back in shape. Being out taught me to embrace my time with my teammates. Since my return, I've been doing everything I can to help them succeed and I've watched them get better every day. You only have a team like this once and you have to enjoy it while you have it."


On the court, Thomas gathers inspiration from one of his biggest role models — his coach.


"Coach Goers is the one that really got me into basketball," Thomas said. "Every day in practice, he comes ready to help us. He's always motivating us and helping us to keep working hard. His intensity has always been very inspiring. I don't think I'd be the kind of person and player I am today without his guidance."


Off the court, Thomas is involved in FBLA at Vilonia and plays baseball for the reigning 5A West conference champion Eagles. In his free time, the senior attends Friendship Baptist Church in Vilonia and volunteers with the family business, Stonehaven Assisted Living in Maumelle.


"Visiting with the elderly has been very rewarding for me," Thomas said. "I enjoy listening to all their stories and learning about their lives. A lot of the time, if you just sit down and listen, these people have very good life advice and very interesting things to tell you. It's very inspiring."


After high school, Thomas plans to continue his basketball career on the collegiate level while pursuing a degree in business.


"Charlie Thomas is a great kid who is just at the tip of the iceberg when it comes to his future in basketball," Goers wrote in his nomination. "He is a great teammate, a great person and a great kid to coach. He has come a long way because of his hard work and dedication to his team."


Vilonia travels to Morrilton on Friday.