26 Apr 2019

Therapeutic: 'A garden is nature's offering'

by Jan Spann
Todd Owens photos

Many of us find a job to pay the bills. Others find a calling for which they have extraordinary talents, making their work a gift to be shared and appreciated. Debbie Cummings is in that last category, and she has shared her positive energy for 33 years with patients and co-workers. 

Her career as a recreational therapist first began in 1985 when Debbie earned her master's degree in therapeutic recreation and used her skills at a rehab center in Sherwood. Her previous work as the Little Rock YWCA aquatics assistant director, teaching babies to swim and serving as a Red Cross swim instructor, helped her realize her calling. While in Sherwood, she decided to put her 10 years of Master Gardener skills to work with patients in garden therapy. To make that happen, she coordinated with vendors to build a therapy garden and promote their products.

With raised garden beds and ergonomically designed tools, the patients learned standing skills and fine movement through gardening.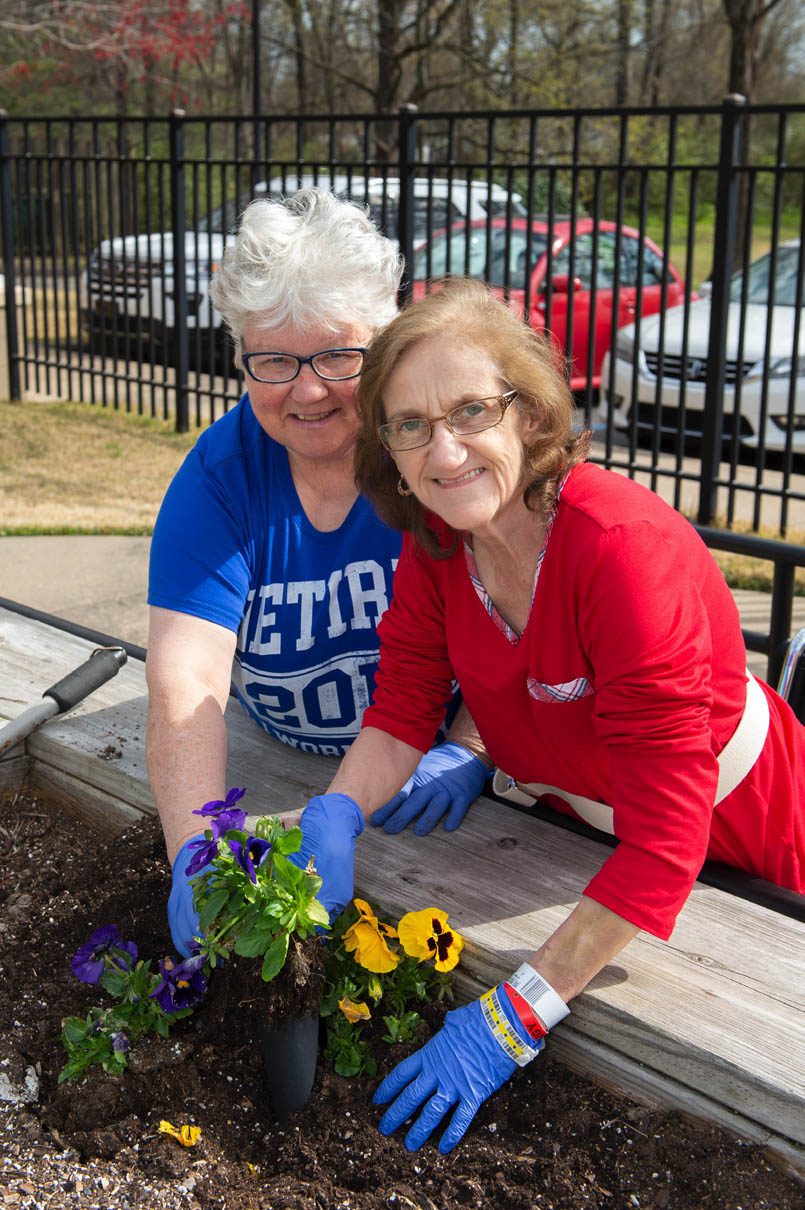 And when Debbie accepted a job at the Conway Regional Rehabilitation Hospital, she brought the therapy garden concept, too. 
With help from the Conway High School Future Farmers of America students, she built a therapy garden as well as window boxes, and hung bird feeders. "For those patients who don't have mobility for the raised bed therapy, the flowers bring color and life to their window," said Debbie. 
On two patios, Debbie has container gardens. "When a patient's family comes to visit, they can head outside when the weather is nice. It takes the conversation away from the patient's current condition and more about his or her recovery." 
Debbie is a big supporter of the Conway High School agriculture students' annual plant sale in April and October. And some of those students have built three raised garden beds for patients' view from their windows. 
Teachers Reed Kelley and Macy Taylor have worked with Debbie for their students' service programs. "We look for work that ties into their class curriculum, and in addition to building the raised bed boxes, the students have also helped with planting and maintaining the gardens," said Reed. "Building the raised beds requires teamwork as well as math and engineering skills. The added benefit is that the flowers can be enjoyed by the patients."
Debbie explains that a recreational therapist's career is less a job and more a calling to foster a patient's emotional, physical and spiritual health. The therapy garden's arched ramp with hand bars provides stability as the patient practices wheelchair mobility and maneuvering. "A garden is nature's offering, and it has a calming effect for everyone," Debbie said.
Patients and staff enjoy the gardens because the plants make the facility more familial and less institutional. In nice weather, the patients can take meals on the patio, especially during family visits.
With her kind spirit, Debbie encourages her patients to accept a new normal. "They come here feeling broken; their lives were normal, and then everything changed," she said. "We tell them we'll help them grow into a new normal, and as they gain strength, they do find different ways to do things."
Through the University of Central Arkansas occupational therapy programs, students put bookwork to practical use in places like Conway Regional Rehabilitation Hospital. Debbie has mentored many students, and she was voted the Community Partner of the Year in 2018. 
With her 15 years of service at Conway Regional Rehab, she has now turned to the next chapter in her life. Some call it retirement, but for someone like Debbie, her future includes her therapy dog, Lucky Girl, and fly-fishing on the Little Red River.
Two years ago, Debbie sold her house and moved with Lucky Girl into an RV park at the Swinging Bridge just below the Greers Ferry Dam. "These folks are like family," said Debbie. "We have potlucks and help each other out. But mostly, we just enjoy river life!"
Debbie's days now are about fly-fishing and enjoying the great outdoors on the Little Red River. However, she still helps out with a youth fishing derby on the river, and serves as a coach for the Heber Springs Hybrid Swim Team. She and Lucky Girl have several places in Heber Springs where they will continue to share their therapy skills with folks.
When you love what you have, you have everything you need. Debbie Cummings has found her happiness. Life is good on the river, and she says, "There's nothing better than catching a fish on the lure you tied."
Latest posts by Jan Spann
(see all)