05 Nov 2023

The honor of their company

By David Grimes

A small group of lifelong friends have embarked on a journey that will take them to all 75 of Arkansas's counties over the next few years. The group includes Jack Bell, Steve Bell, Bo Conner, Tom Courtway, Kenny Evatt and Jim Thompson. These six gentlemen gather together for lunch at least once or twice per month.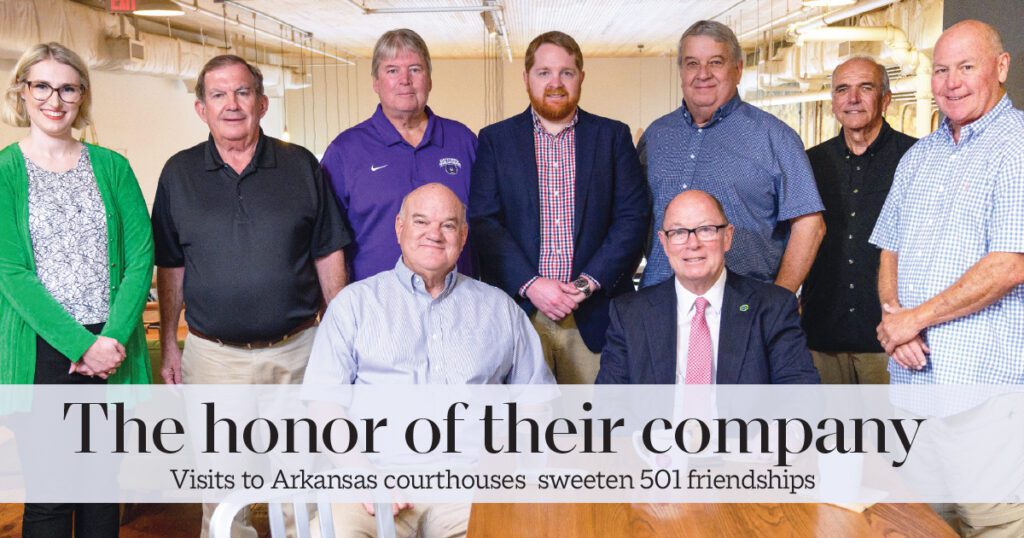 In addition to reliving their youth and bragging about grandchildren, these old friends talk about various activities they can do together to stay busy and active now that several are retired and the others are slowing down. One day, their discussion led to an idea to visit each county in the state.
Thus, a plan was crafted to travel to the county seat and to visit with the county judge and/or others in the courthouse to learn more about the county and that part of the state. "Our visits are informal and just a good discussion with the judges, staff and others in the county government," Courtway said. "All of the county judges, their staffs and persons we met in each county have been generous with their time, told us about their county and have been very knowledgeable and fun to visit with."
Their odyssey began on the morning of July 28 in downtown Conway, when Faulkner County Judge Allen Dodson took time to meet with the group. The previous county judge, Jim Baker, joined them as well for a great discussion about the happenings in their home county.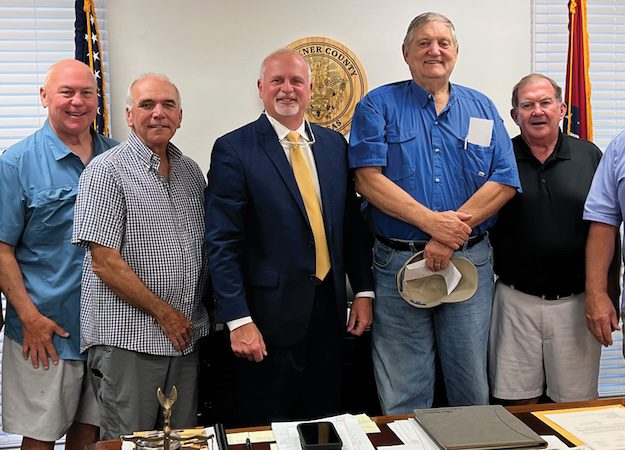 They continued on to Searcy to meet with White County Judge Lisa Brown. The White County Courthouse is the oldest in the state still in use as a courthouse, having been built in 1871. After a stop for lunch at KJ's Restaurant in Judsonia, they drove to Augusta, the county seat of Woodruff County. The courthouse dates back to 1900 and is located in a residential area of town.
The group made their third visit in August, heading to Russellville. With Pope County Judge Ben Cross on vacation, the men were met at the courthouse by a "one-woman greeting party" in long-time county employee Robyn Richardson and then later met with the judge's administrative assistant Laura McGuire.
They next headed to Morrilton to the courthouse to visit with Conway County Judge Jimmy Hart. The afternoon found them in Perryville, where they toured the Perry County Historical Museum and then the courthouse, where they had a good visit with County Judge Larry Blackmon. The Perry County Courthouse was built in 1888, although a few additions have been constructed over the years.
In October, instead of meeting at the courthouse, a visit was scheduled in Argenta for coffee with Pulaski County Judge Barry Hyde. Lunch was in Lonoke, the county seat of Lonoke County, and then they toured its courthouse with County Judge Doug Erwin. "It has been fun and very educational," Bell said. "The county judges have been really cooperative and informative. It is easy to tell they are very devoted to their counties."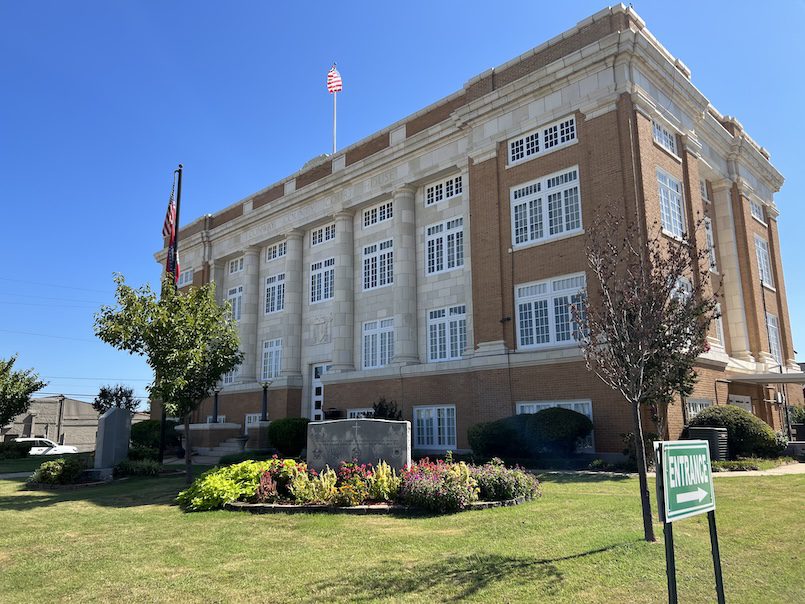 Courtway handles the logistics, and the plan over the next couple of years is to have several two-day trips to other parts of the state. Their first overnighter is scheduled for November. The day will begin with a drive to Newport, where they have an appointment with Jackson County Judge Jeff Phillips. They will then head to Craighead County, which has two county seats, Jonesboro and Lake City. (There are actually 10 counties in Arkansas with dual seats.) The group will finish up day one in Mississippi County, another county with two seats. They plan to spend the night in one, Blytheville, then head to the other, Osceola, in the morning.
Conner has enjoyed the adventure, saying, "It's very interesting what we have learned on these trips from the county judges and the other folks we talked with. We've learned about crypto mining in Faulkner County, been privy to future industrial development in some counties, heard that the Woodruff County Courthouse is haunted, and learned how Petit Jean Mountain, which was once in Perry County, came to be part of Conway County. You can tell the cultures in each county are just a little bit different by how the counties developed historically."