21 Oct 2020

Taylor, Conway Christian fighting to finish strong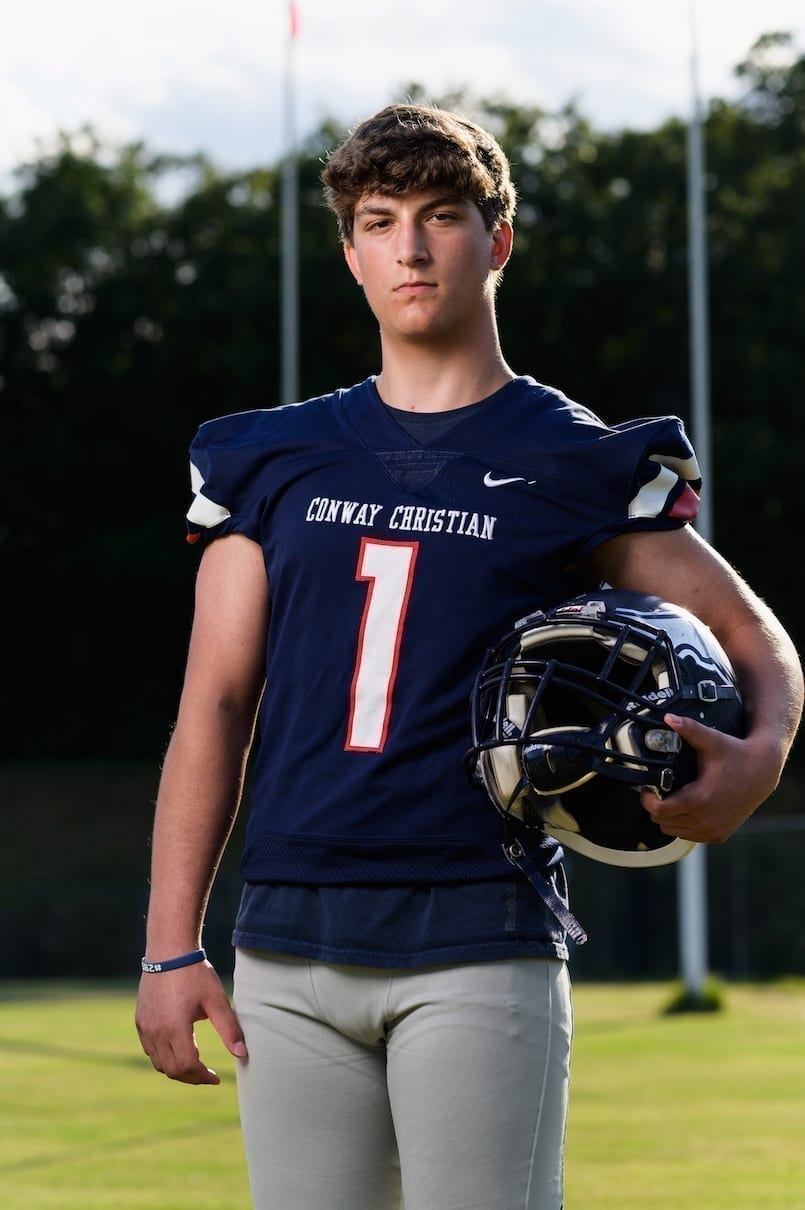 by Levi Gilbert
In so many ways, it hasn't been the season Robert Taylor had hoped for, but it's not in his nature to quit. The senior defensive lineman is not giving up on his winless Conway Christian Eagles. 
"Our non-conference games were planned to be harder teams to prepare us better for our conference this year," Taylor said. "We have started off in conference 0-3, but we are planning to win out our last three games. The only thing we can do is keep our heads up with all the injuries around us.
"I try to focus more on having a good senior season and not letting our adversities get me down."
Taylor was selected to this year's 501 Football Team — 24 players representing all 11 counties of the 501. The team, sponsored by Conway Regional Health System and First Security Bank, boasts the best the 501 has to offer both on and off the field. The senior was nominated by his head coach, Justin Kramer.
"Robert plays with high intensity and nonstop effort," Kramer wrote in his nomination. "He consistently makes plays on the opposite side of the field due to relentless pursuit. He is a three-year starter at defensive end as he has progressed from all-conference honorable mention as a sophomore to all-conference as a junior and no doubt all-state capable as a senior. We just need him to be him."
Taylor has also made an impact off the field for the Eagles, volunteering his time and effort in the Conway community.
"Robert is willing to do anything asked of him and has helped serve through MobilePack as well as multiple off-campus service projects through the school," Kramer said. "He is a very humble guy with a quiet demeanor. He is consistent in his character and the way he treats his classmates."
Taylor is branching out for his senior year. He'll be joining the Eagles basketball team after football concludes. He's also active in Drama Club at Conway Christian.
Among all of the changes since March due to COVID-19, Taylor has found new perspective for his senior year after testing positive for the virus during the summer.
"Take these years seriously and have fun, but don't take them for granted," Taylor said. "I want to be remembered as someone the younger players could look up to and have someone to push them to be great. It's a crazy feeling to be honest. I still remember playing as a sophomore, being surrounded by senior leaders, and now I'm a leader on the field with all my brothers.
"We were a little concerned that we wouldn't have a season, but we kept our heads up and got done what we needed to so we could be prepared for the season."
Conway Christian heads to Mountainburg with kickoff set for 7 p.m. Friday, Oct. 23.

Latest posts by Levi GIlbert
(see all)