08 Mar 2023

Lady Cats face NLR in 6A championship

By Levi Gilbert

A year after a devastating upset loss in the state tournament, the Conway Lady Cats traded sorrow for joy last week in Rogers.

Conway invoked the sportsmanship rule against Fayetteville in the quarterfinals and against Central in the semifinals of the 6A state tournament in Northwest Arkansas, earning a trip back to the state championship game for the first time since 2018. The No. 1 ranked Lady Cats take on No. 2 North Little Rock — the defending champions — in the 6A championship Friday at noon in Hot Springs.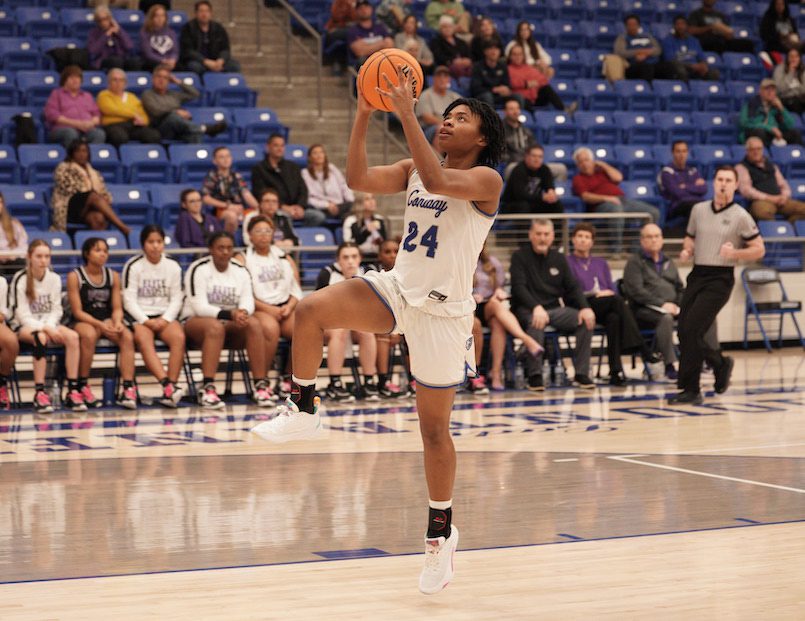 "When you lose and you come back and you redeem yourself — no matter what happens Friday, that's the thing that I'm the most proud of — how they came back from what happened last year," said Conway Head Coach Ashley Hutchcraft. "This group overcame something really traumatic as a team. I'll never forget what the locker room looked like and felt like and sounded like last year, and I don't think they will either. So, if you look at the pictures from last Saturday and you look at their faces — every single face — it was pure joy. Every single person, it looked like this burden just came off of them."
But the job isn't done yet. The championship match with North Little Rock marks the third time these two 6A Central conference foes have faced off this year. Conway won both previous matchups.
For Conway, success all begins with its four seniors, all of which start for the Lady Cats: Chloe Clardy, Savannah Scott, Kamille Brown and Kaidyn Beckwith.
Clardy, who was just named the Arkansas Gatorade Player of the Year for the second straight year, scored 22 points in the quarterfinals, and showed out with high IQ defensive play in the semifinals.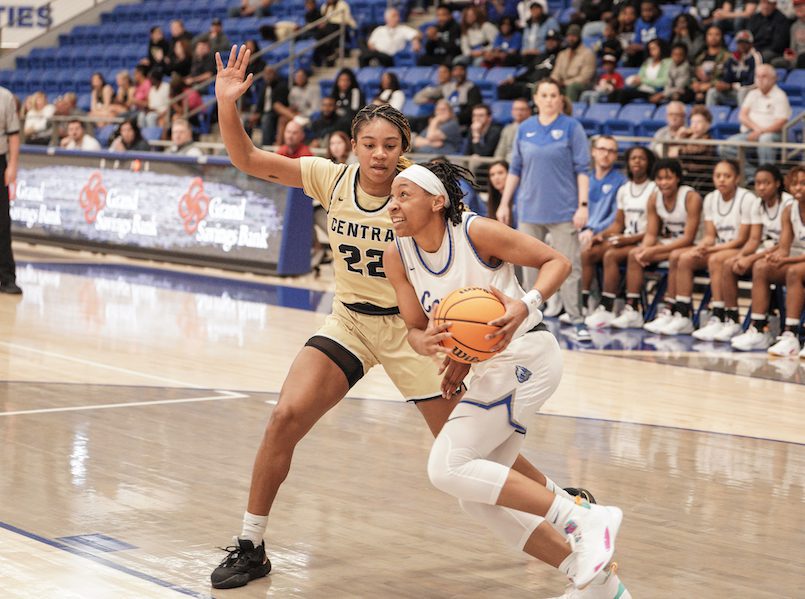 "Chloe is not just great at any one thing, but her basketball IQ is elite," Hutchcraft said. "Against Central, she only had nine points, but I would have said that game was better because of how she was leading us and all the other things she was doing on the floor that we needed. If you had told me that she would only have nine points and we would still win by almost 30, I'd have thought that was impossible. My goodness, she's something else."
Scott was a complete game changer in the semifinals for Conway. Central had no answer for Scott's post play in the first quarter, and Scott put up 10 points. In the second quarter, Central began crashing double teams down into the post, and Scott was able to find open shooters on the perimeter. On the game, Conway made eight 3-pointers.
"Savannah has been amazing," Hutchcraft said. "If she continues the way she is right now, she's going to be a big-time player in the SEC [at Auburn]. When she's dialed in, everyone follows suit, and we are better. These seniors are a tight-knit group. They are pretty inseparable right now. No one really cares about how many points they are getting. I heard Savannah tell Jacob, one of our trainers, 'If coach needs me to score five, I'll score five. If she needs 50, I'll score 50.'
"You know we've never had true post players. We've just had guards, and we've been in the state championship before against teams that have had true post players, but as long as you've got good guard play, you can compete. We're constantly telling Savannah that she is your difference. She is what sets us apart."
Brown has brought a consistent, high level of defensive play all year for the Lady Cats, but her 3-point shot has gained reliability down the stretch, including in the state tournament. Brown hit three 3-pointers against Central.
"Kamille is just so consistent every day," Hutchcraft said. "She's never in a bad mood. She comes in every day and works hard. She is very confident right now, and I hope that continues to Friday. If we are playing man defense, she's going to be guarding the best player. She has something like 20 charges on the year. She's just been so consistent for us."
Beckwith, this year's 501 Basketball Team honoree for Conway, took over the point guard role this season, which has helped free up Clardy in the offense. Often the shortest player on the floor, Beckwith shows no fear when getting in the paint and fighting for rebounds.
"It seems like she's the smallest on the floor, but she's probably got the best vertical," Hutchcraft said. "And she's one of the strongest, if not the strongest. She's just solid. Taking over the point guard position, she's been able to give us a new look, and she's dialed in defensively, too. I wouldn't want her guarding me out there. She would drive me crazy because she plays so low. She's hard to deal with."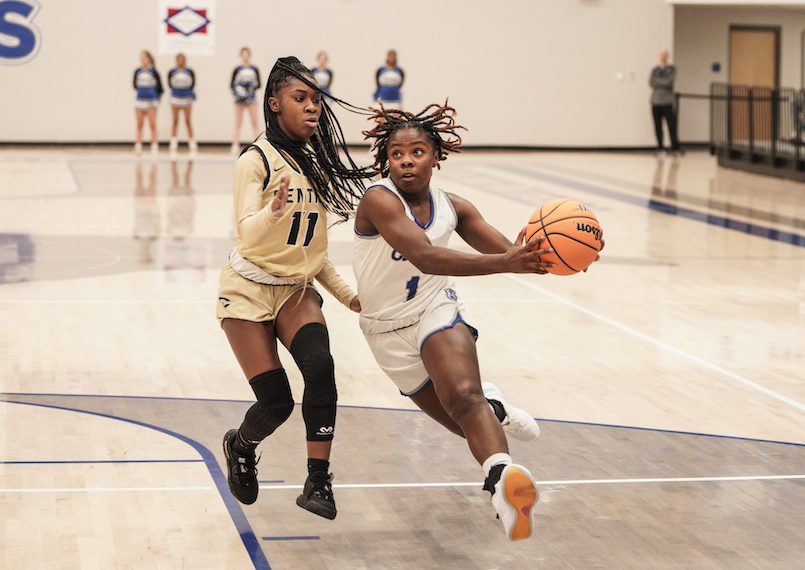 Three sophomores — Alexis Cox, Emerie Bohanon and Samyah Jordan — have been giving Conway big contributions all season. Cox is the lone non-senior starter, and Bohanon and Jordan provide speed and 3-point shooting off the bench. Jordan led all scorers in the Central game with 16 points, including shooting 3-for-3 on 3-pointers.
"Samyah is amazing right now," Hutchcraft said. "Where Emerie and Alexis have had a year of experience from playing last year as freshmen, Samyah took some time early in the season to learn how much her body can take. It's a transition going from junior high to high school, and she has really figured it out through the season. She's a big-time basketball player. Emerie and Samyah could start for any team in the state, but for us, it is about chemistry. And our chemistry is best when they are coming off the bench and providing a spark."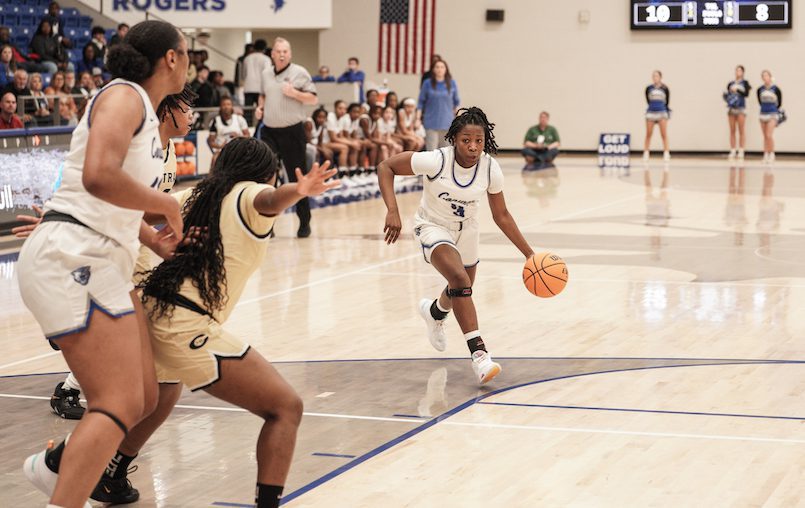 This championship appearance marks the fifth in Hutchcraft's tenure at Conway. The Lady Cats won in 2014, which was her first time there with the program. The Conway girls' program has won one other championship, which was under the leadership of Janet Taylor in 2008. Hutchcraft won her first championship as a coach in 2010 with Conway Christian. She also won state titles in 2001, '02 and '03 as a player at Guy-Perkins under the coaching of her father, John Hutchcraft.
So far through the state tournament, the Lady Cats have faced opponents who have ended their previous two seasons. Fayetteville defeated Conway in the 2021 semifinals, and Central upset the Lady Cats in the 2022 quarterfinals. The final foe is a program Conway has not had success against in championship games. North Little Rock defeated Conway in 2016 and 2018 in Hot Springs.
"This is why we played the non-conference schedule we did this year," Hutchcraft said. "It's the best schedule we've ever put together. We've been in nerve-wracking moments. Whether it was playing in Washington, D.C. against Sidwell with ESPN there, or playing against top Texas teams like Duncanville or South Grand Prairie, we've got those moments that we can fall back on and mentally know how hard it was. That's why you play those games. When we are mentally and physically exhausted, we can pull back on those moments and know that we can get through it."
A win on Friday would mark the third championship in Lady Cat basketball history.
Every title game will be broadcast live on Arkansas PBS.
501 Basketball Team Members in State Championship Games
Javon Orr (Bigelow) – Bigelow vs. Marshall, 2A boys, Saturday, March 11 at 1:15 p.m.
Kara Keathley (Conway Christian) – Conway Christian vs. Mount Vernon-Enola, 2A girls, Saturday, March 11 at 11:30 a.m.
A.J. Person (Mount Vernon-Enola) – Conway Christian vs. Mount Vernon-Enola, 2A girls, Saturday, March 11 at 11:30 a.m.
Bailey Sims (Vilonia) – Vilonia vs. Greenwood, 5A girls, Thursday, March 9 at 6 p.m.
Kaidyn Beckwith (Conway) – Conway vs. North Little Rock, 6A girls, Friday, March 10 at noon.

Latest posts by Levi GIlbert
(see all)