17 Nov 2021

Sugar Bears dominant in season finale

CONWAY — The University of Central Arkansas volleyball team finished the season on a high note as they accumulated 15 blocks and dominated their way to a 3-1 season finale.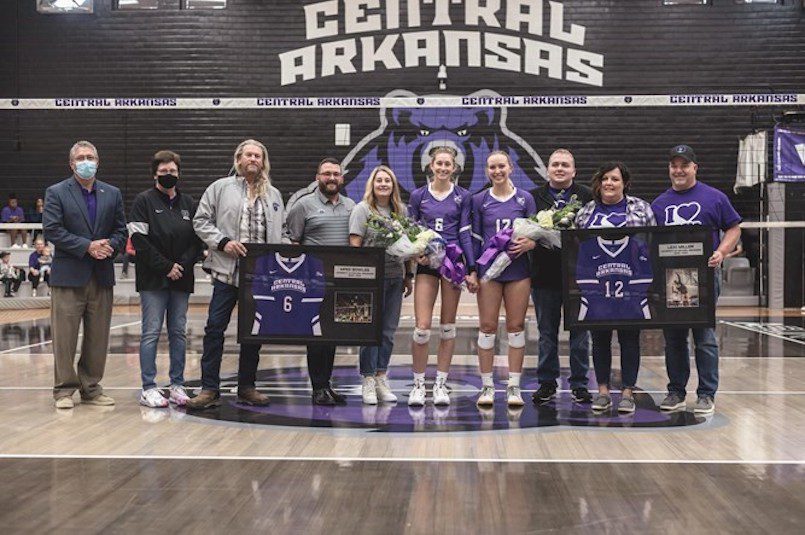 Outside of set one, the Sugar Bears could do no wrong as they stepped up in a major way to give their seniors a proper goodbye. With 15 blocks on the book, it was impossible to get past UCA and in a match won at the net, it was a celebrated end to the season. The two seniors that passed through on senior day were Lexi Miller and Madi Bowles, and they both made a climactic ending. Miller posted the most kills on the squad with 16, on a .367 hitting percentage, and added five blocks to her name. Bowles also made her presence known on both fronts with seven kills, four blocks, and ten digs. A few other notable players for the match were sophomore Macy Blackburn, who led the squad with nine blocks, Lily Taylor with eight kills and ten digs, and Anna Williams with 40 assists. Overall, it was an incredible evening for the Sugar Bears as they best North Alabama 3-1.

Set 1:

The first set was unfavorable to the Sugar Bears as they could never get the momentum rolling early. The Lions did just that as they outhit UCA .289 to .147. While that stat line tells a lot, it was close towards the end as the Sugar Bears made a run before dropping it 25-23.

Set 2:

The second set was an offensive showcase as UCA came back with a .476 hitting percentage. That onslaught was mainly led by Bowles, who posted four kills in the set. That fiery hitting showcased itself in the late stages as the Sugar Bears went on a 4-1 run to finish out the set 25-21.

Set 3:

It was the third set that made it a show stopper as the final score of it read 31-29 in UCA's favor. This longwinded set helped propel momentum forward as there was no stopping the Sugar Bears after this one. This back and forth affair was highlighted by a comeback effort after UNA took the 29-28 lead. UCA overcame that lead by capitalizing on the mistakes of the Lions' offense and eventually claimed it 31-29.

Set 4:

With momentum on the side of the Sugar Bears it was all but over for UNA. UCA continued to dominant the paint and force mistakes as UNA only hit .111 for the set. That stat showcased how the Sugar Bears controlled it till the end as they eventually won the set 25-20 and match 3-1.

Quote from Coach John Newberry:

"So excited about this team win today, it was definitely our most productive day from a defensive standpoint and also offensively. I really am proud of our composure throughout the match, we held out composure and that was a big thing we strived for in our consistency. Two standout players for me right now are Lexi Miller with her 16 kills and Amari Mitchell as well. Both played with extreme confidence and picked up a lot of weight for the team. Most excited about the amount of blocks we had, that comes from our force at the net and that all comes from Coach Lexi MacLean. I look forward to the 2022 season."