17 Nov 2021

Smith 'dynamic' on the field, in the community for Conway

By Levi Gilbert

For the last three years at Conway High School, Manny Smith has almost certainly been the most dynamic athlete any time he stepped on the field. In 2020, Smith found himself in the end zone at nearly a rate of one out of every five times he touched the ball on offense. This season, with the benefit of staying away from the injury bug for the most part, Smith has put together his best season yet with almost 1,000 all-purpose yards and 14 total touchdowns (11 receiving and three rushing).

This season, Smith's big-time playmaking ability, combined with an overall more balanced offense and a turnover-hungry defense, has the Wampus Cats primed for a deep playoff run. Conway (8-2, 6-1) finished as the No. 2 seed out of the 7A Central, earning a first-round bye for the first time since 2014.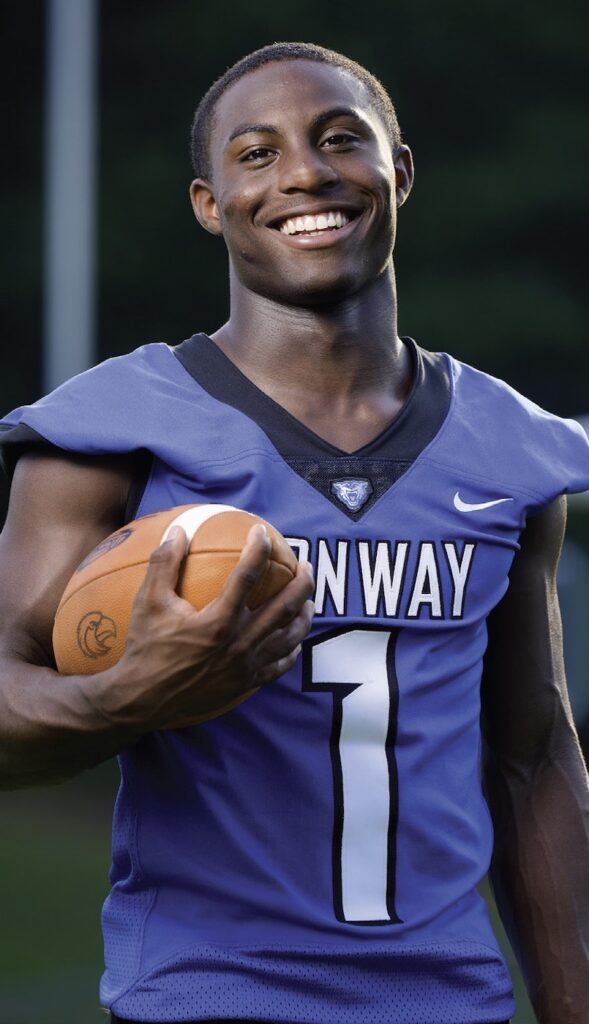 "This season means a lot to me — being able to be one of the leaders to lead us on the road to state," Smith said. "My favorite moment by far was mercy ruling North Little Rock because I've never beat them, and it was one of our major off-season goals."
Tim Roach, color analyst for Wampus Cat football on Conway Corp, has been watching Smith since his early football years, and he's known since the beginning that Smith was going to be special.
"The first time I saw Manny play football outside of our city league was in seventh grade against Bryant when he played for Bill Lampe at Simon Middle School," Roach said. "First snap of the season was a pitch to Manny, and he took it 80 yards to the house and no one even came close to him. He scored on the first snap of a ballgame about five or six times that year. I talked to coach Lampe about those plays, and he said, 'Well, it's not like they don't know it's coming, they just can't do anything about it.' True story.
"Anytime Manny is in the game, the defense will have multiple people assigned to him. You cannot guard him one-on-one. He's created more whiffed tackles than anyone I have seen in several years. Manny is just different; he is the most 'make you miss' player in the state. Manny's ability to see space during a play is only exceeded by his ability to create his own space. Even though he is uber-talented, he will outwork his competition. It is tough to beat Manny, period."
Smith earned all-conference honors as a sophomore, and last year, his production accelerated in Conway's new spread offense. Smith racked up all-conference and all-state honors as a junior, aiding the Wampus Cats all the way to the 7A semifinals. With a win this Friday, Smith and the Wampus Cats will earn a trip back to the 7A semifinals.
Smith was selected to this year's 501 Football Team — 23 players representing all 11 counties of the 501. The team, sponsored by First Security Bank, Conway Regional Health System, Moix Equipment & Toy Company and Velda Lueders Coldwell Banker RPM Group, boasts the best the 501 has to offer both on and off the field. The senior was nominated by his head coach, Keith Fimple.
"On the field, Manny is a shining example of a leader that is driven by his competitive spirit," Fimple said. "He shows a great work ethic anytime he steps onto the football field. To see your best players be the hardest workers on the field is a shining example of a culture that any team would want.
"Manny has a special personality that is infectious and people can identify with. He goes out of his way to make the conversation more about you than himself."
Smith and the Wampus Cats closed the regular season with the biggest game of the season with No. 2 Conway playing host to No. 1 (and three-time defending champion) Bryant. The Wampus Cats gave Bryant all it could handle, taking the champs down to the wire. Conway led most of the game, but gave up the lead in the final 29 seconds of the game.
"I learned from that Bryant game that we have to dominate every minute of the game," Smith said. "We can't just survive, but we have to thrive."
The Bryant loss was the only 7A Central game Conway dropped, earning them the No. 2 seed and a first-round bye. After a week with no game, Smith and the Wampus Cats are ready to take on Rogers, the No. 3 seed out of the 7A West.
"This bye week was huge for us to heal up bumps and bruises," Smith said. "Not only that, but it gave us time to get way better all around. We plan on attacking the Rogers defense in space. We are going to get the play to our playmakers in space and go to work on them."
Sounds like a game plan that is well suited to Smith and his strengths. Off the field, Smith volunteers in community service through leadership classes, assisting with projects at Bethlehem House and participating in Caring Cats at Conway High. He has committed to continue playing football collegiately at Central Arkansas.
"You knew coming into this season that Manny would have a target on his back," Roach said. "They had the toughest schedule in the state with the biggest and fastest defenders and D1 talent almost every week. At 5-foot-5 and 150 pounds, every time he steps out on the field, it looks like a mismatch. But it's not a mismatch for him — it's a mismatch for the opposing defense. He's so fast, so elusive, so strong after the catch, and mentally, very tough. He is just a nightmare to handle in every way — in space, in tight, double covered, jammed at the line — all of it is a nightmare for opposing defenses.
"Even with so much of the focus on stopping him, he has been able to produce every game. UCA is getting lightning in a very small frame. I expect him to adjust to the college game and, in time, be an impact player for the Bears."
Conway plays host to Rogers in the 7A quarterfinals at 7 p.m. Friday, Nov. 19.

Latest posts by Levi GIlbert
(see all)