06 Oct 2021

Simmons anchors Benton defense

By Levi Gilbert

Benton continues to be in the upper echelon of 6A football, and senior Cain Simmons has become the cornerstone of the Panther defense.

"He's one of the hardest working players I have ever coached," said Benton Head Coach Brad Harris. "He is great competitor and one of the best tacklers I have ever coached. His daily work ethic is as good off the field as it is on the field, regardless if it is in the weight room or conditioning."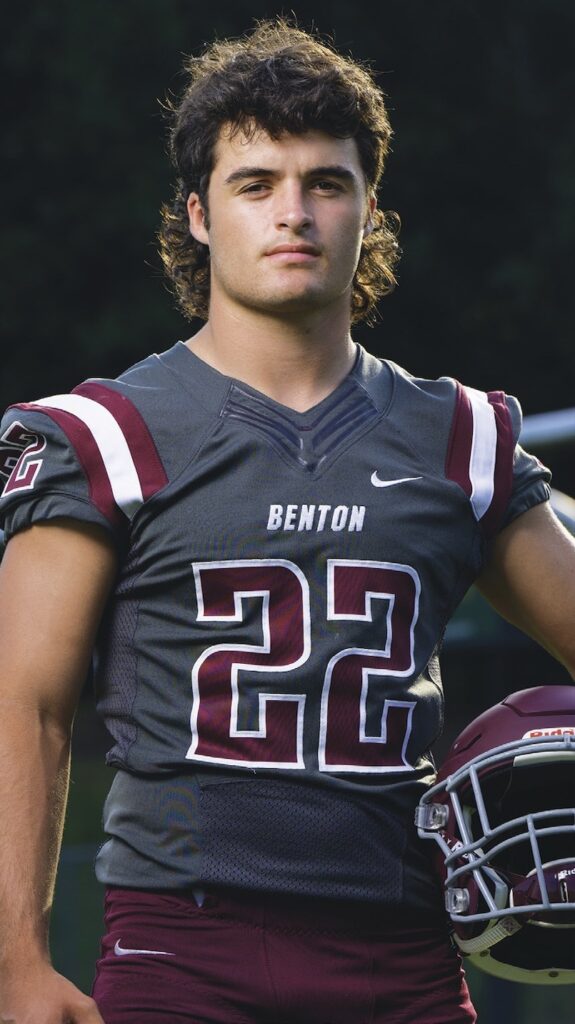 In his junior campaign last fall, Simmons racked up 102 total tackles, forced a fumble, recovered a fumble and broke up eight pass attempts. On top of all that, he served on special teams in punt and kickoff coverage as well as returning kicks and punts. The Panthers finished 5-2 in 6A West play to earn a playoff berth.
"Cain [is] our defensive leader and captain this year," Harris said. "He will be a three-year starter as a senior. We expect Cain to be an all-state caliber player this year and be the guy that gets our defense going each week.
"Cain is just a great kid that has great work ethic and always a great attitude about football, but more importantly about life. He will be very successful in life because of his work ethic, attitude and toughness."
Simmons was selected to this year's 501 Football Team — 23 players representing all 11 counties of the 501. The team, sponsored by Conway Regional Health System, First Security Bank, Moix Equipment & Toy Company and Velda Lueders Coldwell Banker RPM Group, boasts the best the 501 has to offer both on and off the field. The senior was nominated by Harris.
Benton (4-1, 2-0 6A West) is off to another great start halfway through the 2021 season. With the meat of the 6A West schedule still ahead of them, Simmons and the Panthers have a lot of work to do.
Off the field, Simmons volunteers in the Benton Ralph Bunch Back to School event and volunteers at the annual golf tournament. He boasts a 3.8 GPA.
"His loyalty is one trait that makes him such a good classmate and friend," Harris said. "Cain is very involved in his church youth group at First Baptist Church. He also helps the football team with any volunteer work that we might do, whether it's the Ralph Bunch Back to School Event or working our annual golf tournament."
Benton plays host to Little Rock Parkview in 6A West play at 7 p.m. Friday, Oct. 8.

Latest posts by Levi GIlbert
(see all)