20 Nov 2019

Quarterfinals, second rounds begin

by Levi Gilbert

Just sixteen teams from the 501 remain in the hunt for a football championship after last week's opening round playoff games. Eight members of the 501 Football Team are among the 16 teams from the 501. 

This week in the 7A, 6A and 5A, teams will face off in the quarterfinals. In all other classifications, 16 teams remain. 

7A

The 7A boasts the most 501 teams still vying for a championship with four — Catholic, Bryant, North Little Rock and Conway. Bryant and North Little Rock are coming off byes as the No. 1 and No. 2 seeds, respectively. Bryant will host Fayetteville, and North Little Rock will host Har-Ber. Catholic and Conway both travel up to Northwest Arkansas. The Rockets take on Bentonville, and the Wampus Cats travel to Centerton to take on Bentonville West — for the third-straight year in the quarterfinals. Conway won in 2017 and lost in 2018. 

The Wampus Cats are coming off a dominant 63-21 win over Rogers.

"I loved the fact that they protected the ball better and cut down on penalties," said Jeff Matthews, play-by-play announcer for Wampus Cat football on Conway Corp. "They didn't let what happened the week before (against Bryant) affect them at all. In fact, I thought they came out focused and confident, and I expect the same Friday night. Conway will have to continue to establish the run. The Wolverines will play a few skill people on both sides of the ball, and the more time those guys spend on the field on defense, the better chance we have of controlling the game. We have four sets of fresh legs in the backfield, and I think this is the time of year when you ride those guys. Because as soon as the defense keys on them, then (senior quarterback) Nick McCuin starts hitting open receivers.

"Defensively, the Wampus Cats have to keep pushing up front. Our front seven is as good as anyone, and our secondary is making plays coming off a three-interception game. The Wolverines are hurting and come in off two straight losses. I think the key for us will be to put pressure on them from the time we get off the bus."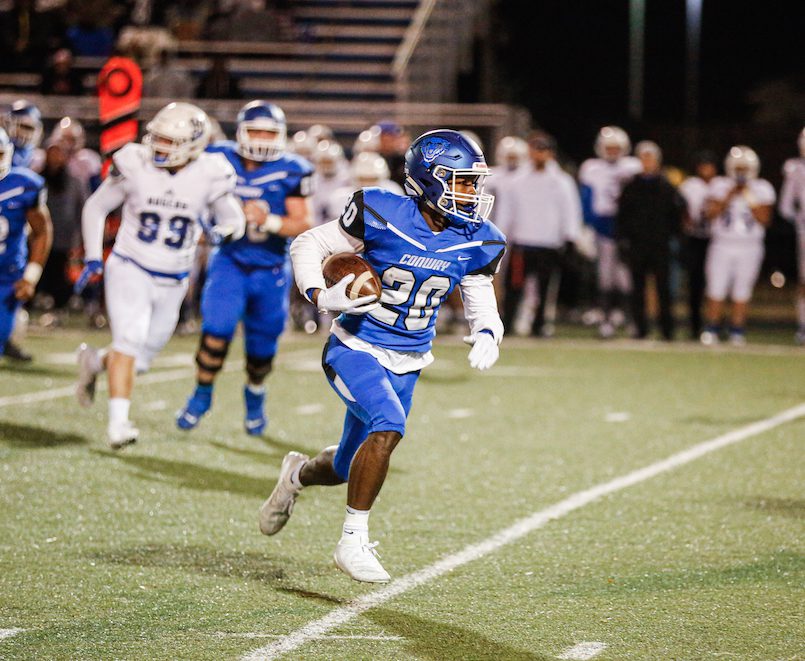 6A
In the 6A, Searcy (No. 1) and Benton (No. 2) are coming off byes. Searcy hosts Pine Bluff, and Benton hosts Jonesboro. Lake Hamilton travels to West Memphis after a tight 14-7 win over Sylvan Hills last week. 
"I think we played really well as a team," said Braden Qualls, a senior linebacker for Lake Hamilton. "We stopped the run very well and forced them to pass. Our punt return had a heck of a game with one blocked punt and a tackle for loss — both of those are huge momentum shifters in a game, which played a huge role. 
"This week, we have to stop the run and force West Memphis to throw the ball, and like always, our offense has to continue to pound the ball on the ground and get some big plays here and there."
5A
Little Rock Christian hosts a quarterfinals matchup against Wynne, and the second seeded Pulaski Academy Bruins hit the long road to Harrison. Morrilton and 501 Football Team honoree Steven Rector pulled off the upset over No. 1 seeded Valley View last week in Jonesboro. Now, the Devil Dogs travel to the opposite corner of the state to take on Texarkana.
4A
In the 4A, Central Arkansas Christian and 501 Football Team honoree Brandon Bishop face off against fellow Pulaski County foe, Robinson. 
3A
Clinton took care of business last week at home over Smackover, 42-14. This week, the Yellowjackets travel to Harmony Grove. Glen Rose plays host to Melbourne, and Harding Academy plays host to Newport. The Wildcats defeated Genoa Central last week, 49-7. 
"The first round got us excited of the potential long run we are capable of going on," said Parker Golden, a senior defensive back for Harding Academy. "The way our team was more physical than our opponent sealed the win. The keys to our team's success this week against Newport will be to have better practices than our opponent during the week and then playing to our standard on Friday."
2A
A lone 2A team remains from the 501 — the Magnet Cove Panthers. Magnet Cove plays host to McCrory this week. 
"McCrory's lines have done a good job and have a good bit of size," said Jake Harmon, senior tight end/defensive end for Magnet Cove. "So our lines need to handle that well and do their jobs. Other than that, we just need to keep doing what we do and be ready to play like it could be our last game every week because it could be."
The full slate of playoff matchups containing 501* teams:
7A
CATHOLIC at Bentonville
Har-Ber at NORTH LITTLE ROCK
Fayetteville at BRYANT
CONWAY at Bentonville West
6A
Pine Bluff at SEARCY
Jonesboro at BENTON
LAKE HAMILTON at West Memphis
5A
PULASKI ACADEMY at Harrison
MORRILTON at Texarkana
Wynne at LR CHRISTIAN
4A
CENTRAL ARKANSAS CHRISTIAN at ROBINSON
3A
Newport at HARDING ACADEMY
CLINTON at Harmony Grove
Melbourne at GLEN ROSE
2A
McCrory at MAGNET COVE
*501 teams listed in bold and all caps. 

Latest posts by Levi GIlbert
(see all)