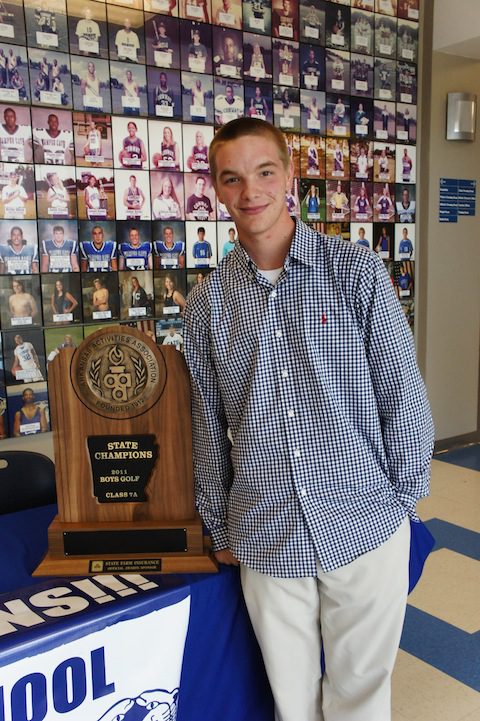 25 Apr

Pinney commits to Central Baptist College

by Mark Oliver


From the moment his father put plastic golf clubs in his hands at 2 years of age, Conway senior Tyler Pinney experienced love at first sight — for the game of golf.

"I started playing with my dad and started working my way up," Pinney said. "I've always loved being outside and enjoying nature. On the golf course, it's wide open and there's nothing like it."

In front of his family, friends and teammates, Pinney recently furthered his golfing career, signing a letter of intent to play for Central Baptist College in Conway.

"They have a really good golf team," Pinney said. "I love that it's so close to home for me. I think that I can grow both as a person and as a golfer by going to Central Baptist College."

Now that he has taken his next step in his golfing career, Pinney looks ahead to his future with the Mustangs.
"I'm so ready to begin," Pinney said. "I've started practicing and I'll be playing in a few tournaments this summer to get ready. I want to make it through the first year and see where it takes me. I want to be a business major — my family owns a business and I think it would be really cool to get into that."

When he graduates from Conway High School on Sunday, May 20, Pinney will bring quite the résumé with him to CBC: two state championships, a medal of honor for shooting the best round in a tournament and all-conference and all-state honors for 2012. 

"We beat Bentonville by 13 strokes," Pinney said of Conway's recent state championship last October. "It was awesome."

What Pinney will miss most, however, are the memories he forged with his teammates.

"I loved the bus rides," Pinney said. "The team always had [great] talks to and from the events. Getting closer to my teammates was a fun experience. I love all the friends that I've made."

Outside of golf, Pinney is active with the youth group at Antioch Baptist Church and shares an interest in muscle cars, hunting and the outdoors. Although he is proud of his accomplishments on the golf course, Pinney attributes much of his success to the support from his family.

"My dad has always been there to push me every step of the way," Pinney said. "He's there when I'm at my lowest game and when I'm at my highest game. He's my crutch and I've always been able to lean on him. He's my idol, for sure."

Pinney hopes that his story will help inspire others to follow their dreams as well.

"Golf isn't something you can pick up and start in a couple of days," Pinney said. "One of the toughest things to overcome in golf is the mental game. When I started playing, my initial game was awful, but I progressed. If you want to make it to the next level, you just have to dedicate yourself. I [play] after school every day. If it's raining, I'll work on putting.

"You have to live, eat and breathe golf. It's a lot of work, but it's very rewarding."