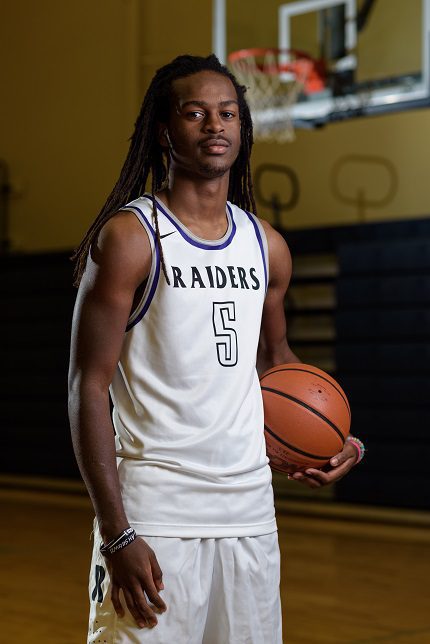 06 Feb 2018

'One of the best': Riverview's J.T. Smith

by Levi Gilbert

Riverview's Ja'Mon Tyrese "J.T." Smith has had a singular vision this season — do anything and everything to get the Raiders back to the 4A state tournament. As a sophomore in 2016, Smith helped lead Riverview to the 4A quarterfinals.

"We need to peak and get better this last week," Smith said. "We have to play as if it's win, you keep playing, lose, you go home so when the tournament comes we will already have that mindset."

Smith is a returning member to this year's 501 Basketball Team — 37 players representing the best the 501 has to offer both on and off the court. The team is sponsored by Conway Ortho and Sports Medicine, Conway Regional Health System and First Security Bank. The senior was nominated by his head coach, TJ Coleman.

"His basketball IQ, court awareness, quickness, playmaking and scoring ability all make him a great player," Coleman said. "He's a 6-foot-2 point guard who is able to create his own shot, and he makes players around him better with his play-making ability, passing and unselfish play.

"He's a competitor and a winner — a clutch player. I expect him to be all state for the third year in a row and all conference for the fourth year and lead our team back to the state tournament."

While praised for his offensive play, Smith has put more focus on defense in his final season with the Raiders. "Defense wins championships," the senior said.

The Raiders close out the regular season this Friday before district tournament play begins. Health is key at this point in the season.

"I've been playing on a hurt ankle," Smith said. "It's tough because you can't move or cut how you want to. I've been working on keeping my body healthy and loose. I've taken a lot of ice baths. I hate those, but it helps."

Smith has a history of reaching another level of offensive output in the playoffs. Last year, he put up a 45-point game in the district tournament. Overall as a junior, he averaged 17.5 points, 4.5 rebounds, four assists and 2.5 steals per game.

"J.T. might be a once-in-a-lifetime player for a coach," Coleman said. "He is very talented, selfless and coachable. It has been an awesome experience to have him on our team and in our basketball program. We are embracing this last season with him, and we'll see how far he can take us.

"He will always be remembered as one of the best Riverview Raider basketball players that has come through our school. He is a heck of a basketball player."

Riverview closes out the season at Mountain View at 7 p.m. Friday.