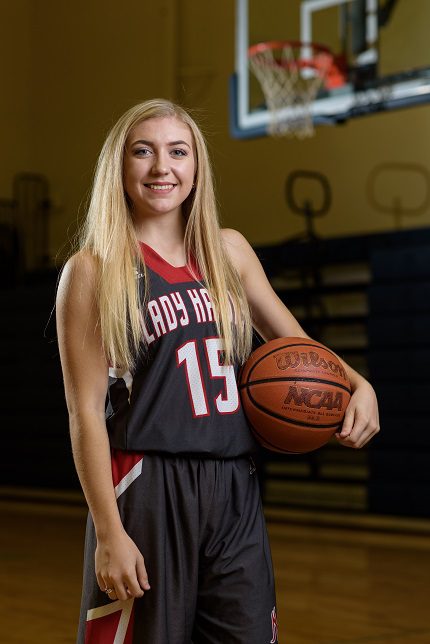 03 Jan 2018

Nemo Vista's Morgan Smith: 'Fight together, win together'

by Levi Gilbert


Morgan Smith's season hasn't gone the way she planned, but all is not lost for the junior and her Nemo Vista teammates. With the 1A 5 North conference season hitting into full swing, there's still time for the Red Hawks.


After helping lead Nemo Vista to a 28-10 record and Regional 3 tournament win as a sophomore, injuries and inexperience have led to a difficult start for Smith and the Red Hawks.


"It has been a tough year, and we knew from the beginning that it was not going to be easy, so we try to keep everything light and fun," Smith said. "We are currently down to seven players with one junior and six sophomores. We were not projected to win many games this year, and we have come together as a team to overcome some hurdles that this season has put in our way.


"In the past year, I have had to overcome two surgeries on my wrist. My first surgery we put off until after the season because we were going to state. The next surgery was in the middle of this current basketball season in December. I am currently trying to recover quickly and get back for the rest of the season."


Smith, a junior guard for Nemo Vista (6-14, 1-4), was selected to this year's 501 Basketball Team — 37 players representing the best the 501 has to offer both on and off the court. The team is sponsored by Conway Ortho and Sports Medicine, Conway Regional Health System and First Security Bank. Smith was nominated by her coach, Kyle Payne.


"Morgan is a hard-nosed defender as well as huge threat on the offensive end with the ability to attack the rim and shoot the three," Payne said. "Off the floor, Morgan is a leader in the classroom. She is very smart and active in numerous clubs and organizations at Nemo Vista.

"The younger students in elementary love seeing her walk through the halls. She is definitely a role model to those younger students — a very good role model.


"Morgan is a selfless player. She always puts what is best for the team first. That is hard to find today in players."


Struggling has been foreign to Smith and her teammates. In the last four seasons, the Nemo Vista program has appeared in the state tournament all four times and won three state championships. Joining the high school team last year as a sophomore, Smith learned quickly from Maggie Mahan, a former 501 Basketball Team honoree.


"Moving up as a sophomore onto a three-time state champion team was a little nerve wracking," Smith said. "Maggie Mahan and Sadé Harrison took me under their wings and helped boost my confidence as a starting sophomore. One day, Maggie pulled me aside and wanted to talk to me. My love for the game had kind of faded away a little, and we got to talking about softball and what her and I have in common.


"She told me that the way I love softball was the way that she loved basketball, and that it didn't matter what we loved more, but what mattered was the game that brought us together, not just as a team, but as a family. We all needed to fight together as a family and win together as a family. Since then, I just have had a different mindset to everything that I do in life."


Smith is getting a jumpstart on college this month, starting classes at the University of Arkansas Community College at Morrilton. At Nemo Vista, Smith is active in cross country; track; softball; Fellowship of Christian Athletes; Family, Career and Community Leaders of America; Beta Club and Student Council.


Smith and the Red Hawks travel to Sacred Heart at 5:30 p.m. Friday.