18 Sep 2019

Mattison delivers all over the field

by Levi Gilbert

Throw passes. Catch passes. Carry the ball. Attack the ball. 

Tayshun Matthews pretty much can do it all for the Mayflower Eagles on the football field. 

After a 10-win season in 2018, a roster full of younger players and a lot of turnover, the Eagles are looking to Matthews each week to lead the way.

"Last year was about experience," Mattison said. "This year, we're focused on getting back to the playoffs."

Mayflower opened the season in Week 0 with a 48-0 loss to Central Arkansas Christian. A week later, the Eagles responded with a bounce-back 62-24 win over England. Over the first two games, Mattison was 5-for-10 passing for 50 yards, rushed for 51 yards and one touchdown and caught three receptions for 60 yards and one touchdown. Defensively, he's recorded six tackles and one fumble recovery. 

"Despite the score of the CAC game, our defense is pretty good, and we have three really good running backs," Mattison said. "We've really focused on getting closer as a team."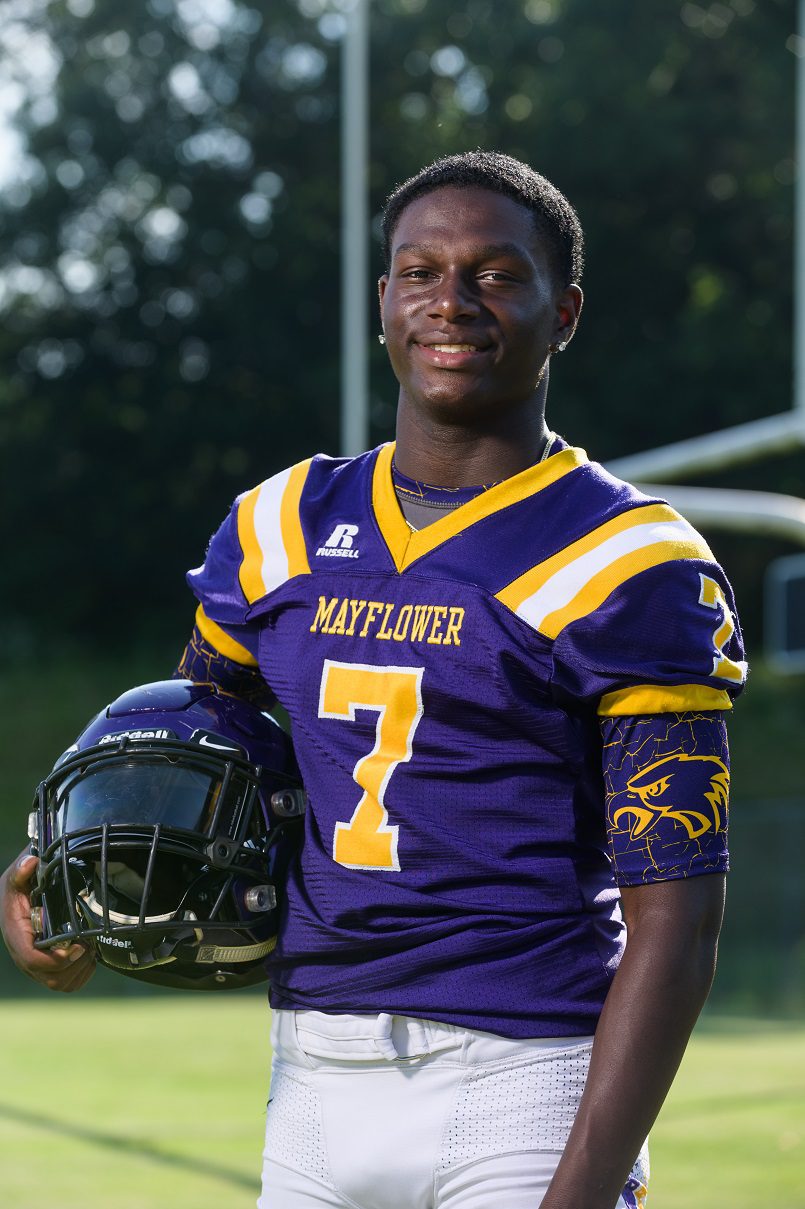 Mattison was selected to this year's 501 Football Team – 27 players representing all 11 counties of the 501. The team, sponsored by Conway Regional Health System, First Security Bank and Conway Orthopaedics and Sports Medicine Center, boasts the best the 501 has to offer both on and off the field. The senior was nominated by his head coach, Austin Emerson.
"On the field, Tayshun has great athleticism," Emerson wrote in his nomination. "He has a great work ethic in the classroom and on the field. He is a part of the National Honor Society. He's a quiet, hard worker that does his job and never complains. He's friendly with all classmates."
And just like Mattison performs multiple roles on the gridiron, he also competes in multiple sports as a Mayflower Eagle. In addition to football, he plays basketball and runs track. Outside of athletics, Mattison is a member of Future Business Leaders of America, Beta Club, National Honor Society, student council and Heritage Club. 
The Eagles took their bye week last week and return to action this week playing host to Parkers Chapel at 7 p.m. Friday, Sept. 20. It's just one of eight more guaranteed games for the senior.
"School comes first," Mattison said. "I'm trying to enjoy every moment of sports and my high school career because when it's over it's over."

Latest posts by Levi GIlbert
(see all)