May 14, 2019

'Love of my life': Zoie at home at Fairfield Bay library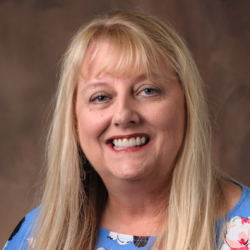 Latest posts by Sonja Keith
(see all)
by Sonja J. Keith
Mike Kemp photos
Karen Tangen has a special friend who tags along and is right at home when she is at work at the Fairfield Library.
Karen's dog – 6-year-old Zoie – is a fixture at the library, greeting those who walk in the door. A mixed breed, Zoie is most likely part Maltese, Poodle and maybe Yorkie.
Karen, who has called Fairfield Bay home for the last five years, was born and raised in North Central Montana. In 2017, she became the director of the library. Zoie happily shares her home with six cats: Double Stuff (20), Thomas O'Malley (16), Blu (7) and triplets Moose, Maggie and Murphy (3).
"I absolutely love everything about my job," she said. "I am a reader, so I am thrilled to be surrounded daily by thousands of amazing books. I'm also a movie lover, and really love that I get to order all the new movies (and books) that come into the library."
Karen also loves the people part of her job. "I have the opportunity daily to meet people from everywhere and get to share everything that our Library, Fairfield Bay and this area has to offer with them," she said. 
As director, Karen also enjoys working with library volunteers. "We have a large group of very dedicated volunteers that help us do everything from check books in and out, to helping at our fundraisers. They are truly amazing and we couldn't run our library without them!"  ​
Karen saw Zoie's photo on Facebook. She was listed as adoptable through the Fuzzy Hearts rescue group. Karen was still grieving the loss of her pit bull and uncertain if she was ready for another addition to her family. "There was another little dog that a friend of mine was interested in meeting along with Zoie," she said. "The Fuzzy Hearts folks brought both dogs to the library so we could meet them. My friend adopted the other dog and I fell in love with Zoie. She moved in with me two days later."
After the adoption in December 2017, Zoie began accompanying Karen to the library. "She really considers the library her 'Happy Place.' In the morning, I tell her we're going to work and she runs to the door!"
The response from library visitors to Zoie has been positive, according to Karen. "Everyone loves Zoie, almost too much. There is a shelf in the library that is full of treats brought for her by the patrons. She gets gifts of treats and toys almost daily!  
"And she definitely has her favorites. There are 'regulars' that stop by every week and somehow Zoie knows when they've walked into the library and gets so excited. She knows for sure that they've got treats for her and she's usually right."
Visitors to the area who come into the library are also happy to see Zoie. "She greets them all. I've had more than a few offer to take her off my hands!"
The Fairfield Bay Library is an independent, non-profit library that serves the Fairfield Bay community, the surrounding areas and vacation and timeshare visitors. "We are the only library in Arkansas with such a large number of volunteers – about 48 as of today. The volunteers are a big part of what makes this such a great library.  
"Since this library is not a part of the regional library system, the library relies on donations and fundraisers to operate. We also have different levels of memberships for adults 18 and over. There are no membership dues for children. There are temporary memberships for visitors, and timeshare visitors."
The library offers a large selection of new release books and audiobooks, adult fiction and non-fiction, large print books, biographies, classics, young adult and children's books. "We have over 1,500 movies for check out, including many new release movies and movies from all different genres," Karen said. "We offer free Wi-Fi and internet and free computer usage.  
"A couple of summers ago, we put together Activity Backpacks. There are backpacks for birdwatching, hiking and fishing, and rainy day backpacks. They come complete with everything needed to go out in our gorgeous area and enjoy that activity. They have been very popular, especially with the timeshare visitors."
Looking ahead, Karen anticipates another busy summer at the library, with reading programs for kids and adults. "We also tend to have a lot of visitors in the library in the summer and that keeps us on our toes," she said. "Personally, I am hoping to get out of town a few times and go camping, as well as enjoy the lake. You can't beat this lake in the summer – it is absolutely wonderful!"
Karen said she has had larger dogs in the past that were all wonderful and special. Zoie is the first small dog in a long time. "Zoie is a little dog with a huge personality and she is the current love of my life. I am so happy to be able to share her with everyone here at the library!  
"And this is truly her favorite place to be!​"