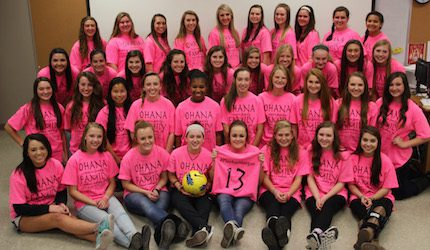 28 Jan 2015

Lady Cats #PlayforMorgan

by Sonja J. Keith

The Conway High School Lady Cats Soccer Team is showing its support for a teammate seriously injured in an automobile accident.
Morgan McAlexander, a junior at Conway High, suffered a brain injury in a car wreck in December on Highway 65 north of Conway. She was taken to Arkansas Children's Hospital, where she is currently undergoing rehabilitation therapy.
"As soon as we heard the news, some of her close teammates and myself went to the hospital to support the family," said Coach Kevin DeStefano. "We have brought gifts, signs, letters, and the entire team has dedicated our season to her. She has become our motivation this year. Her fight, her unwillingness to give in, and her continued success is our inspiration this year."
The team's support is reflected in bright pink shirts that players will wear each game day. The shirt features the saying from the Disney movie "Lilo and Stitch" – "Ohana means family and family means nobody gets left behind or forgotten." Morgan's jersey number 13 is on the back with #PlayforMorgan.
Senior Tayler Harding had the idea for the shirts to honor Morgan, someone she has played soccer with for five or six years. "Morgan is a part of our soccer team and we are a family," she said. "We want Morgan to know she'll never be forgotten."
Harding added that McAlexander's accident has had a big impact on the girls soccer team. "She's definitely brought us more closely together," she said. "We're very inspired by Morgan and we play for her."
According to DeStefano, the team will have pink arm bands for their uniforms this season. Players plan to have Morgan's jersey on the bench at every game.
Lindsey Paxton is helping by planning several fundraisers to assist with the medical expenses for the McAlexander Family. "We have had overwhelming support and donations from our awesome local community," she said.
A pancake breakfast is planned at Stoby's from 8 a.m. to 1 p.m. Sunday Feb. 15. Tickets are $5. A cookout at Conway High School during a home soccer game is also in the works.
The Lady Cats team has also been involved in local efforts to raise money. "We also have helped sell Morgan wristbands and we helped spread the word about donating money to her hospital food card," DeStefano said.
Donations can be made through Regions Bank to the "Charitable Acct for Morgan McAlexander" or through GoFundMe.com.
For more information on the fundraising efforts, contact Paxton at

[email protected]

.