18 Feb 2019

Lady Cat legacies

by Levi Gilbert

Conway High basketball fans sure have been spoiled for the last decade. The combination of a supportive school system and community and elite local talent and coaching have created the perfect storm of a Conway Lady Cat dynasty. 

In 2019, the legacies — past, present and future — are burning brighter than ever, and it all was on display Jan. 3 at Bud Walton Arena as Lady Cats of all ages gathered to watch former Conway teammates Jordan Danberry (senior guard for the Mississippi State Bulldogs) and Alexis Tolefree (junior guard for the Arkansas Razorbacks) face off in an SEC matchup. 

"It was the pinnacle for this program," said Jeff Matthews, play-by-play announcer for Conway Corporation's Channel 5 Sports. "Coach Ashley Hutchcraft has sent a lot of players to a lot of different colleges over the years, but to have two former players playing in a major conference like the SEC and not only playing but contributing in big ways to the success of both of their teams — it was a special moment to say the least."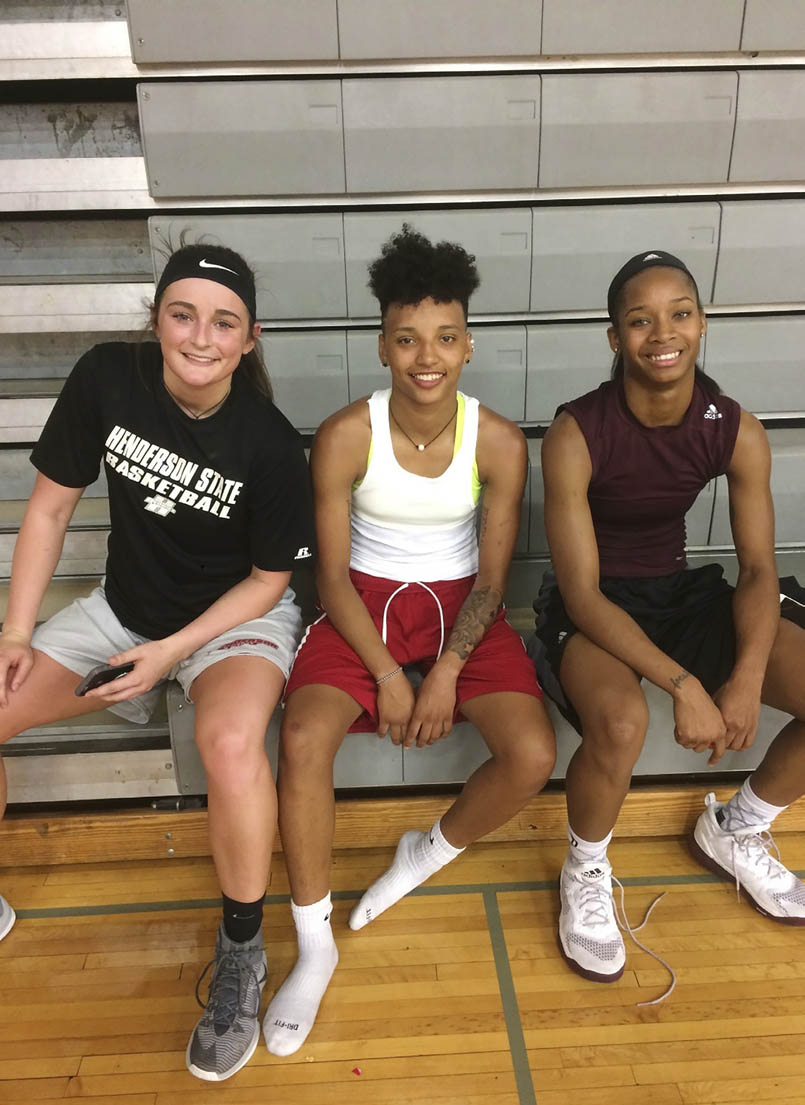 Danberry had the edge that night, dropping a career-high 26 points back in her home state to lead the Bulldogs over her former team, 93-69. 
"It was a great moment to be able to come to Bud Walton again and play in front of my family and friends and against my former teammate,"Danberry said. "It was awesome. So many from the Conway community came out to support us. It felt like a home game. It was also my last time playing in Arkansas — very special."
It was a night to remember for all Conway Lady Cats — players, coaches and fans alike — but it was particularly unforgettable for Ashley Hutchcraft, who coached Tolefree and Danberry to a state championship in 2014. 
"It was honestly a little emotional for me," Hutchcraft said. "I have spent a lot of time with those two young ladies, and we have been through a lot together. They both have been through a lot to get to the place they are now, and that makes it even more special. Lex started at UCA, then transferred to a junior college where I feel like she really matured and now is at the U of A. Jordan started out at the U of A and then transferred to Mississippi State, and I feel like it is a perfect fit.
"It's funny how life works out at times. It is full of bumps and curves, but it always works out, and it has really worked out for Jo and Lex."
In 2018, after playing just 27 minutes in the previous four games of the NCAA tournament, Danberry came off the bench for the Bulldogs in the Final Four against Lousiville, playing 26 valuable minutes and hitting crucial free throws in overtime to seal a trip to the championship game. This year as a starter, Danberry has the No. 6 Bulldogs (19-1) poised for another deep tournament run. 
"Jordan is an amazing athlete," Hutchcraft said. "Her speed and athletic ability really set her apart from everyone else. She can lock you up on defense, and if you don't protect the basketball, her hands are so quick that before you know it she is shooting a lay-up on the other end. You take that quality and add her strength and toughness — she was and still is a remarkable player."
Danberry recognizes the hard work that got her to this point at Mississippi State, and she knows where the journey all began.
"One of my biggest mentors was Coach Lashanta Johnson (coach for Conway Junior High White)," Danberry said. "She was also my AAU coach. We had a relationship off the court as well that was very beneficial in my life. She accepted me into her family like I was her own. She taught me some life lessons and was always there if I needed to talk to someone. 
"Coach Hutchcraft always demanded excellence out of us, and it prepared us for the college game. She allowed us to play our game, and it was a very fun environment. One lesson I learned was to trust the process and work hard all the time. I've carried that through to college, and It's paying off."
In her first year with the Razorbacks, Tolefree has been a spark for Arkansas, averaging 10.9 points per game and leading the team with 50 3-pointers made. The Razorbacks are well positioned to return to the NCAA tournament for the first time in four years.
"Lex was and is fearless," Matthews said. "She's in range as soon as she gets off the bus, and she's never afraid to shoot. I don't know that I have ever seen a quicker release. She is thrilling to watch."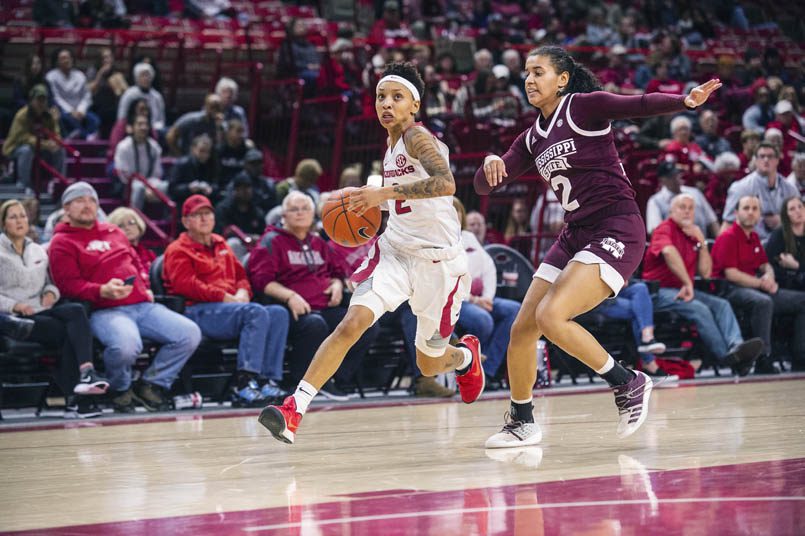 Tolefree grew up playing basketball in Central Arkansas under Odie Phillips and Marlon Williams for the Arkansas Lady Bears in AAU. 
"Coach Williams and Coach Phillips got me to where I was in high school," Tolefree said. "They were like father figures to me. Coach Hutchcraft impacted my life on and off the court. She taught me how to live life with good character and not just be remembered for basketball, but for being a good person."
Danberry and Tolefree aren't the only former Lady Cats making an impact on the college level. Several other Conway alumnae are still hooping it up: Kianna Speight (Davidson), Maggie Evans (Southern Arkansas University), Jacie Higgins (Arkansas Tech), Futra Banks (LSU Shreveport), Savannah Lowe (University of Central Arkansas) and Cardrina Nolen (Collin College). 
And who could forget Hailey Estes? Estes, who was a sophomore teammate to Danberry and Tolefree on that 2014 championship team, hit one of the biggest shots in recent Lady Cat history — a late go-ahead 3-pointer to propel Conway past Central in the 2016 7A state semi-finals. Now, Estes knocks down big shots for Henderson State.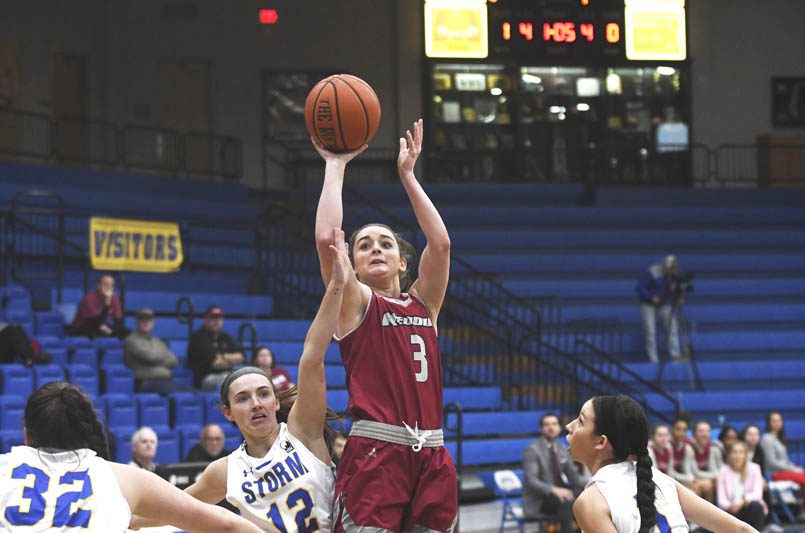 "If I told Hailey she was guarding a 6-foot-3 post player tonight, Hailey would be the best post defender on the floor," Hutchcraft said. "If I told her you're running the point tonight, she would be the best point guard on the floor. If I told her make sure you get eight rebounds tonight, she would have 10. Hailey is and was the most coachable player. 
"She would do whatever I asked her to do, and it would be to the very best of her ability. She was a floor coach, a locker room coach, an off-the-court coach. She was and is a leader."
In her junior season, Estes is the second-leading scorer (14.1 points per game) and leading rebounder (8.5 rebounds per game) for the Reddies. 
"One of the major lessons I learned playing Conway basketball is hard work can beat talent any day," Estes said. "Coach Hutchcraft used to always drill that into my head. I am by no means the most athletic or best skilled basketball player out there, but one thing my teammates and coaches can rely on is I will always work hard and give everything I have going into any game. 
"Coach Hutchcraft is one of the best coaches in Arkansas and in high school ball period. Whether you play JV or varsity or are a manager, she makes sure you are treated like family. I always knew I was going to be taken care of. It's more than basketball when it comes to playing for her. It's a relationship that I will have the rest of my life, and it's an honor to have played for her. It's something I will never forget."
Since Hutchcraft was hired at Conway in 2010 (fresh off her first coaching state championship win with Conway Christian), the Lady Cats have appeared in the state finals four times (2014, 2015, 2016, 2018). The program has earned an abundance of success in the last decade, but the cornerstone was established even earlier.
"I think the foundation was laid by Coach Janet Taylor while she was leading the Lady Cats," Matthews said. "That was the beginning of a winning culture of girls basketball in Conway."
Taylor led the Lady Cats to a state title in 2008. 
"From there, when Coach Hutchcraft took over, it has just skyrocketed," said Matthews, who has covered Lady Cat basketball for almost two decades. "She has a great ability to connect with her players and to stay connected to them, which we see all the time with how many college games she attends to see former players. She is intentional about it, and it works. She has created a unique environment here, and it is without debate that Conway girls basketball is an elite level program. They are in the conversation for the top three programs in the state over the past 10 years."
For Hutchcraft, the overall success of the program is built through several layers and branches of the larger Conway basketball community. 
"It definitely takes a village to get our players to reach their potential," Hutchcraft said. "Our players work all year long. They are developed through our program from a young age. They have parents, teachers and coaches that care about them and sacrifice for them to be successful. One thing that has helped over the last six or seven years is that we have started playing in some of the nation's top basketball tournaments. This has allowed our players to get exposure that they may not have gotten if we had only played a local schedule.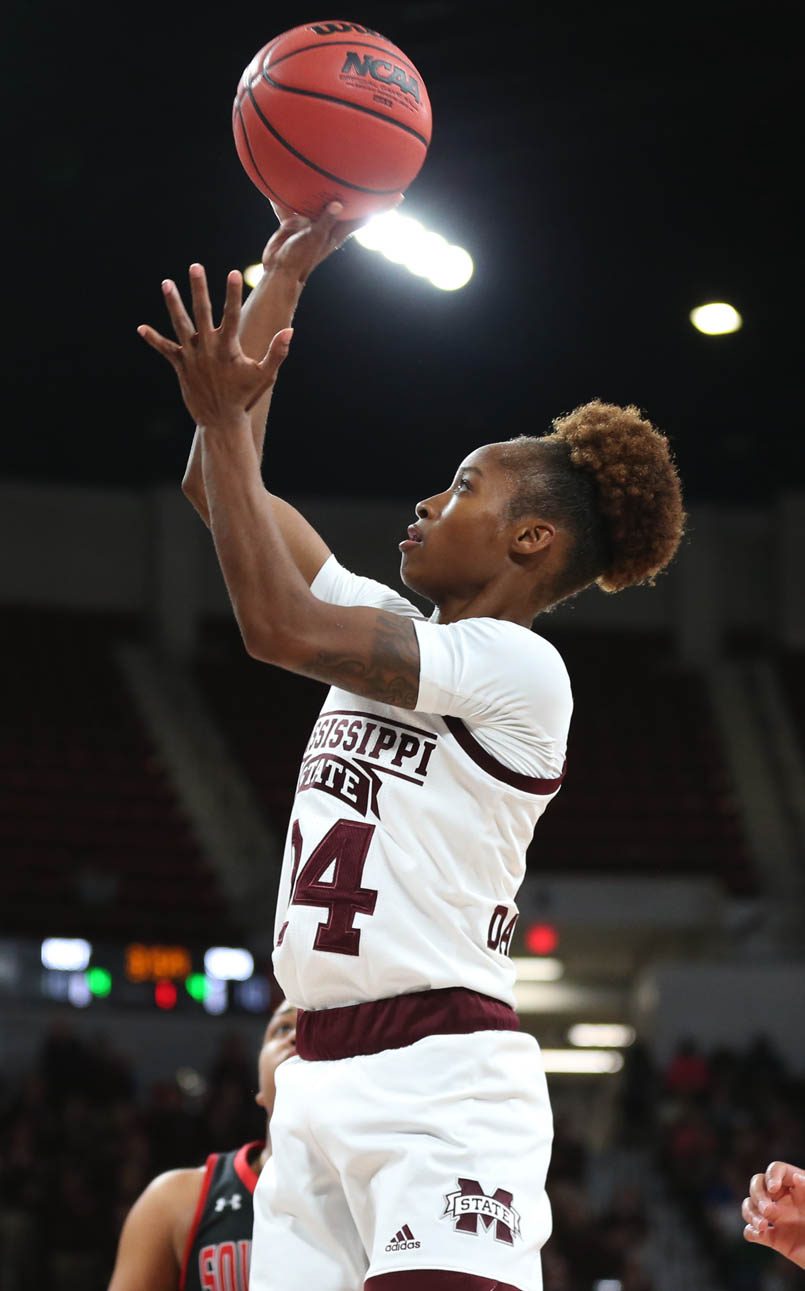 "We have played some of the nation's top teams and players, and during these games there are college coaches in the stands. I also spend a lot of time on the phone with college coaches, sending them film, getting them to games, scheduling on-campus visits and promoting our players."
Three Lady Cats will graduate this May and carry on the Conway legacy at the collegiate level. Asiyha Smith has committed to Texas A&M University–Commerce, Reagan Roetzel will join Estes at Henderson State, and Myia Yelder, Tolefree's sister, is currently undecided, but expects to play at the next level. 
"Lots of players come out of high school with the ability to play college ball," Matthews said. "But how many of them still have the ability to be coached? To be pushed? To be challenged? I think Coach Hutchcraft and Coach [Jeff] Gifford coach them that way, and for college coaches, they know if they sign a Lady Cat, they are going to sign someone who can step right in and hit the ground running."
With a talented freshman, Jaiden Thomas, seeing valuable time on the varsity squad this year and highly touted eighth-grader Chloe Clardy ready to move up next season, the Lady Cat legacies of past, present and future will continue to grow.

Latest posts by Levi GIlbert
(see all)