28 Apr 2021

Klinkerman wins SAA title in discus, Warriors finish fourth

MEMPHIS, Tenn. – Hendrix's Madelyn Klinkerman captured the Southern Athletic Association (SAA) title in the discus and finished second in the hammer on April 26, helping the Warriors to a fourth-place finish after the second day of the SAA Championships at Wolfe Track and Field Complex on the campus of Rhodes (Tenn.) on Friday. The Warriors totaled 87.5 points.


"The field events definitely carried us on the women's side, especially in the throws," Hendrix head coach Andrew Raske said. "It's always great to get a 1-2-3 sweep like we did in the discus. A huge credit goes to our seniors, who gave great performances and leadership."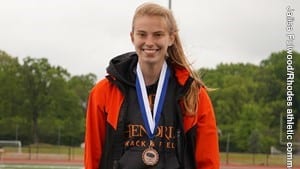 Klinkerman won the discus after a throw of 39.17 meters. Jaydan Hunt finished second after a heave of 39.06 meters, Alivia Allen was third with a mark of 33.98 meters and Kya Carroll was eighth at 26.80 meters.

Klinkerman's best hammer throw went 42.41 meters, and Allen's was 31.05 meters.

Klinkerman and Hunt tied as the ninth-highest scorers among all participants, as each compiled 18 points.

Allison Long finished third in the long jump with a distance of 5.15 meters, while Margaret Anderson was fifth at 4.88 meters. Anderson was third in the triple jump after recording a distance of 10.40 meters, and Jackie Greenwell came in seventh with a mark of 9.41 meters. Allana Sisco tied for third in the pole vault after clearing 2.88 meters. Rachel Woppman claimed seventh in the 100 meter hurdles in 18.66 seconds.

The 4×100 meter relay team of Long, Sisco, Woppman and Romee Blokland finished fifth in 52.25 seconds. The 4×400 meter relay team of Long, Woppman, Sisco and Blokland claimed fifth with a time of 4:26.84.

The Lynx won the team championship with 258 points.