23 Sep 2020

Jackson Moll leads Devil Dog ground game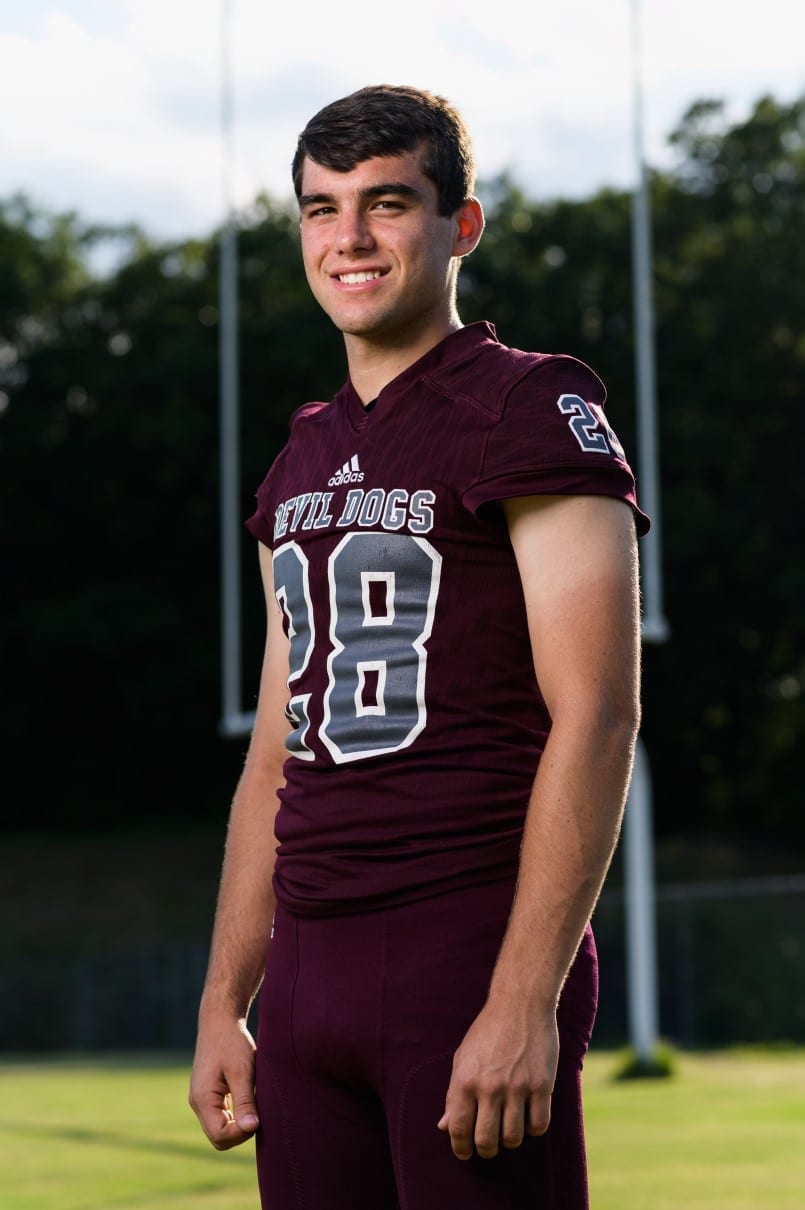 Every time Jackson Moll has fallen, he's gotten right back up. 
Moll, a senior running back for Morrilton, broke his collarbone as a sophomore, and then broke his wrist last fall as a junior.
"He was one of our best players [last year] until he broke his wrist," said Morrilton Head Coach Cody McNabb. "He came back in the playoffs and helped us. He is one of the most resilient players I have ever coached. He could be one of the best players in the conference."
In six games last fall, Moll rushed for 313 yards and seven touchdowns before his wrist injury shortened his regular season. The Devil Dogs made it all the way to the 5A semifinals, where they fell to eventual state champion Pulaski Academy.
"Our team goal is to keep improving ourselves as people and as players week by week to help us in our futures and our road to the state title," Moll said. "My personal goals for this season are to stay healthy the whole season and to live in the moment for my last go around as a senior. There will be struggles along the way, but as long as you focus on the process and not the outcome, success will come in time."
Moll and the Devil Dogs (1-2) took out Beebe 41-7 in their second game this season in Week 1, and dropped two one-score games to Russellville (15-10 in Week 0) and Wynne (20-19 in Week 2). Moll knows his team is close to making big strides heading into 5A West play.
"Our team has learned to stick to our game plan throughout the whole game and that we are always in the game no matter what the score," Moll said. "We are performing really well on the defensive side of the ball, and we have also found rhythm and several weapons on offense, but we need to always come out swinging and play all four quarters like the game is on the line to ensure the victory.
"One stat that has stood out to me is our time of possession on offense. We have led in that stat in all three of our games, and that will be key for the rest of the season."
This week, the Devil Dogs travel to Greenbrier (1-2) and will have their hands full slowing down a Panther offense that is averaging 34 points per game.
"I can remember playing Greenbrier all the way back in third grade, and it's always been a big hard-fought game for us," Moll said. "As long as we come out, limit the big plays and turnovers and do what we know we can, then we will have lots of success and get the job done."
Moll was selected to this year's 501 Football Team — 24 players representing all 11 counties of the 501. The team, sponsored by Conway Regional Health System and First Security Bank, boasts the best the 501 has to offer both on and off the field. The senior was nominated by McNabb.
After losing so much time the last two seasons because of injury, Moll is thankful for the opportunity to play his senior season — which has been touch and go this year because of COVID-19.
"Being socially distanced on the sidelines, not being able to shake hands after the game and missing the band and cheerleaders at the away games has made it a little different, but mainly we are just grateful we are getting to play," Moll said. "The start of every new season is always exciting because of the Friday night lights coming back on, but this being my senior year has made them even more special and memorable knowing any one of these games could be my last and the last time to play with all my teammates that I've played with for so many years."
Moll is a multi-sport athlete for the Devil Dogs. He runs the 100m and 200m on the track team, as well as participating in the long jump. He also started playing soccer last year for Morrilton.
"I would just like to show my appreciation and give a huge thank you to everyone who has shown love and support to me and my team, and especially my coaches for spending countless hours to be a part of mine and my teammates' lives in and out of football," Moll said. "I'm also grateful for the opportunity to have one more season to be a Devil Dog!"
Moll and the Devil Dogs hit the road this week to Greenbrier. Kickoff is 7 p.m. Friday, Sept. 25.

Latest posts by Levi GIlbert
(see all)