03 Nov 2021

Huett 'powerful and aggressive' for undefeated Greenbrier

By Levi Gilbert

Greenbrier's 2021 season has been all that a senior could ask for, but Nick Huett knows the job is not done. Entering a Week 10 finale and cross-county rivalry game with Vilonia, both teams come in undefeated on the year with the 5A West crown on the line.

Huett knew this team was special all the way back at Greenbrier's third game of the season against Arkadelphia.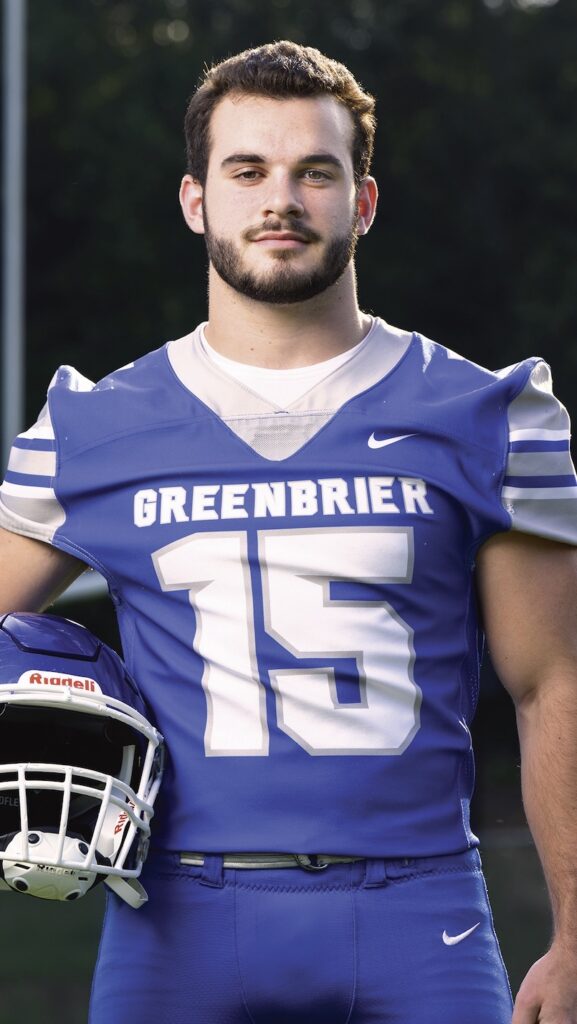 "We ended up having our defensive coordinator quarantined that week and had a few starters out, too, but we were able to come out and scrap and fight for a win against a really good team," Huett said. "That really showed me the fight everyone on this team has and how bad they want to win."
Huett put up an all-state performance for Greenbrier in his junior campaign in 2020, leading the team in tackles and rushing for 970 yards to help guide the Panthers to the second round of the 5A playoffs.
"Being able to return to the playoffs and make it that far after a lot of people doubted us and we had a slow start to the season was a big deal in my eyes," Huett said. "Hopefully, it also helped give us the experience we need for a deep playoff run this [year]."
Huett was selected to this year's 501 Football Team — 23 players representing all 11 counties of the 501. The team, sponsored by Velda Lueders Coldwell Banker RPM Group, Moix Equipment & Toy Company, Conway Regional Health System, and, First Security Bank, boasts the best the 501 has to offer both on and off the field. The senior was nominated by his head coach, Randy Tribble.
"Nick is instinctive on both sides of the ball," Tribble said. "He has great vision as a runner. He's powerful and aggressive, and he encourages and teaches the young players. He's very unselfish and will do anything for his teammates. Just an outstanding student and has a 32 ACT. He's an awesome representative of the community.
"When you need a play, you can count on him. If you had four or five like him, you would be tough to beat."
It doesn't take much to get the programs and communities excited about a Greenbrier and Vilonia matchup. But, rarely has there been more on the line for the annual rivalry. Both teams are evenly matched offensively and defensively, and both teams are perfect on the season.
"Something that our coaches have been talking to us about this week is don't make it any bigger than any other game and to drown out all the noise and clutter that's surrounding it," Huett said. "So, really our mindset going into it is that it's just another game that we need to win and to go play our game the way we have all year without letting the moment or stage get to us.
"Vilonia has a really talented offense — by far the best we've played up to this point. But again, it just goes back to us playing our game and being disciplined, physical and communicating. I'm confident in our ability to get stops on them. And if we go out and do our stuff with the same discipline and energy we have all year, I don't see anyone being able to stop us on offense."
Huett also runs track and plays baseball for the Panthers.
Greenbrier (9-0, 6-0) plays host to Vilonia (9-0, 6-0) for the 5A West title at 7 p.m. Friday, Nov. 5. 

Latest posts by Levi GIlbert
(see all)