19 Jan 2022

Hoelzeman 'does so much' for Sacred Heart

By Levi Gilbert

Halen Hoelzeman has enjoyed her time making memories with the Sacred Heart Lady Knights. Last season, she started at forward as a junior, led the team in rebounds, shot 45 percent from the field, earned all-conference honors and helped Sacred Heart make it to the 1A quarterfinals.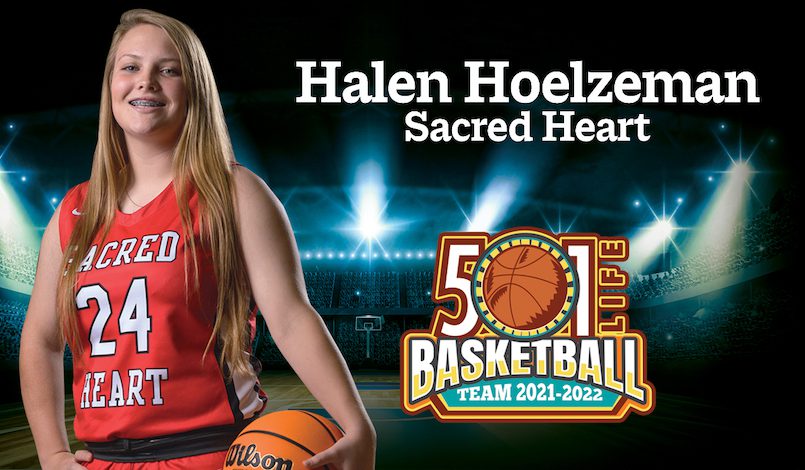 "My favorite thing about basketball is the bonds that are made, not just within my team but other teams we face continuously," Hoelzeman said. "It is always something I remember, and it builds lifelong friendships. Being a different group this year, we want to become a close family and a close team. We hope to make it to state and prove that we are more than what people expect. We want to continually build our team up and improve ourselves to be better as a whole."
In her senior season, Hoelzeman has earned the role of captain for Sacred Heart (10-8, 4-4) and is welcoming the role of carrying heavier expectations.
"I want to be remembered as a leader," Hoelzeman said. "I want to be the girl everyone always knows will have their back and can come to with anything, even outside of sports. I want to be remembered for always picking up my team when we are down."
Hoelzeman was selected to this year's 501 Basketball Team — 40 players representing the best the 501 has to offer both on and off the court. The team is sponsored by Velda Luders of Coldwell Banker RPM Group, Moix Equipment and Toy Company, Conway Regional Health System and First Security Bank. The senior was nominated by her head coach, Kyle Duvall.
"Halen does so much for our basketball team," Duvall said. "She brings energy every day in practice and games. Halen is tough inside. She is a very hard worker, and she is always so positive and encourages her teammates to be the best they can be on a daily basis.
"Halen is a very versatile player who is tough and can get to the rim, can post up on the low block and is a great passer. She has a high basketball IQ and makes everyone around her better."
Hoelzeman is a two-sport athlete for Sacred Heart, and she has committed to play softball at Cottey College after graduation. Beyond athletics, Hoelzeman is involved in Beta Club, Catholic Youth Ministry and Key Club at Sacred Heart. Through Key Club, she volunteers outside of the school with highway clean-ups, a fishing derby and the VFW Walk of Flags.
Sacred Heart plays at Guy-Perkins in 1A-4 conference play at 5 p.m. on Friday, Jan. 21.

Latest posts by Levi GIlbert
(see all)