05 Jul 2023

Harding's mid-summer baseball update

SEARCY — Harding junior Maddox Long pitched 3.1 innings without allowing an earned run in his first start for the Green Bay (Wisc.) Rockers of the Northwoods League. He is the first Harding pitcher to work in the Northwoods League since Brodie Brumley in 2009.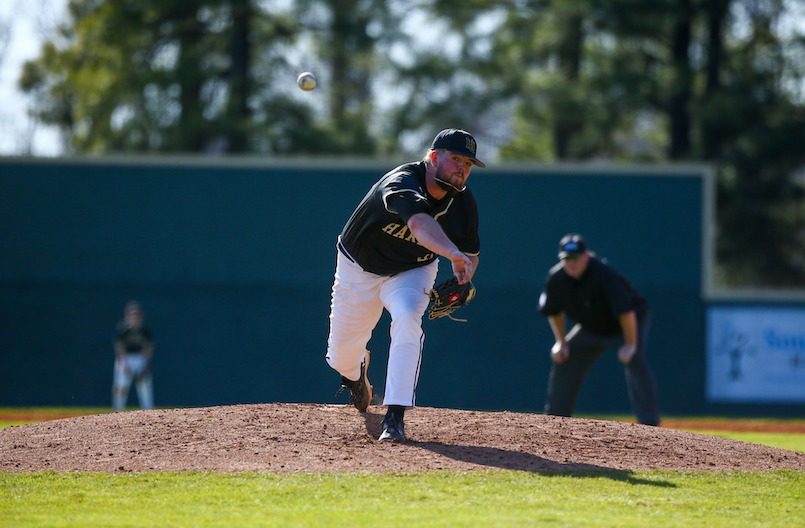 Long, a native of Morrilton, Arkansas, threw 64 pitches and allowed three hits and four walks with two strikeouts against the Lakeshore Chinooks. He worked out of a bases-loaded, no-outs jam in the second inning.
Long will be with the Rockers throughout the second half of the Northwoods League season.
In 2023, Long went 7-4 with a 4.86 ERA for Harding. He struck out a team-high 90 batters in 83.1 innings and earned Second Team All-Great American Conference.
In other summer league action, Harding has three players competing for the Henderson (Ky.) Flash of the Ohio Valley League-Collin Helms, Logan Lacey and Luke Whaley.
Helms, a native of Lawrenceville, Georgia, is hitting .387 with four doubles, a triple and eight RBIs in 31 at-bats over nine games. He has a 1.094 OPS that includes a .513 on-base percentage and .581 slugging percentage. Helms, an honorable mention All-GAC honoree, hit .366 with five home runs and 29 RBIs in his first season at Harding.
Lacey, who hails from North Richland Hills, Texas, has a .321 batting average with five doubles, one home run and 12 RBIs. He has a .903 OPS in 56 at-bats over 15 games. Lacey won the national Gold Glove at third base and hit .324 with 18 doubles and 35 RBIs in 2022.
Whaley, a native of Collierville, Tennessee, has been impressive in seven relief outings. He has a 2.38 ERA with 14 strikeouts over 11.1 innings. In his first season at Harding, Whaley went 1-0 with two saves and a 1.84 ERA. He struck out 11 in 14.2 innings.
Hayden Pike, a catcher from Richmond, Texas, is playing in the Texas Collegiate League for the Acadiana Cane Cutters, located in Youngsville, Louisiana. Pike is hitting .231 with a double and six RBIs through 13 games. He hit .300 with three RBIs for the Bisons in 2022.