02 Sep 2020

Greenbrier's White ready to lead Panthers to playoffs

Ashton White takes advantage of the time he's given on the gridiron.

In 2019, he tore ligaments in his ankle during fall camp and missed six games after surgery. But he made the most of the four games he saw the field, earning 5A West all-conference honors at center for the second year in a row.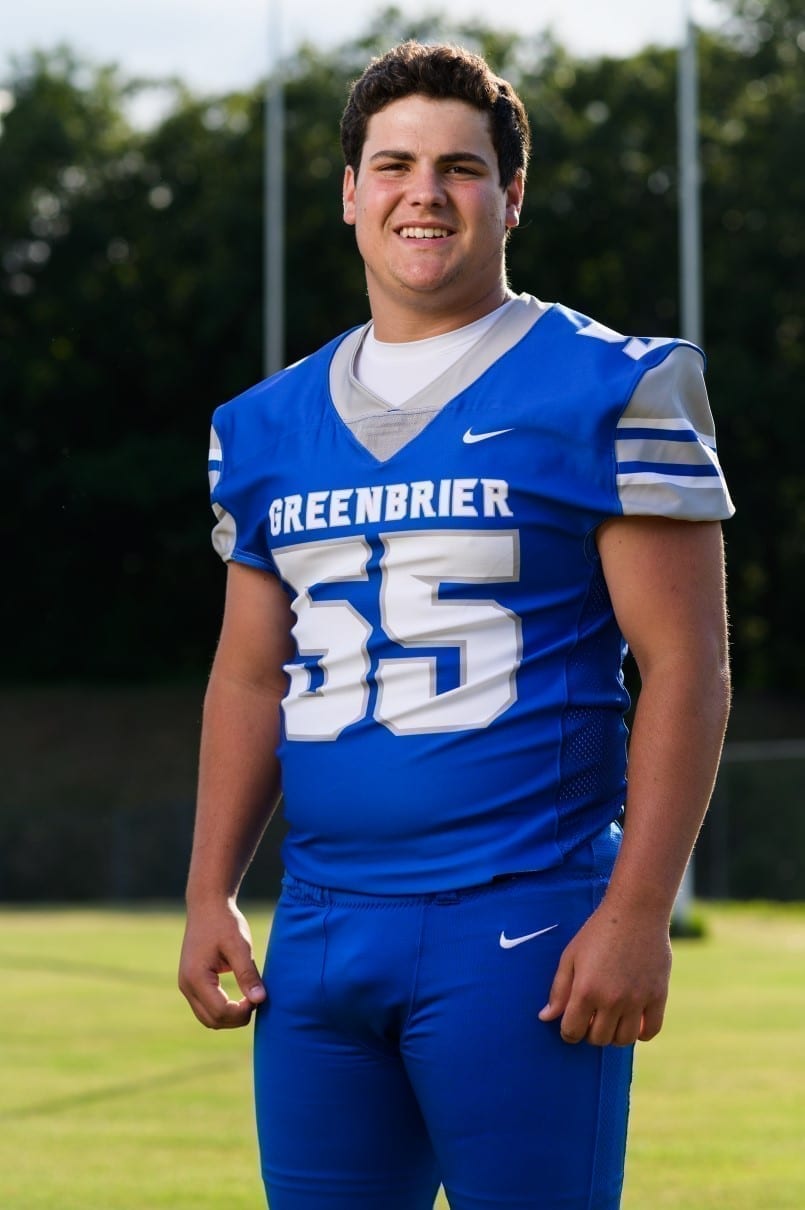 White was selected to this year's 501 Football Team — 24 players representing all 11 counties of the 501. The team, sponsored by Conway Regional Health System and First Security Bank, boasts the best the 501 has to offer both on and off the field. The senior was nominated by his head coach, Randy Tribble.
"Ashton's a very quick, athletic player," Tribble said. "He understands our offense and what all the lineman has to do, so he can help the younger players. He works very hard and is intense in his preparation and workouts. He's an encourager.
"I believe he will be one of the best offensive linemen in our conference. I believe he will be a great leader for our team and for our offensive linemen. He will also help us be better by the ways he helps the younger, less experienced players."
For White, the 2020 goal is very clear for the senior.
"I want for us to go back to the playoffs this year after falling short due to injuries last year," White said.
The Panthers got off on the right foot with a dominant 55-6 win over Beebe at home in Week 0.
"I think the biggest thing was just the effort and communication as a whole," White said. "Our running backs did a great job of being patient and letting the plays develop before they took it to the house. Our quarterback made smart decisions in the pocket, and then the group of guys around me on the line, as well as the receivers, were just going all out every play. Sometimes success doesn't come down to just the technicalities and fundamentals, insane effort can make up for a lot of mistakes. I think we executed the game plan put together by the coaches very well, and combining those two made for a very dangerous offense Friday night.
"I mean the main stat that stood out was I think everyone was on the scoreboard. I've never been a part of an offense that put up those kinds of numbers that fast. Thirty-five points in the first quarter is a crazy stat in itself. Going forward I think we'll have an offense that can put up much bigger numbers than we have before."
It was an explosive and rewarding night for White and the Panthers — a night that was anything but a given.
"As a team, we were super pumped," White said. "Our coaches keep telling us that this year we have to be thankful for every snap we get because it could be taken away at any second. I think with that in the back of our mind it really helped us to just go out there and have fun playing the game we love. The stands were obviously very empty, the student section wasn't crowded and rowdy like it normally is, so that gave us the opportunity to just celebrate together, which I thought was really cool.
"I have to say that it was the most fun game I've ever been a part of. Going into the game I kept waiting for the nerves to creep in like they always do, but they just never came. Knowing that I got another chance to play just put the game into a whole new perspective, and I was just there to work hard and have fun. Now going forward, we have to prepare like every game is our last because most of our seniors aren't planning on playing after high school, so it very well could be."
Next up for the Panthers — the Batesville Pioneers come to town this Friday.
"Coming off of a big win last week, our big focus is to just correct a lot of the mental mistakes we made," White said. "A lot of penalties and missed assignments could've really hurt us last week. Obviously the first game of the year will be sloppy, but now that we have the first one under our belts, if we can clean the game up and be mentally sharp, then that will put us in a great position to let our game do the rest."
Perhaps the best indicator of White's character is his approach to the game on the other nights besides Fridays.
"Don't complain so much about practice," White said. "It's not always fun, but it's part of the game, and the more you complain the more it will bring down yourself and your team."
The senior Greenbrier Panther plans to study mechanical engineering or physical therapy after high school, but is undecided on which college he'll be pursuing.
"The main thing that inspires me is my faith in Christ," White said. "Holding fast to my salvation and knowing that God has a sovereign plan for my life motivates me to keep working."
White and the Panthers play host to Batesville at 7 p.m. Friday, Sept. 4.

Latest posts by Levi GIlbert
(see all)