14 Oct 2020

Gilbrech, Mustangs aim for 2-4A title repeat

Palmer Gilbrech and the Central Arkansas Mustangs are on the precipice of something special.

After winning just one game in 2017, the Mustangs have steadily built back the program, winning five games in 2018 and eight in 2019. Now, the undefeated Mustangs (6-0, 3-0) are planting themselves as a favorite in the 4A.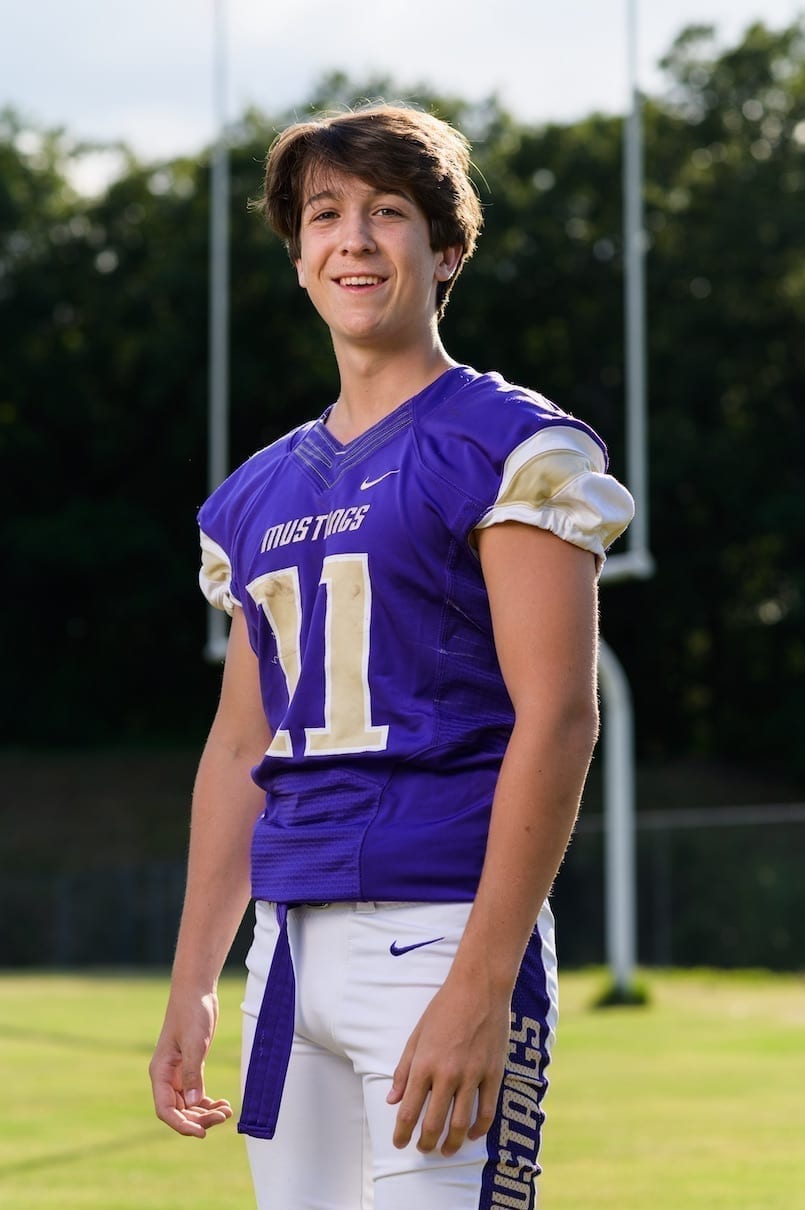 "We're all excited about the rest of the season," Gilbrech said. "We hope to win each and every week. Our team is really coming together, especially over the past couple of weeks."
In 2019, Palmer Gilbrech helped lead the Central Arkansas Christian Mustangs to a share of the 2-4A title as the starting quarterback. Gilbrech completed 61 percent of his passes, throwing for 2,300 yards and 21 touchdowns. He also rushed for another two scores. All of this helped him earn all-conference honors.
This season, Gilbrech has picked right back up where left off last year and improved upon his game. Through Week 6, Gilbrech is completing 66 percent of his passes for 1,133 yards and six touchdowns to only one interception. He's also rushed for 181 yards and one score.
Gilbrech was selected to this year's 501 Football Team — 24 players representing all 11 counties of the 501. The team, sponsored by Conway Regional Health System and First Security Bank, boasts the best the 501 has to offer both on and off the field. The senior was nominated by his head coach, Tommy Shoemaker.
"He's a leader and calm under pressure," Shoemaker said. "I expect him to have an outstanding year. We are counting on him."
Gilbrech's senior season has brought more responsibilities and expectations as the Mustangs are battling to repeat as conference champs. He's also had to do it with a lot of new targets at receiver. CAC's top four leading receivers from 2019 all graduated. So far, Gilbrech has connected with senior Jackson Richmond 30 times (four scores) and junior Tyler Williams 13 times (two scores).
"I just want to help my team win as many games as possible," Gilbrech said. "I've been welcomed into a great school at CAC with great teammates that have made things easy for me. I want to be someone who helps make my teammates a better player."
The Mustang offense put up 100 points through the non-conference schedule over Mayflower, Riverview and Carlisle.
"We learned how to close out games during our non-conference schedule and fix mistakes towards the end of the games," Gilbrech said. "We're doing a great job of balancing the run and pass game. We need to improve on closing out games more smoothly, but we're getting better at it each and every week. Our running game really opens up our play action passes, not letting defenses commit to one or the other."
The Mustangs didn't slow down as they entered 2-4A play, and they've found multiple ways to win games. CAC won in a shootout over Clinton (47-35), outlasted Mills in a close game (20-14) and took one going away over Heber Springs (35-14). This week, the Mustangs travel to Southside Batesville.
"We don't need to change much," Gilbrech said. "We need to continue executing both on the offense and the defensive side of the ball. We need to stay healthy for the rest of the year with a tough upcoming schedule. If we can stay healthy and continue doing what works best for us, we should have a great rest of the season.
"I'm just really happy to play a game this year with everything going on. Our coaches and school have done a great job to try and keep us in school and playing sports."
Off the field, Gilbrech stays active for CAC. He's a member of Beta Club and Mu Alpha Theta. He also volunteers with Mustang Missions, which hosts several service projects throughout the school year.
"He's high character and great in the classroom," Shoemaker said. "He is just a good and kind person — very likable. And he's an ideal student-athlete."
Gilbrech plans on also playing basketball this year for the Mustangs, and after high school, he plans to pursue an accounting degree. But before all that, he's putting in the work one day at a time.
"I admire people who don't worry what other people think about them and have a positive mindset," Gilbrech said. "I'm focused on improving myself as a player and a person."
Central Arkansas Christian heads to Batesville Southside with kickoff set for 7 p.m. Friday, Oct. 16.

Latest posts by Levi GIlbert
(see all)