25 Sep 2023

Get Down Downtown: A Main Street Searcy Festival

Posted at 6:32 PMh

in

News

SEARCY — The 15th annual two-day Get Down Downtown festival will be held on Friday, September 29 from 6-9 p.m. and continue Saturday, September 30 from 10 a.m.-9 p.m. Admission is free to all, and live music will be provided throughout the festival on the First Security Bank Stage in Downtown Searcy.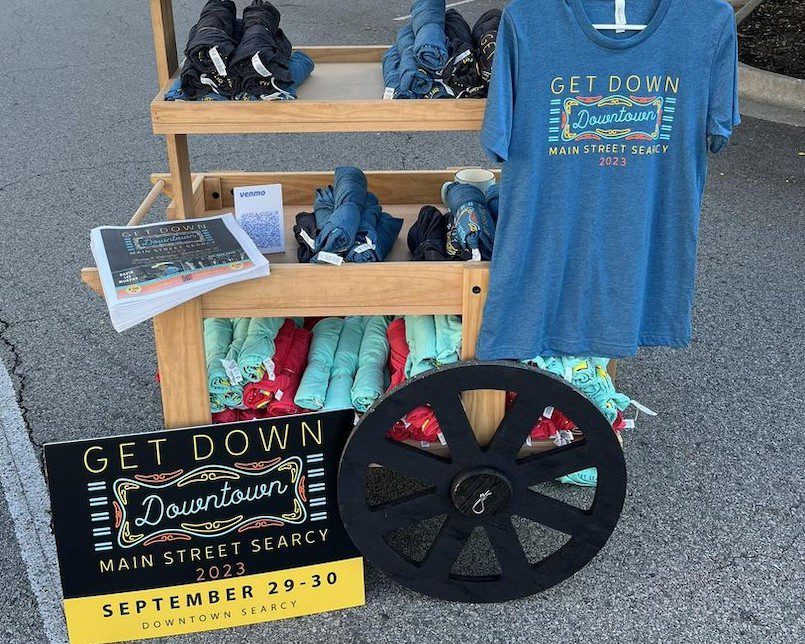 David Lee Murphy will headline Get Down Downtown at 8 p.m. on Saturday, September 30 on the First Security Bank Stage. Friday night's performances will begin at 6 p.m. and Saturday's performances will begin at 10 a.m. See below for the full lineup.
Friday, September 29
6 p.m.- Silas Carpenter
7 p.m.- Love and a Revolver
8 p.m.- Dr. Zarr's Amazing Funk Monster
Saturday, September 30
10 a.m.- Jordan Morris
11 a.m.- James Wells
Noon – Jimmy Rolett
4 p.m.- Erik Smallwood
5 p.m.- 90 Proof
6:30 p.m.- East Nash Grass
8 p.m. David Lee Murphy
David Lee Murphy is best recognized by his massive hit single "Dust On The Bottle". But he is also known as one of Country Music's best songwriters. He has written songs for superstar artists like Kenny Chesney, Jason Aldean, Luke Bryan, Eric Church, Florida Georgia Line, Keith Urban, Brad Paisley, Brooks & Dunn, Hank Williams Jr. and others. Murphy's debut platinum-selling album, "Out With A Bang," produced a string of hits, including the title track "Out With A Bang," "Fish Ain't Bitin'," and "Just Once," which was featured in the movie 8 Seconds."
As Nashville's newest bluegrass ambassadors, East Nash Grass comes as a refreshing break- a balance of undeniable hard-driving bluegrass alongside surprisingly introspective songwriting and earnest narration. Featuring a who's-who of Nashville's hottest young pickers, the joy and passion these musicians feel towards the genre is infused in every note they play and every word they sing.
One of the most popular Memphis bands ever to hit the party scene, Dr. Zarr's Amazing Funk Monster has entertained legions of fans throughout the South for more than two decades, having played thousands of shows. From disco infernos to 80s new wave, this group has created one of the most energetic and fun bands you'll ever see. Entertaining all ages with their lighthearted, fun-filled mood, Dr. Zarr's Amazing Funk Monster dresses up in crazy clothes and brings music to life when they take the stage.
The Unity Health Kid Zone will be open from 10 a.m.- 4 p.m. on Saturday, September 30. Children can enjoy lawn games, face painting, petting zoo, inflatable jumpers, carnival games and more. Carnival games cost 25 cents and pony rides $5. Brian Kinder and Ms. Terri are performing in the Unity Health Kid Zone at 1 p.m., along with other performances throughout the day.
The third annual Funnel Cake 5k and Cotton Candy Classic is Saturday, September 30at 8 a.m. Everyone who participates in the Funnel Cake 5k will get a free funnel cake voucher to get during the festival. The 1-mile Cotton Candy Classic participants will get a voucher for free cotton candy during the festival. This year the 5k will be chip timed. Registration is $35 to join the Funnel Cake 5k and $25 for the Cotton Candy Classic.
Train rides and the Searcy Fire Department firefighter combat challenge will be happening throughout the festival. Along with Cirque Adventure performances on Saturday, September 30 at 11:30 a.m., 1:30 p.m. and 3:30 p.m. in the Spring Street parking lot. A fire breather will also be in the Spring Street parking lot at 6:30 and 7:30 p.m.
Visit Downtown Searcy September 29-30 and shop the many vendors, local businesses, and concessions. Get Down Downtown T-shirts are currently available at Sowell's Furniture and Stotts Drug Store for $20. They will also be available at the Main Street Searcy tents during the festival. 
Go to getdowndowntown.com for full event information.