21 Dec 2018

Funky Frugal: Laundry renovation

by Tanner Cangelosi

The Henleys are a sweet family that we have had the privilege of getting to know over the past few years. We are thankful for the way the Henley family genuinely loves people, and their precious little girls are always smiling. 

Zane is a pediatrician and is always willing to take our calls, at any hour, and that is a LOT of calls with our herd. Lindsey is a wonderful mother to her girls as well as mothering the hundreds of children as they serve by leading the children's ministry at New Life Church in Hot Springs. 

They recently redid their laundry room, and they knocked it out of the park, so I wanted to share it with you. Listen to what Lindsey said about their renovation.
A little bit about the family:
My husband, Zane, and I have been married for seven years. We have two beautiful daughters, Vivian (4) and Ruth (1). We have lived in our home in Hot Springs for almost three years, and we love living here. We purchased an outdated 1950s ranch home with the intention of renovating it room by room.
How did the project(s) come about: 
Our laundry room was originally a separate space off of the carport. It was uninsulated, heated or cooled. I had to go outside of the home to do the laundry, which presented a problem with two young children inside! We wanted something beautiful and practical that would allow me to do laundry inside of our home and make good use of the large space.
Where did you draw your inspiration:
I used a lot of Pinterest and Magnolia Home photos for inspiration. I stayed true to my simple, uncluttered style — a neutral color palette with pops of greenery and natural wood.
Three favorite aspects of the project:
I love that the laundry room is now open to the main house by way of a pocket door in the dining room. This is so much more practical than having to go outside. 
I also enjoy the amount of storage that is now available. There are lots of drawers, cabinets and lockers that make much better use of the space and allow this room to also function as a "mud room." We can enter from the carport, drop off our shoes and bags, then enter the main house. It keeps the rest of the house uncluttered! 
Lastly, I like the hanging rod across from the washer/dryer and the amount of counter space. I use them daily to hang or fold clothes! It is very beautiful, but more importantly, it is practical.
Three tips to do a renovation:
Have a clear idea of what your style is. There are so many options as far as materials and colors that the choices can be overwhelming if you don't know your own style.
Use a good contractor that you can trust. Using a contractor took the pressure off of us so that we could go about with our everyday lives during the renovation. We had a wonderful working relationship with him and knew that we could trust him to give us fair prices and complete the job in a timely manner, but we also understood that there would be hiccups in one way or another — there always is! Renovating your home is already stressful enough without having to do the work yourself.
Be thoughtful and patient. Take the time to find and choose the materials that you REALLY love. Even if it puts your project a little behind, it is worth it to have the end result that you really want — you will probably be living with this new room for a long time!
How long did it take:
Six weeks.
More information:
I would add one interesting thing about this project that is probably applicable to a lot of laundry room renovations. When we installed the washer and dryer, there was a large gap between the back of the appliances and the wall. I wasn't expecting that gap aesthetically and really didn't like it. After discussing the options with our contractor and doing a little research, this is a common issue due to the space needed for hoses and the dryer vent. Many people build cabinets above the washer/dryer, but we did not want to block the existing window. So, we had a custom shelf built to match the countertops and fit over the washer/dryer. Though this wasn't a part of the original plan, we LOVE how it turned out and actually wouldn't change it!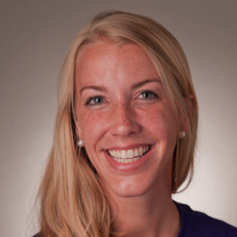 Latest posts by Tanner Cangelosi
(see all)