23 Jul 2018

Funky Frugal: A window upgrade
by Tanner Cangelosi
Leslie Cuffe has become a dear friend to me. When we first moved to Hot Springs, I was lonely, as anyone is when they first move somewhere. Then, to my surprise, I found out I would be adding three infants to my herd of toddlers…and being overwhelmed is an understatement. 
When I could no longer do strenuous exercise, I started a yoga class at my gym, and there I met Leslie, the yoga instructor. She is full of compassion and always checking on those in her classes. When she heard my news, she was so kind and said I could even come to her class to sleep, which was thoughtful because I was SO TIRED. So, for the next few years, I slept and did yoga…and slept some more.  Any mother knows that SLEEP is the best gift anyone can give, so I LOVE THIS LADY. 
It turns out she is also very crafty and frugal. When I saw pictures of her windows she had redone, I asked her to share her thoughts with 501 LIFE. Here she is, my sleep giver, Leslie:
OK readers, let me tell you about my sweet little family. I'm a yoga teacher with a mechanic husband. We will call him the HH (handsome husband) from now on because, let's face it, he's adorable.
Together, we created two incredible little people that run the house. We have lived in our 23-year-old home for more than 10 years. The previous owners were not kind to it. We bought it from the bank and let me tell you, it was in BAD shape. Holes in walls I could climb through and destruction you would not believe.  The HH was not interested in this place at all, but I could smell the potential in this little gem.   
For six incredibly long months, the HH learned to be a carpenter, tile layer, dry waller, electrician, painter and plumber. All the while, he was working 40-plus hours a week and helping the diaper-bound minions keep me on my toes. Finally, the house was decent enough to allow us to move in.
Over the past few years, we continued to improve the home and the property.  More on all the upgrades and craziness later. Today, I want to tell you about our window upgrade on an extreme budget.
Let me take you back five years. I wanted to plank a wall with rustic charm, but I couldn't find the style of wood that I wanted. It had to be rough cut with knots and loads of southern charm. So, with my family in tow as usual, we made our way into Lowe's. As I was perusing the wood selection, I saw the wood I wanted.  The overly skeptical HH shook his head then wandered away to get the trolley so I could bring home my prize – 6-foot, dog-eared cedar picket fence posts. Once we got it home, we chopped the edges off with the chop saw and with a nail gun, attached them to the wall. BAM! A beautiful, rough cut wood planked wall. After three weeks on the wall, we had to take the wood down and reposition them due to shrinkage. A helpful disaster which was useful for us later. Back to perfection.
Now that we are up to date, I have a cabinet that I wanted to attach to my planked wall. I had to remove half the planks to get it in. So now I have several weathered planks sitting on the floor under a window with no clue what to do with them and no desire to throw them away like a crazy person. Then suddenly PING, light bulb. I want to re-case and frame the window. The previous owners, being the royal gems that they are, left every single window open so the sills would ruin. I informed the HH of my intention and, as is his custom, he shook his head then let me have my way.
That afternoon, as he came in from a long exhausting day, he saw that I had already begun the deconstruction part. (My favorite part) I tore out the trim and began removing the casing around the window. I've watched enough "This Old House" episodes that I felt like a pro. (HA.) I employed both minions in the process of pulling the long tacks and nails. Cleanup included vacuuming and a sword fight with the trim, most of which we saved for other projects.
First thing the next morning, we headed back to Lowe's to purchase more 6-foot fence posts. These puppies went up a full dollar in a year. I needed three more, so I bought seven (just in case disaster struck). We also bought golden oak stain to match trim and the crown molding in the room.
Once home, the HH measured, cut, sanded and stained the already dried wood. I helped too. Then we got out the trusty, handy dandy nail gun. I highly recommend using this for windows. The HH set the depth of the nails. After a few minutes of dry setting the planks, we nailed them in place. Beautiful! A few minutes later the framing was completed and we have a perfect window. I mean it's swoon worthy. We went from cheap looking, thin pressboard trim to wide heavy planks of real wood. It looks like a southern farmhouse now.
Since I loved it so much, the HH counted up how many boards we need to replace every window. Then he spent an hour at Lowe's finding the straightest boards with the most character. Those beauties are currently curing on my kitchen floor underneath a gorgeously remodeled window. We did have to go to the lumber department for one window because it was 10 feet wide. That window cost about $100, and was by far the most expensive upgraded window.
The pickets cost $3.22 each now. It takes eight to complete the windows at a whopping $25.76. The stain was about $6 and I can get two windows completed with one small can of stain. With all supplies added in, I'd say about $30 and an afternoon are invested into my windows. My first set of windows cost us a can of stain and a sheet of sandpaper because we used planks we already used for another project.
The hardest part is the measuring. We took each step slowly and dry fit everything along the way. No window is perfectly square so the dry fit is crucial.  Measure twice, cut once and shim later.
I'm on to my next project of filling in a skylight that I had removed. I'm recycling the old trim from the windows. It'll be painted so I won't mind the cheapness of it. Plus, I'm using leftover bead board from a cabinet remodel. Free upgrade. SCORE!
Tanner Cangelosi
An alum of the University of Central Arkansas, Tanner owns her own business – neonsouthernlady.blogspot.com – and has done a variety of projects, from individual home décor items to painting murals in private residences. For more information, Tanner can be reached at [email protected].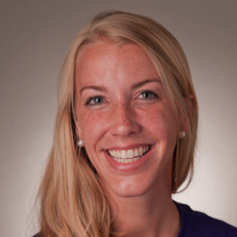 Latest posts by Tanner Cangelosi
(see all)