26 Jan 2022

Fox finishing championship career for the Wildcats

By Levi Gilbert

Jackson Fox and the Harding Academy Wildcats are in the midst of a wild three-year run. The Wildcats won the 3A basketball championship in 2021, and Fox has won three-straight championships in football the last three years.

Fox started every game for the champion Wildcats last season, leading the team in assists and shooting almost 40 percent from 3-point range.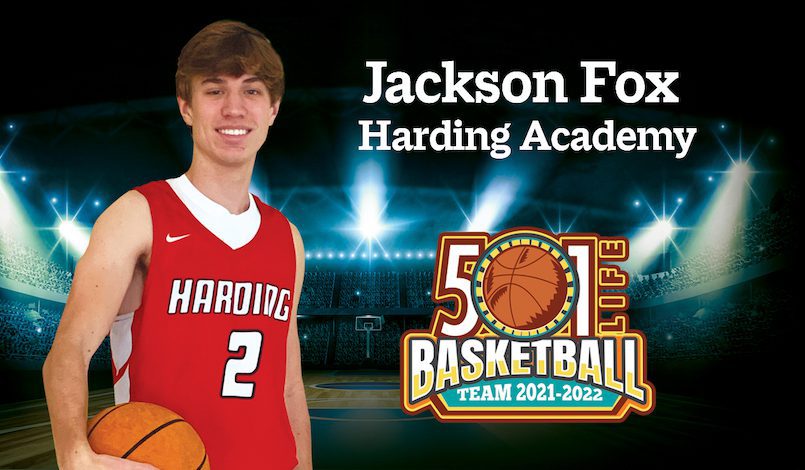 Like many schools, Harding Academy (4-7, 3-5) has faced the adversity this season of getting on the floor. Several games have been postponed or canceled because of COVID.
"I think we have been really great defensively, but we haven't finished around the rim well and that will be a key for us," Fox said. "Many of our conference games have been canceled or rescheduled ,unfortunately. I think our win against Newport was really important for us to jump-start the year."
Fox was selected to this year's 501 Basketball Team — 40 players representing the best the 501 has to offer both on and off the court. The team is sponsored by Velda Luders of Coldwell Banker RPM Group, Moix Equipment and Toy Company, Conway Regional Health System and First Security Bank. The senior was nominated by Jameson.
"Jackson has a tremendous basketball IQ," said Trey Jameson, who took over as head coach for the Wildcats this season. "He's a very quick point guard and good at getting in the paint to create for others. He takes care of the basketball and consistently makes good decisions. We have a lot of new faces on the court this year, and I expect him to be able to help those guys come along."
Fox is a leader for the Wildcats off the court, too, serving as the student body president.
"He's a great communicator and has a strong sense of maturity," Jameson said. "He communicates all the time on the court, picks people up when they're down and gets people in the right spot to be successful. He is really like having another coach on the floor.
"He is very strong academically. He's truly a leader on and off the court, and I think that is evident by his desire to lead the student body his senior year and take on that added responsibility."
Fox volunteers at Camp Barnabas, which is a camp for kids with special needs. He and his brother also helped found the Searcy Chess Club.
"I want to be remembered as a very unselfish player who always cared more about others than myself," Jackson said. "Never give up. There are so many lessons to learn from sports . . . So, just keep working hard because there is so much to gain."
Harding Academy plays host to Newport in 3A-2 conference play at 7 p.m. Thursday, Jan. 27.

Latest posts by Levi GIlbert
(see all)