13 Nov 2019

Football playoffs kick off this week

All across the 501 and the state, the Arkansas high school football playoffs kick off this Friday with intriguing first-round matchups across all classifications.

Thirty-three teams from the 501, including a few defending state champions, will start their championship pursuit this week.

7A

In the 7A, Bryant and North Little Rock both have byes as the No. 1 and No. 2 seeds, respectively. Catholic plays host to Van Buren, while fellow Pulaski County school Central travels to Springdale Har-Ber. Cabot also heads to northwest Arkansas, taking on Fayetteville, and the Conway Wampus Cats play host to Rogers for the fourth-straight year in a first-round matchup.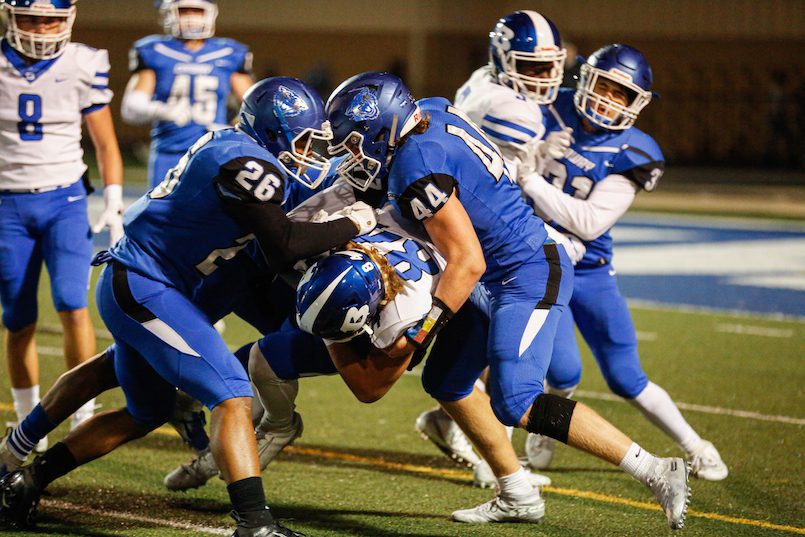 "It is a little crazy that it's happening for a fourth-straight year, and then the winner gets Bentonville West — and if it's Conway, that will be three-straight years facing the Wolverines in the second round," said Jeff Matthews, play-by-play announcer for Wampus Cat football on Conway Corp. "On the defense, Reed Hughes and Parker Prock are the best linebacker tandem in the state, and then the pressure that Terrian Harris has provided up front has been the state's best. I think that getting in an early offensive rhythm will be critical for Conway.
"Get senior quarterback Nick McCuin and his receivers in sync with each other, and the same with the running backs. Get them going early — it is natural to feed off that success. I expect the defense to have a big, big game. They are facing a talented quarterback in Hunter Loyd. His dad is the head coach of the Mounties, and he has committed to playing college football for Missouri State, but I think as a whole, our defensive unit holds the edge over their offense."
6A
Only one 6A team, Lake Hamilton, will see action this week, as Searcy and Benton both have first-round byes. 501 Football Team honoree Braden Qualls and Lake Hamilton play host to Sylvan Hills.
"This season, I think we surprised a lot of people going 8-2 considering we have gone 5-6 the past two seasons, and we don't run a high-powered, explosive offense," Qualls said. "Sylvan Hills is physical up front on offense, so we have to keep them behind the chains and force them to throw the football. Offensively, we've got to put points on the board. I think we got a good draw for the playoffs. I like our matchups and how we pair up against them. I think we have a very good shot at making a run this year."
5A
Defending state champion Little Rock Christian opens the playoffs hosting Camden Fairview. Pulaski Academy opens at home against Magnolia, and Hot Springs Lakeside plays host to White Hall. Maumelle travels to Texarkana. Morrilton earned the No. 4 seed out of the 5A West with a Week 10 win over Clarksville, and Vilonia — the No. 2 seed out of the West — opens at home against Wynne.
"We were up and down in the regular season, but we are getting healthy and playing our best football right now," said Steven Rector, a senior defensive end for the Morrilton Devil Dogs. "Valley View are very good on defense and don't turn the ball over. We will have to play a clean game."
4A
Four 501 teams — Heber Springs, Bauxite, Lonoke and Malvern — will be on the road in the first round of the 4A playoffs.
"Coming into the season, our goal was to win conference," said Adam Martin, senior quarterback for Heber Springs. "We beat the No. 1 team in conference, Riverview, but due to earlier losses in the season, we came up short. This was not the outcome we had hoped for, but we still believe we are capable of playing with any team on any given night.
"Shiloh Christian is a very good team that does a lot of different things very well. It's easy to get caught up in the big picture, especially against a team like Shiloh. So, everyone will have to focus on their individual assignment, and let the rest take care of itself."
Riverview plays host to DeWitt, and Robinson opens at home against Trumann. The Central Arkansas Christian Mustangs, the No. 3 seed out of the 4-2A, hosts Gentry.
"I'm proud of how our team played this season," said Brandon Bishop, a senior offensive lineman for the Mustangs. "We fought hard throughout the season to get a share of the conference championship and host a home playoff game. If we execute and we do our job, then we should come out with a win. There are some really good teams in the bracket, and most of them could be playing for the state championship."
3A
In the 3A, three teams from the 501 have earned high seeds and significant long-term home field advantage — Harding Academy (No. 1 – 2-3A), Glen Rose (No. 1 – 4-3A) and Clinton (No. 2 – 2-3A).
"The way our team attacks practice and out-conditioned opponents each week really shows up on Friday nights, and it sure did this regular season," said Parker Golden, a senior defensive back for Harding Academy. "There isn't another group of guys I would rather play with. The key against Genoa Central this week will be to uphold our standard we have set for ourselves. Having a healthy team is crucial for making a run."
The Perryville Mustangs hit the road for a first-round matchup at McGehee.
"We went from a 2-8 team to a 6-4 team in the regular season," said Reid Standridge, senior quarterback for the Mustangs. "A lot of people really doubted us and didn't think we would make it to the playoffs, but we really came out this year and gave it our all this season and it has paid off. Effort is what got us here.
"The key to success against McGehee is to just stop the run. They are a Wing T team, and they are run heavy."
2A
All four of the 501 teams in the 2A playoffs are from the 5-2A — Cutter Morning Star, Mountain Pine, England and Magnet Cove.
"I think we finished very well," said Jake Harmon, senior tight end/defensive end for Magnet Cove. "We would always find a way to win when things didn't go our way, and we always came out and did our thing, which led us to be the No. 1 seed for our conference. If we continue to do our jobs and play how we should, we could very well be set up for a good run and make it to the end goal, which is a state championship. We just have to take it one week at a time and keep doing what we do."
Senior quarterback Mason Brazeal and the England Lions travel to Carlisle after battling their way into the playoffs as the No. 3 seed out of the 5-2A.
"We started playing as one team and one unit there towards the end of the regular season, and hopefully that will translate into the playoffs and we'll make some noise," Brazeal said. "I think we can beat anyone in the 2A for sure."
The full slate of playoff matchups containing 501* teams:
7A
NLR (bye)
BRYANT (bye)
Van Buren at CATHOLIC
CENTRAL at Springdale Har-Ber
CABOT at Fayetteville
Rogers at CONWAY
6A
SEARCY (bye)
BENTON (bye)
SYLVAN HILLS at LAKE HAMILTON
5A
Magnolia at PULASKI ACADEMY
MORRILTON at Valley View
MAUMELLE at Texarkana
White Hall at HOT SPRINGS LAKESIDE
Camden Fairview at LR CHRISTIAN
Wynne at VILONIA
4A
DeWitt at RIVERVIEW
HEBER SPRINGS at Shiloh Christian
BAUXITE at Dardanelle
LONOKE at Pea Ridge
MALVERN at Ozark
Gentry at CENTRAL ARKANSAS CHRISTIAN
Trumann at ROBINSON
3A
Dollarway at JESSIEVILLE
Genoa Central at HARDING ACADEMY
PERRYVILLE at McGehee
Smackover at CLINTON
BAPTIST PREP at Rison
Walnut Ridge at GLEN ROSE
2A
Clarendon at MAGNET COVE
CUTTER MORNING STAR at McCrory
Earle at MOUNTAIN PINE
ENGLAND at Carlisle
*501 teams listed in bold and all caps. 

Latest posts by Levi GIlbert
(see all)