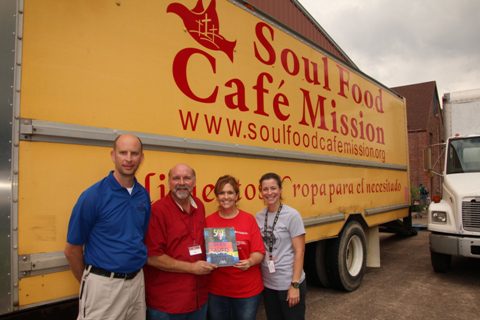 06 Jun 2016

Event raises $3,000 for Soul Food Cafe

by Sonja J. Keith


The Fishin' for a Mission benefit bass tournament raised $3,000 for the Soul Food Café Mission.


Presented by Nabholz, the event was held Saturday, April 30, at Beaverfork Lake near Conway.


The fishing tournament was founded last by Amanda and Brian Parsons, combining an interest in fishing with helping an outreach they support. Last year's tournament raised $1,400.


"Watching Rick and Traci and their heart to serve makes me want to do more," said Amanda, who has been a volunteer with Soul Food for the last two years.


The donation will be used to help with construction costs to finish the mission's new structure at 1717 South Donaghey in Conway.


The fishing tournament was limited to 35 paid entries and included $2,500 in guaranteed cash prizes, door prizes and a kids fishing derby with prizes. Participants and spectators also enjoyed complimentary food.


Plans are already in the works for next year's event, scheduled the last Saturday in April.


The ministry, which is approaching its 15th anniversary, provides about 300 food boxes each Tuesday and serves about 300 plate lunches.


For more information on Fishin' for a Mission, contact the tournament staff at [email protected] or 501.514.0898 or 501.514.1140. For information on Soul Food Café, visit soulfoodcafemission.org.