02 Feb 2022

Evans, Bigelow poised for another deep playoff run

By Levi Gilbert

Basketball has been ingrained in Aubrey Evans from an early age, and for her, it's more than just a game.

"My mom was my basketball coach since third grade, but sadly she lost her battle to breast cancer while I was in fifth grade," Evans said. "This has made me stronger as a person and as a basketball player because I know she will always be there watching me play. That is why I always must have the color pink on my socks. She was my Wonder Woman.

"I want to be remembered as the person who hustles and always has high energy on the court whether it is on offense or defense."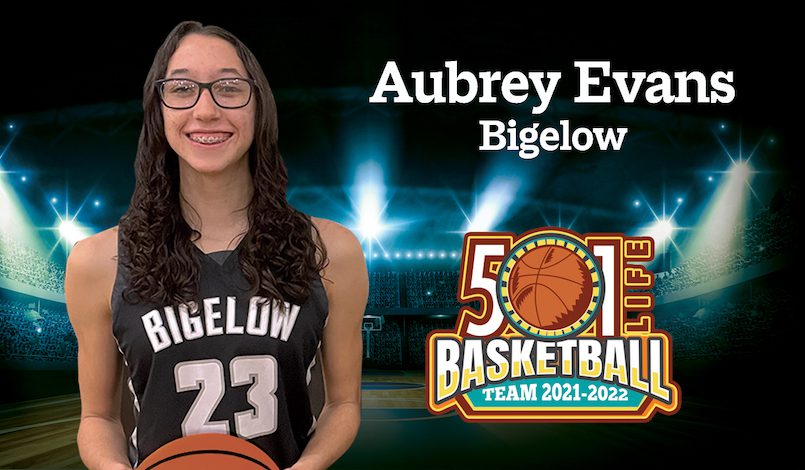 In last season's sophomore effort, Evans provided scoring and rebounding to the Bigelow Lady Panthers, who made it all the way to the 2A semifinals and are looking to get back again. And so far, the Lady Panthers (15-2, 13-0) look primed for another deep postseason run.
"Her athleticism, ball-awareness and her ability to get to the goal are some of her best qualities on the court," said Luke Cornett, who is in his first year as head coach at Bigelow. "She's kind-hearted, generous and humble. She participates in local charity events and serves at her church. Everyone around her knows that she is going to do the best that she can at whatever it is that she is attempting. She would do whatever she had to do for the best interest of her teammates.
"There isn't a better kid than Aubrey. She is one of the most humble players that I have coached in my short career."
Evans was selected to this year's 501 Basketball Team — 40 players representing the best the 501 has to offer both on and off the court. The team is sponsored by Velda Luders of Coldwell Banker RPM Group, Moix Equipment and Toy Company, Conway Regional Health System and First Security Bank. The junior forward was nominated by Cornett.
"She provided a lot of scoring and rebounding last year," Cornett said. "She was almost always the most athletic person on the floor."
Evans also competes in track and field, softball and dance for Bigelow. She's a member of the school's Gifted and Talented program and Beta Club. She earned all-state and all-conference basketball honors last year as a sophomore.
"Ever since I was in the third grade I was taught by my dad, mom and coaches to have a good
work ethic on and off the court," Evans said. "Always work hard and believe in yourself on
the court and off the court. No matter what happens in the game, hustle and play your heart out."
Bigelow plays host to St. Joseph in 2A-5 conference play at 6 p.m. Friday, Feb. 4.

Latest posts by Levi GIlbert
(see all)