16 Nov 2022

Dominant second half carries Sugar Bears

CONWAY — The University of Central Arkansas Sugar Bears dominated the second half Tuesday night in a 55-43 victory over the Lindenwood Lions in their home opener at the Farris Center.


UCA (1-2) outscored Lindenwood 33-14 in the second half, led by junior transfer forward Kierra Prim. The Johnson County Community College transfer scored 24 points and pulled down 13 rebounds, with 16 points and 7 rebounds coming in the decisive second half.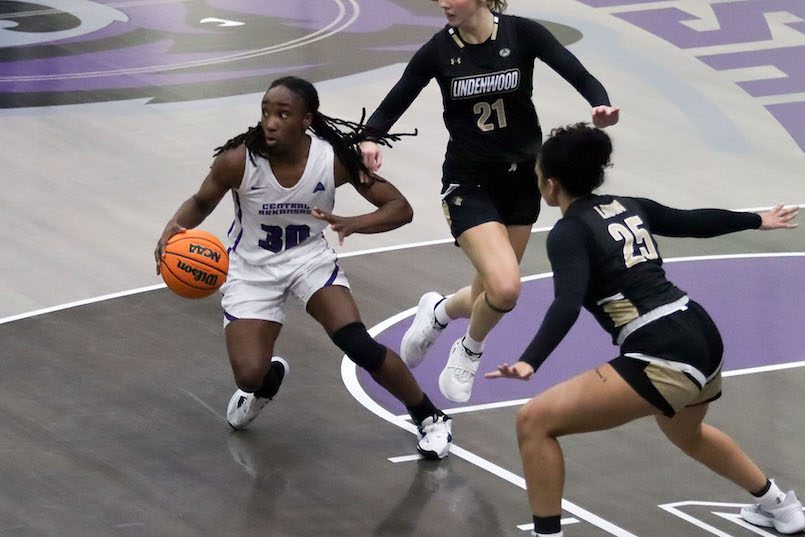 "I knew why we signed her," said UCA head coach Sandra Rushing, "and it was for that reason. She scores 24 and gets 13 rebounds. She was the difference."

After shooting just 33.3 percent from the field in the first half and trailing 29-22, the Sugar Bears hit a blistering 53.8 percent in a third quarter in which they outscored the Lions 18-6 to basically put the game away. Lindenwood's Emily Benzschawel scored 16 of the Lions' 29 points in the first half, making 4 of 6 from three-point range. She finished with 18 points.

"We changed and put KP (Prim) on No. 5 (Benzschawel)," said Rushing. "I see her everyday in practice and I knew she would be able to contain her. And I think she held her to two points in the second half. And then putting ball pressure gives everyone else energy.

"The shot selection was better, we weren't trying to play individual basketball, we managed the clock a little bit better, and the rebounding. CC (Siera Carter) had 10, KP had 13. Rebounding was big."

The Sugar Bears trailed by as much as seven points in the first half but tied the game with 4:20 left in the third quarter and never trailed after that.

"I don't know if we were nervous, scared, playing at home for the first time," said Rushing. "They came out and threw the first punch and we got frustrated. We were jacking shots up. We have to go inside. And they don't see it because everyone thinks they are good shots, and they're not. Especially when we start scoring inside and it opens up our outside.

"I didn't know what to do, trying different combinations and all. We've got to find our combinations.

"This team has a lot to learn but I'm very encouraged. I like this team. I thought Jenny (Peake) came in and played solid for us. For someone that hasn't played basketball in four years, she played really solid.  

Carter, a 5-foot-11 senior transfer from West Georgia, finished with a double-double with 12 points and 10 rebounds as the only other Sugar Bear in double figures.
UCA returns to the road on Saturday for a noon matchup with Louisiana-Monroe. The Sugar Bears' next home game is a week from Saturday against Hendrix at 11 a.m.